Global financial market returns are fated to be unimpressive in the decade ahead, reflecting moderate global economic growth, low inflation, slowly rising interest rates and already elevated asset prices.
Investors have reached a fork in the road: either global growth will be sufficient to lift equities and undermine bonds, or poor growth will support bonds but crush equities. Given current low bond yields and neutral equity valuations, it is highly unlikely that both bonds and equities can contribute meaningfully to aggregate portfolio returns in the coming 10 years. From today's perspective, an age of diminished expectations lies ahead.
Investors need to align their long-term return expectations with economic and market realities. The global economy is gradually recovering from the Great Recession, but growth prospects are unexciting by historical standards, especially in the developed markets (DMs). That said, the increasing importance of the emerging markets (EMs) presents a opportunity to enhance returns for those investors willing to bear higher uncertainty.
Most problematically, the starting point for bonds is particularly poor. DM 10-year government bond yields imply very low nominal and real returns over the next decade, which will weigh on aggregate portfolio returns even if equities deliver decent performance. Bonds will only deliver healthy real returns in a deflationary climate that would be devastating for stocks and commodities.
We estimate that real returns for global equities will be decent but sub-par by historical standards, consistent with the economic and inflation outlook. That said, real returns on EM stocks will be much higher than in the DMs, underscoring their long-term appeal at today's prices. Chinese equities offer the greatest long-term upside if they are re-rated to reflect their underlying profitability. European equities offer the most upside among larger DMs markets assuming the return on equity rebounds from its current depressed level. Conversely, without major economic reforms, returns on Japanese equities will sharply lag both the DM and global benchmarks as a result of weak profitability.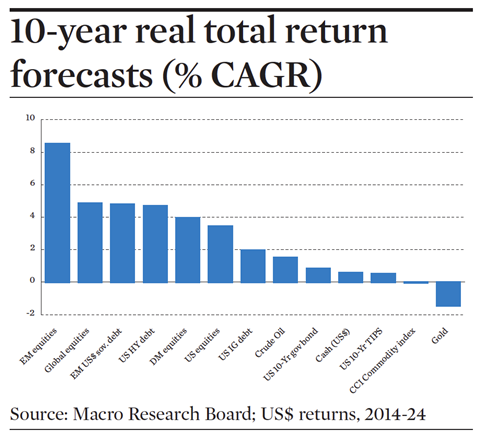 Increasing exposure to EM assets is one important implication of our projections. Many investors are sceptical about EM growth strategies, corporate governance, cyclicality, and other issues. Still, the argument for EM stocks is compelling based on comparative economic growth and valuations.
A balanced portfolio of 50% global equities, 35% local currency 10-year government bonds, 10% commodities and 5% local currency cash would imply mediocre returns over the next 10 years. Dragged down by poor real returns for bonds and commodities, a US dollar portfolio delivers a paltry 2.7% real annual return, well below the average of the past few decades. A balanced euro-denominated portfolio performs slightly less favourably, hampered by lower bond returns than in the US. A sterling-denominated portfolio fares marginally better.
The low returns implied by our forecasts will very likely induce many investors to pursue alternative strategies. While there will be attractive opportunities in select private equity and hedge funds, or by identifying stellar traditional asset managers, it will be difficult to beat the aggregate portfolio returns that we project.
The markets will not be generous in the decade ahead, restraining overall returns for public, private, listed, unlisted, conventional and alternative investments. Of course, successfully navigating the capital markets cycles over the 10-year period offers the potential to enhance returns. To this end, the next one to three-year returns should be quite different from the full 10-year performance. Bonds will generate better results after yields have recovered from their current depressed levels. Conversely, equity returns could subsequently be poor if valuations first move higher in the coming years. Moreover, there will be a big shakeout when the next recession occurs, which is a near certainty at some point over the next 10 years.
A muddle-through scenario (our base case) or a healthy global economic recovery in the next few years implies that investors should maintain a significant overweight in equities and underweight bonds. The opposite would be appropriate if one anticipates a secular stagnation outcome – which we do not.
Peter Perkins is a founding partner at investment research provider The Macro Research Board
Asset Allocation - Fixed Income, Rates, Currencies: The big picture
1

2

Currently reading

Ahead of the Curve: An era of diminished expectations