Attempts to improve transparency of research costs have unintentionally hit performance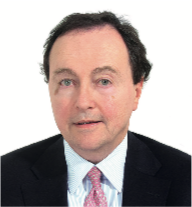 The extended version of the EU's Markets in Financial Instruments Directive (MiFID II) has decreased research spending transparency and significantly increased potential performance risks for asset owners. This new operating environment will challenge pension trustees and their advisers to meet an evolving fiduciary standard. But do they have the tools and datasets to analyse MiFID II research and performance risks in order to protect pension beneficiaries?
Traditional manager assessment techniques used have not adapted to the post-MiFID II environment. They are frequently unable to identify, quantify and analyse significant alterations in the investment process. This shortcoming has implications for investment performance.
Emerging data suggests there are unprecedented dispersions between managers in terms of research spending, access to information and product performance. Moreover, this has created a trans-Atlantic divide as the research and investment processes of European and US managers have sharply diverged.
European regulators' primary concern about pre-MiFID research spending was that managers using client money for research may have exercised less caution in spending than if it were an internal expense. Any research "overspending" would reduce asset owner returns.
Consequently, MiFID II requires significant transparency for managers using client money, including the need to get product-specific research budgets approved by the asset owner. These managers must construct research budgets on a granular level - which has undoubtedly increased research transparency.
The other MiFID II research funding option is for managers to pay for research directly from their own profit and loss account (P&L). Regulators assumed this option would align the interests of asset managers and asset owners by reducing the potential for research overspending by managers.
Contrary to initial expectations, and spurred by several large US asset managers that elected to pay for research (for their European clients only) most large northern European managers felt compelled for competitive reasons to move to deducting the costs from their P&L.
In theory, European regulators should be delighted with this widespread move by large managers to P&L – if their overriding assumption that this outcome would align interests between asset managers was correct. Unfortunately, it is not.
Important and unprecedented asymmetries have been created by this outcome, generating a series of critical new questions for asset owners and risks for pension beneficiaries.
Geographic asymmetry: most US managers still fund the bulk of their research budgets via client commissions (from their US clients). The Securities and Exchange Commission (SEC), the main US investment regulator, is scheduled to decide whether to follow the European Unbundling initiative in 2020.
Key questions to consider include:
• will the US follow suit?;
• are European P&L managers at a disadvantage as a result?
Research cost asymmetry: the cost of research to asset owners is low. However, when this cost is shifted on to the P&L of the asset manager, it is frequently its largest cost after salaries. Funding research via P&L creates a potentially corrosive conflict between obtaining the optimal research on behalf of the client and maximising the profitability of the manager.
Key areas to examine include:
Spending asymmetry: European P&L managers have slashed research budgets.
Asset owner information asymmetry: managers using client money must provide complete transparency to asset owners. Managers using P&L have no regulatory requirement to report levels of or changes in research spending at the product level.
Key questions to consider include:
• Is it in the asset owner's interest to know if investment product research budgets have been cut? How can they find out?
• How reliable are historical returns if the process that generated them has been substantially altered?
The FrostDB research database (including over 6,000 funds) is in the process of providing some answers. Key observations include:
Significant research spending gaps: between client money and P&L managers globally. In all categories client money managers are spending multiples of the research budgets of P&L managers.
The spending differentials appear greatest in more research-intensive strategies such as emerging markets and growth-oriented industry sectors.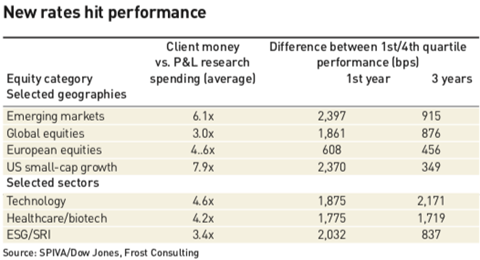 Although the multiples between research spending are large, the absolute amounts are small. In the case of emerging markets, the client money managers may be spending 6bps versus 1bp for the P&L manager – but both these amounts are dwarfed by the performance differential between first and fourth quartile funds.
Dispersion of returns: across 15 categories measured (regions and sectors), the post MiFID II dispersion of returns between first and fourth quartile funds has been much larger then the three-year average.
Performance: there are early signs of post-MiFID II correlations between research spending levels and returns.
Are these divergences a possible result of the information and research spending asymmetries described earlier?
While the long-term performance implications MiFID II will take time to assess, there is no doubt that the regulation has changed the risk profile of many investment products.
A series of new datasets and analytics will be required to assess the risks of the MiFID II research transition, particularly for P&L managers. This is far more complex than calculating the research spending change.
Frameworks for analysing the widely varying research intensity of different strategies must be viewed through the prism of changes in research access to quantify potential forward-looking performance risks.
To meet their fiduciary obligations, asset owners have a responsibility to understand and query the changing research processes of their external managers post-MiFID II. If they fail to do so, saving a handful of basis points of apparent research cost may prove to be a false economy.
Any debate about research spending levels and funding methods in isolation, with no consideration for the impact on returns, or the research intensity of varying strategies, will not only leave asset owners/consultants unable to see the forest for the trees – but, more importantly, leave pension beneficiaries less well off.
Neil Scarth is a principal at Frost Consulting