As Donald Trump's presidency faces its sternest political tests so far, markets have begun to temper some of their frothiness, with the seemingly inexorable upward climb since the election potentially plateauing. The Trump reflation trade has faded, with steelmakers in particular suffering, having hoped that the President's protectionism and championing of old industries would re-energise challenged business models. But it is not steel that the portfolio managers I speak to are most focused on – it is oil.
Oil could have been one of the key beneficiaries of the Trump regime and an obvious focus for reflationary pressures. Three years ago oil was priced at over $115 (€90) a barrel. Now, even in the face of a growing global economy, a pick-up in inflation expectations, Saudi-driven OPEC production cuts and the crisis in Venezuela, oil has remained stubbornly under $60 a barrel.
Oil prices had declined by 14% in the first half of 2017, and despite the potential for some shorter-term reversal over the coming months, a 'new normal' of lower prices seems increasingly plausible. But as the economics of oil production continue to evolve, it is worth looking closely at the recent history of this commodity.
In 2014, OPEC faced a conundrum. With prices apparently settled above $100 a barrel, US oil production was booming, threatening OPEC's control of the market. Shale oil extraction and fracking, which are a more expensive means of mining, were suddenly viable in this new price environment. OPEC, driven by Saudi Arabia (whose per-barrel extraction costs are far lower than the more technologically demanding tertiary methods employed in the US), responded to the threat by aggressively driving down oil prices and flooding the market with oil.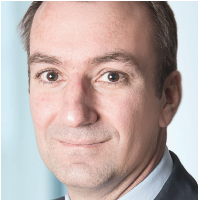 At first the plan appeared to work, and prices dived from over $115 a barrel in mid-2014 to under $30 a barrel by the beginning of 2016. Things looked bleak for the nascent US shale industry.
It should be remembered, of course, that there were other factors at play than OPEC's campaign against shale oil. Russia continued to produce more than 10m barrels a day throughout this period, while the US was partly a victim of its own shale extraction success, seeing production increase dramatically in the first half of this decade. The high figure shows the impact that OPEC had on the US oil industry, with the rig count – an indication of new drilling activity – falling to its lowest level since 1999 (right hand scale).
Initially, US production did stall, and in November 2016, confident that it had seen off the shale threat, OPEC, encouraged by Khalid al-Falih, the new Saudi oil minister, began to cut production in the hope of shoring up prices. Saudi Arabia has a particular interest in rising oil prices, given that late-2018 will see the long-awaited flotation of its state oil business, Saudi Aramco. It may be the biggest company in the world when it launches, with valuation estimates ranging from $500bn to well north of $1trn. One of the key components of the final price secured will be estimates for future oil prices – so the Saudis will be counting on a more sustained recovery in the coming months.
And so here is a new conundrum for OPEC, and an extraordinary lesson in the strength of the capitalist system. The figure also shows US production from Jan 2011 to Jan 2017 (left hand scale). While OPEC was congratulating itself on the slowdown in US exploration back in 2015 and 2016, oil companies in the US were working hard to improve the productivity of existing fields. Shale producers made technological improvements to the design of wells, which lowered per-barrel break-even costs. According to JP Morgan, the oil price needed to earn a 15% pre-tax rate of return at the wellhead in certain parts of the US. However, the price per barrel has fallen by 40% in the past year, from $48.95 to $29.32.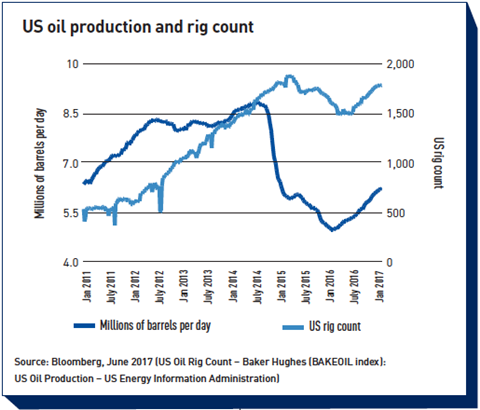 For the US shale industry, the years 2014 and 2015 were a trial by fire. From the beginning of 2015 to mid-2016, 90 companies filed for bankruptcy. Over $65bn of debt was affected, with the largest filings coming from Sandridge Energy, which owed $8.3bn, and Linn Energy, which owed $6.1bn. The sector de-levered dramatically during this period of stress, and those companies that survived are now leaner and nimbler.
Looking at the Permian Basin area of West Texas and New Mexico, the impact of improved productivity can be seen clearly. This area has been responsible for more than half of new activity since the slump, and production per rig has more than tripled here since 2014.
Technological advancements, better management and rigorous cost cutting have made the previously marginally economical shale oil business globally competitive.
Driven by significant progress in operational efficiency, these improvements in the cost of doing business have the potential to sustain the US shale industry over the coming years. But while lower breakeven costs may create a virtuous circle for US shale producers, they also pose a potentially serious problem for Saudi Arabia as Saudi Aramco's IPO draws near. Indeed, even against a background of OPEC production cuts, it is difficult to see how the oil price can meaningfully recover in the face of such significant progress in US shale.
It is not only, though, that this is a notable tale of corporate ingenuity overcoming seemingly impossible odds. The reason oil is being watched so closely is that previous reflation trades have been scuppered by surging oil prices leading to overheating and an eventual crash – just look at what happened in the 1970s.
As the sustainability of the current reflation trade is assessed the possibility that oil prices could be maintained at the currently lower levels through technological innovation sends a potentially strong signal regarding the future health of the global economy.
On the other hand, if there is slowing global growth and a continued acceleration in US shale oil production, things could begin to feel eerily reminiscent of 2014. In this case, deflationary alarm bells would start ringing increasingly loudly.
Whichever way it goes, it is worth watching oil prices closely over the coming months.
Pierre-Henri Flamand is CIO of Man GLG