The lending environment is undergoing a worrying change. Funds that European direct lenders have raised but not yet deployed are at an all-time high and banks in most Western-European jurisdictions have renewed lending following years of reticence after the global financial crisis, leading to increased competition amongst lenders in the small and medium enterprise (SME) market. Both factors have driven some direct lenders to accept weaker protections in their loan documentation in order to deploy their funds - an issue recently highlighted by the Bank of England's Financial Policy Committee.
This development has been especially acute in the unitranche segment of European SME direct lending strategies (returns of Euribor plus 7% or more) where funds are having to compete on loan structure terms rather than yield in order to make themselves relevant in a market where companies can borrow at a cheaper price. What does this mean? Essentially some unitranche lenders have been willing to accept reduced protections in the loan documentation in return for borrowers paying them higher yields.
This has been especially evident in financial maintenance covenants. These are automatic quarterly tests placed on the borrower to make sure that certain financial targets are achieved and to give lenders comfort that the loan will be repaid. Failure of these tests can lead to a default on the loans, allowing the lender to force a dialogue with management to rectify the situation. Financial maintenance covenants usually include a leverage test and an interest coverage test at a minimum.
While cov-lite loans, with minimal or no covenant protection, have been an established feature of the European leveraged loan large-cap market – companies with earnings before interest, tax, depreciation and amortisation (EBITDA) in excess of €75m – for years, these have in some cases spread to SMEs. In these instances, protections are diluted by providing covenants with such headroom that they are meaningless, or by providing covenants tests for irrelevant financial aspects of a company. For example, basing a test on capital spending in a company that does not have any material capex spending. Under these weaker terms, if a company underperforms, the lender loses negotiating powers in being able to force management to find a solution, allowing the issue to continue for longer, and negatively affecting the ultimate recovery in a downside situation.
Another recent negative development in loan structuring has been the addition of EBITDA adjustments when calculating the amount of leverage offered to borrowers. Lenders are increasingly allowing 'add-backs' to EBITDA for future anticipated savings the company may make or structuring a loan off a future anticipated EBITDA number based on a set of future anticipations. This is done so that bigger loans can be provided to borrowers. The risk is that these add-backs may not be realised and leverage on the loans is at a far higher level than had been initially anticipated. At a time when company valuations are at lofty levels, any downwards revaluation could mean that a loan which goes deep into the capital structure may no longer benefit from having an equity buffer behind it.
That is not to say that all EBITDA add-backs are wrong or bad as in some cases they make sense and should be used. However, given the associated risks, it is therefore important a conservative EBITDA number is used when calculating loan sizes and that the right protections are in place to make sure the loan is structured carefully. One example of using the right protections in this instance could be that the add-back falls away if anticipated savings are not achieved within an agreed period of time.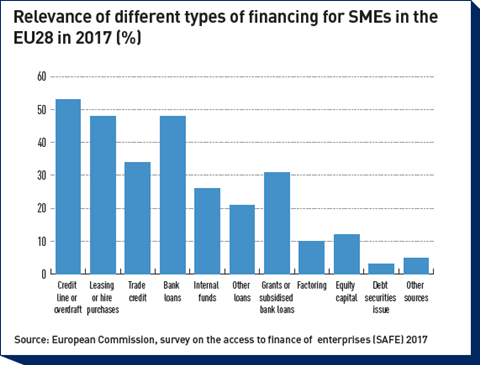 These are some examples of where weakened loan terms are present in the European SME loan market, but others also exist. Investors therefore need to ask the right questions from direct lenders.
First, understanding the loan origination strategy is essential. Banks in Europe still account for 95% of the SME lending market share, so direct lenders without relationships with these key players can find themselves in a costly position when directly accessing SMEs. A vast origination team would be needed on the ground to build relationships and direct lenders risk only seeing loans that the banks do not want to do.
Banks are generally conservative lenders, however, when they walk away from loans then direct lenders need to have a full understanding of why that is and question the associated credit risk. Funds that take on loans that have been rejected by banks are likely to be problematic for investors and they will in turn need to do a lot of due diligence to understand how these loans are originated.
The key is to have access to a loan origination pipeline which allows the fund manager to be a 'credit picker' and not a 'credit taker'. Having a differentiated origination strategy through legally binding co-lending agreements with banks overcomes these hurdles and serves as a rich pipeline of opportunities.
Second, investors need to remember that the devil is in the detail. Some lenders state that they do not do cov-lite, however when looking closely at the terms, the level of headroom that is set for example, may suggest otherwise.
Third, it is important that the yield target on the fund is in line with what is achievable in the current market. A manager that has to sacrifice loan protection to achieve yields may offer a high gross return yield target but net performance may well turn out to be far lower than a manager with a lower gross yield target.
It is paramount that a manager is able to choose the best loan opportunities for investors and have the freedom to simply walk away if a borrower or loan structure does not meet the right criteria. A differentiated origination strategy, rich in opportunities coupled with a disciplined approach, is the key to success in this market.
Patrick Marshall is head of private debt and CLOs at Hermes Investment Management