Environmental, social and governance (ESG) criteria are useful for evaluating the economic context in which a company operates, particularly in regions that are more susceptible to environmental impacts. But to evaluate the value of ESG analysis in emerging markets, we first have to establish the necessary criteria.
The challenge is that ESG discussions are often accompanied by a degree of confusion because participants cannot agree on what it involves, whether it improves returns, or how it changes the risk profile. Greater clarity can be achieved by analysing ESG through two separate lenses.
The first approach aims for a positive impact on society while maintaining strong financial performance. It typically penalises industries such as alcohol or tobacco, but there is considerable subjectivity as 'social responsibility' lies in the eyes of the beholder. The twin objectives of positive impact and strong performance might be at risk if an ESG product tries to be all things to all people, and in doing so significantly limits the investment opportunity set. A good product will offer protection on broad reputational risks and then be fine-tuned for specific screens.
The second approach employs ESG signals at the security and portfolio level with the goal of improving risk-adjusted returns. This approach has challenges, but also offers untapped opportunities. As the availability and quality of ESG data improves, one can infer trends that are predictors of future risks/opportunities. For example, a series of minor safety incidents or product recalls at a company may indicate lax safety standards that could lead to a large-scale incident in the future.
On a more general note, disregarding ESG issues might not hurt current profitability but could hit future earnings. Given the short-termism of management (and, at times, stock markets), can ESG credentials be an undiscovered signal of quality?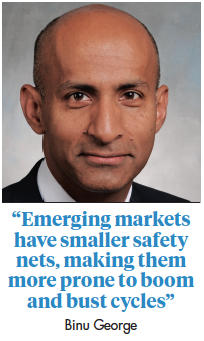 Quality is typically viewed as the ability of a company to withstand cyclical headwinds. While less tangible, it is just as important for a company to safeguard itself against structural headwinds. For example, a consumer staples firm in a water-stressed country might not be under pressure yet to efficiently manage resources but it is clearly a risk for the firm to trail its peers on this metric. ESG analysis might help investors uncover the implicit trade-off between gains from deferring process improvements now versus the risk of higher costs or even operational stoppage later.
ESG plays an even bigger role in analysing the economic environment that underpins the intrinsic value of a company – so much so that a robust process might already incorporate several elements of ESG. This is particularly true for emerging markets as they are more vulnerable to environmental impacts.
The figure highlights three dimensions of this vulnerability, including the fact that agricultural output averages 8% of GDP versus 1% in developed markets. In addition, emerging markets have smaller safety nets, making them prone to boom and bust cycles.
Finally, the impact of poor governance is greater as subpar leadership is not checked by the system. All the above can substantially affect the purchasing power of residents and earnings potential of corporations. Three examples (on E, S and G) illustrate this.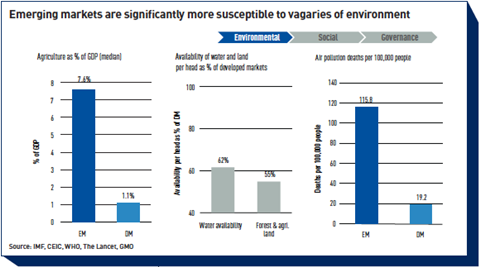 • Indian farmers are dependent on monsoon rains and they have low crop insurance coverage, which means subpar rains can lead to massive rural distress. The government typically responds by waiving loans to small farmers ($24bn [€20bn] since 2014). This buys short-term popularity but carries long-term negatives such as lower urgency to improve irrigation, less pressure to mitigate the impact of climate change and weakened bank balance sheets – all of which detract from steady growth;
• The level of income inequality diverges widely between Korea/Taiwan (low) and Brazil/South Africa (high). In countries with high income inequality, this has been proven to be a powerful determinant of the duration of growth spells. Social failings thus translate into higher volatility;
• In South Africa, corruption allegations against former President Jacob Zuma led to economic activity plummeting. Both business and consumer confidence languished at the lowest level in over a decade, unemployment stayed stubbornly high, and investors awaited relief from policy paralysis. This trust deficit that stemmed from poor governance is not as tangible as the current account and fiscal deficits, but is no less important.
These examples are relevant to an investor because they affect security valuations through a host of avenues such as the volatility of earnings, level of investment and the cost of capital. ESG investing already overlaps, and has the potential to further enhance the evaluation of companies and countries, particularly in emerging markets.
Binu George is an emerging equities product specialist at GMO