A constructive challenge or threat for hedge funds?
Key points
Alternative beta and alternative risk premia are comparable to hedge funds for several reasons
This includes their multi-asset character as well as their use of leverage and shorting
Alternative risk premia could make a significant difference through their inclusion in defined contribution portfolios
As alternative risk premia continue to gain momentum there is a chance some investors will be disappointed
Mitigating against elevated valuations in equities or a turning point in the interest-rate cycle continues to preoccupy the minds of investors across the spectrum. Hedge funds were once the go-to 'alternative' but investors now want liquid solutions at a reasonable cost with large capacity.
"While the most obvious place to look for potential solutions are alternative strategies, many investors are happy with their infrastructure private equity and property investments and do not want any more illiquid holdings," says Simon Savage, portfolio manager of Man Group's risk premia product range.
Enter factor investing – smart beta and alternative risk premia. But which is a more likely pretender to the hedge fund throne?
Smart beta is essentially a modified index product explains Kevin Lenaghan, managing director Cliffwater, in a paper on Smart Beta and Alternative Risk Premia: An Assessment. Alternative risk premia which are market-neutral in nature, however, are more comparable to hedge funds for several reasons.
First, risk premia are found across equities, commodities, currencies and credit, while smart beta typically focuses on equities. Second, risk premia use more factors and differently across the asset classes. And in addition to being market-neutral, alternative risk premia strategies typically use leverage and shorting.
"In the 27 years I have been in this industry, I have never seen a concept as hot as [alternative risk premia] but for rational reasons in my view," says Savage. Indeed, in the third quarter of 2017 alone Man recorded $1.7bn (€1.5bn) of net inflows into alternative risk premia strategies, its newer strategy offering.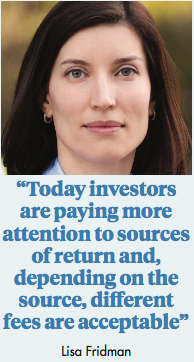 Cliffwater estimates that there is about $200bn invested in alternative risk premia funds in the US. "Risk premia is bringing to the table both people familiar with hedge funds as well as those new to them, who perhaps in the past did not like high fees and restricted liquidity," says Jim Neumann, a partner at Sussex Partners.
"Today, investors are paying more attention to sources of return and, depending on the source, different fees are acceptable," says Lisa Fridman, managing director and global head of research at Pacific Alternative Asset Management Company (PAAMCO) (see chart).
She adds: "In the past, hedge funds were generally perceived as offering alpha and some beta but now there is a more granular analysis available, investors want to know 'what part of this can I access at a lower cost?'."
Alternative risk premia are not a new concept. AQR Capital Management, a quantitative firm founded in 1998 and a pioneer in the risk premia space, has been exploring how to demystify return streams as an intellectual challenge since the mid to late 1990s.
"As an example of alternative risk premia we looked at merger arbitrage and realised that it was not about picking deals but systematically harvesting the deal spread in a very diversified way," says Ronen Israel, principal at AQR.
As far back as 2004, in his two papers titled An Alternative Future, Clifford Asness, managing and founding principal at AQR, predicted a time when hedge fund investors would come to recognise the importance of alternative risk premia in their portfolios.
"While factor investing can be seen as the natural consequence of the diffusion of innovation from pioneers such as Eugene Fama or Kenneth French, the catalyst for the current frenzy is the global financial crisis and the urge for 'radical transparency' that it triggered," says Mathieu Vaissié, research associate at EDHEC-Risk Institute and partner at Ginjer Asset Management.
When Norway's Government Pension Fund posted a negative return of 23.3% in 2008, it started a process of 'soul searching' that concluded that fund was not 'actively managed'. The resulting report, Evaluation of Active Management of the Norwegian Government Pension Fund – Global by professors Andrew Ang, William Goetzmann, and Stephen Schaefer, showed that the negative performance could be explained by implicit exposure to a number of systematic factors.
"What investors such as Norway's fund have done is to look at the portfolio through the lens of risk factors instead of asset classes," says Vaissié. As a result, other institutional investors are now including systematic risk factors in their reference portfolios.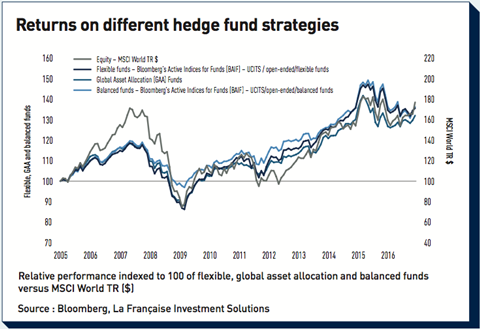 ATP, PKA, and Ilmarinen are taking factors a step further and adopting alternative risk premia as a replacement to direct allocations to hedge funds. A year ago, Sweden's second national pension fund had 3% of total assets invested in alternative risk premia such as currency carry, merger arbitrage, convertible arbitrage, short volatility, and insurance-linked securities.
The Commonwealth of Pennsylvania Public School Employees' Retirement System (PSERS) has decided to allocate $200m to the Two Sigma Risk Premia Enhanced Fund as part of its absolute-return programme, with the capital split 70/30 between equity and macro strategies and a 60/40 risk allocation between equity and macro.
Aksia, Pennsylvania's consultant, has been researching this space for several years. "We have seen an expanding range of offerings from hedge funds, traditional asset managers and the sell-side of variable quality. Live track records are often short and it's important to retain a healthy scepticism for the array of back-tests that dominate much of the marketing materials," warns Simon Garfield, senior portfolio adviser at Aksia.
Phil Tindall, director of investment at Willis Towers Watson, says: "Management fees on alternative risk premia are low compared to hedge funds. We typically access strategies in the range of 30 to 60 bps at 10% to 12% target volatility with no performance fee. However, alternative risk premia are not just about accessing hedge fund returns at low cost and with more liquidity. It is also a rules-based way of diversifying risk," he explains.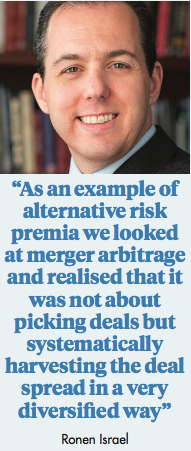 Willis Towers Watson, which ventured into the smart beta world in the early 2000s to find ways to look at equity investing other than market capitalisation, now has some $11bn in alternative risk premia on a delegated and advisory basis including its Diversifying Strategies fund. "We capture truly alternative risk premia such as reinsurance, momentum/trend, value/carry, merger arbitrage, emerging market currency and event-type strategies," Tindall adds.
PAAMCO's Fridman says: "Like hedge funds before them, accessing alternative risk premia is not simple. There is a significant dispersion on how to extract the premia. Various signals used, markets covered, instruments traded, rebalancing frequency, target levels of volatility and embedded costs – differences across all of these may lead to a dispersion of returns."
Where alternative risk premia could make a significant difference is their inclusion in defined contribution portfolios. "The absence of performance fee decorrelation and liquidity means [alternative risk premia] can be offered to defined contribution investors who currently get their 'diversification' from diversified global funds," says Diane Miller, principal at Mercer.
"Our database lists 66 strategies from 51 managers. We know 30 of them and have rated 14. Not only is selecting the right manager and strategy important but implementation is the key. The value comes in combining the risk factors," Miller explains.
EDHEC's Vaissié agrees. "If you want risk factors to lead to good results, you not only have to make sure that they have been designed properly but you also need to build your portfolio around them and adjust the factor exposures as the environment and/or your risk/return preferences change."
Arnaud Sarfati, co-founder of La Française Investment Solutions, explains that "an alternative risk premia approach is focused on maximising the overall Sharpe ratio for the portfolio by emphasising decorrelation between strategies, rather than worrying about the Sharpe ratios of the individual underlying funds".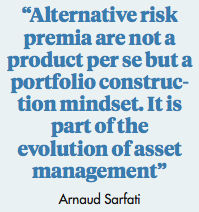 Sarfati, whose $9bn business set up in 2013 now manages $2bn in just risk premia or factor investing, adds: "What you have to remember is that alternative risk premia are not a product per se but a portfolio construction mindset. It is part of the evolution of asset management."
Technology has brought down barriers to entry in several industries and finance has not been immune. Identifying alternative risk premia does not eradicate alpha but alternative risk premia are potentially asset management's creative disruption.
It could herald a new way of constructing all portfolios, not just hedge fund ones – a prediction the late Peter Bernstein made in his March 2003 Economics and Portfolio Strategy newsletter when he called it 'the death of the policy portfolio'.
But as alternative risk premia continue to gain momentum, there is a chance some investors will be disappointed. "Not because of the product itself, but because if it is more often than not sold as a [cheap] hedge fund replacement," argues EDHEC's Vaissié. "If investors are looking at the returns in isolation, they will miss the fact that factors are not about raw returns on a standalone basis but about diversification at the overall portfolio level."
Hedge funds: No longer out of reach
1

2

3

Currently reading

Alternative beta: Rational enthusiasm

4

5

6

7