Pension funds are becoming increasingly active in the broad alternative credit sector, especially in private debt
KEY POINTS
The alternative credit sector has become an obvious destination for yield-hungry investors.
The more illiquid private debt area has grown but much capital remains uninvested.
Many managers have not dealt with a credit downturn.
Investors should focus on due diligence and evaluate opportunities across the whole sector.
For European pension funds, it has become necessary to at least consider investing in alternative credit. The term encompasses a wide range of strategies and products, from tradeable syndicated loans to direct lending to corporates. But all the available opportunities share similar qualities. Yields are higher than traditional fixed income but the cashflow-matching potential is similar. Loans are floating rate, which protects lenders from rises in interest rates during inflationary periods.
The first choice for investors is whether to focus on the tradeable part of the market, which includes high yield bonds, or the more illiquid part, which is known as private debt or direct lending.
The less tradable private debt space has grown significantly in recent years. Alternative assets data provider Preqin, estimates that the value of global private debt assets has quadrupled since 2006, reaching $595bn (€583bn) in June last year. Between December 2015 and June 2016, assets under management (AUM) in the private debt sector grew by 7.1%.
The obvious problem in the private debt space is the growing amount of 'dry powder', or capital raised by funds but not deployed. This amounted to almost $224bn (€201bn) as of June 2016, and has been growing over the past few years.
Dharmy Rai, associate for private markets at bFinance, says: "There is so much dry powder because there has been a lot of interest by investors. Many funds have raised more money than their initial targets. But we have also seen increased deal activity."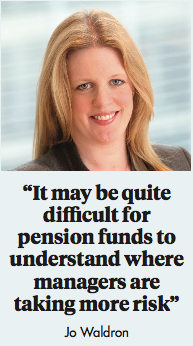 But at the moment, demand outstrips supply, and this is being partly reflected in prices. Jo Waldron, director of alternative credit at M&G Investments, says: "Yields in the direct lending market have gone down, and the supply and demand dynamics are pushing managers to increase leverage in funds in order to meet expected return targets."
The challenge for pension funds is therefore twofold. They need to select investments that truly meet their return targets. At the same time, they need to choose the managers that are likely to succeed by navigating through difficult times.
Waldron adds: "Asset managers are competing to lend. In order to do that, sometimes they pull the leverage lever or the covenant lever, thus changing the risk profile of funds. As a pension fund, it may be quite difficult to understand where managers are taking more risk, which is crucial."
Rai argues that investors should consider whether funds that have exceeded targets will push managers to change their style of investment. "Managers may begin focusing on different areas of the market as they try to build a niche for themselves. They may chase bigger deals with lower yields, or increase leverage at fund level, or move down the capital stack to get higher returns."
There is evidence of rising leverage at fund level, according to Rai. But the biggest concern is the increasing number of unitranche structures. This essentially a single loan that combines senior and subordinated elements. Unitranche loans can be highly complex structures that allow greater leverage and promise higher returns. But their complexity and risk make them a potentially ill-fitting investment for pension funds.
Investors need to get to the bottom of what the underlying investments will be, adds Rai. Similarly, they need to understand what they are investing with. There is unease about the growing number of new market participants.
Nick Warmingham, senior investment director at Cambridge Associates, says: "The biggest challenge that investors face is that we haven't seen how managers behave through a full credit cycle. When investors look to analyse performance and track record, there isn't any data on how funds have performed through a credit crunch."
The question is how should pension funds recognise those managers. Warmingham adds: "When you are underwriting a manager you would look for a team that has worked together in restructuring situations.
Many groups that have built private debt teams have gone down the route of employing former banking professionals. It remains to be seen whether those teams have the investment mindset required to deal with private debt as long-term investment opportunity, as opposed to a bank transaction."
Anthony Fobel, head of private debt at BlueBay Asset Management, agrees: "Investors trying to work out who will achieve the best returns will have to dig into the quality of the team, the details of the underwriting process, the quality of the due diligence and the quality of investment decisions. They will have to assess whether the team has expertise to manage difficult situations. In short, successful investors have to carry out very extensive due diligence."
Mikkel Sckerl, portfolio manager at Capital Four, a manager that focuses on the smaller end of direct lending, says: "If you manage portfolios of leveraged finance and subordinated financing you will of course have defaults. When you look at who is going to handle your private debt strategies you have to consider which expertise they have from previous cycles. Also, you should look at the breadth and depth of the team they have. To deal with defaults, you need to have a large team, with significant senior resources that have gone through restructurings before. That said, we think the credit fundamentals in our sector are still sound."
Pablo Urreta, head of research at Sussex Partners, a hedge fund advisory firm, says: "We look at process, and if the process tends to be very light in terms of selection, origination and underwriting, then for us it's a no-go. We try to track how managers deal with these process. We would much rather they took time to analyse the opportunities rather than deploy the capital for the sake of doing it."
When considering alternative credit, investors should keep an open mind. There are several asset classes within the sector other than private debt. Trey Parker, head of credit at Highland Capital, says: "We think that there is a liquidity advantage to being in a tradable asset class versus a non tradeable one, despite the higher mark-to-market volatility."
He adds: "The credit markets have rallied since 2016, and dispersion within the sector is much higher as a result. But this creates buying opportunities in out of favour industries. In case of a credit downturn, the direct lending space may also offer distressed debt opportunities for patient investors".
There are advantages in investing in syndicated loans compared with direct lending, notes Ranbir Lakhpuri, portfolio manager for secured finance at Insight Investment. Lakhpuri says: "The sector has many strengths. Private equity sponsors have had their fingers burnt in the past, and they have become more cautious as a result. They are investing in better capitalised businesses. The investor base is also more stable and made up of long-term investors. There is less leverage in the market.
"On the negative side, however, you have covenant-light transaction and weaker documentation. Only time will tell, as you go through the cycle, how that impacts recovery rates on those transactions as they start to underperform. The difference is that investors have actually been through a downturn in the past."
Urreta sees opportunities in the structured credit market. He says: "During the crisis we saw great managers of collateralised loan obligations lose 50% on a mark-to-market basis, and then recover 150%. In today's market, managers tend to have in their DNA an awareness of what happened in the past. We are comfortable with managers who are young, who are taking sensible risk, because they want to build a track record."
Whatever the sector, pension funds should monitor managers and investments carefully. Alternative credit has grown significantly during the period of low interest rates, raising the prospect that pockets of risky loans have been extended to weak borrowers.
Credit: Opportunities despite challenges?
1

2

Currently reading

Alternative credit: Handle with care

3

4

5

6

7