Amundi and EDF have combined forces with the announcement of a new asset management company. Liam Kennedy talks to Amundi's head of alternatives, Pedro Antonio Arias, who is leading the project on behalf of the firm
Amundi's planned asset management tie-up with power utility EDF (Electricité de France) is something of a first, certainly for France's financial markets regulator (AMF). It is currently processing the application for a new – and currently unnamed – asset management company, in which Amundi will hold the majority stake. The focus will be renewable infrastructure and real estate, with an AUM target of €700m-800m in the first year and €1.5bn over three years.
Discussions with EDF started last August and the tie-up was announced last autumn. According to Pedro Antonio Arias, Amundi's head of alternatives and who is leading the project for Amundi, the two parties are complementary in terms of know-how and their respective contributions to the venture. Amundi brings expertise in real estate, structuring, managing and fund raising; EDF brings knowledge of the renewable energy sector, as well as experience of building, operating and investing in assets. Unusually for an asset manager, Amundi will provide seed funding alongside EDF, which will co-invest using assets from its nuclear decommissioning fund and other internal sources.
Institutional investors have committed vast sums to illiquid assets recently; according to Preqin, uncalled capital commitments to infrastructure alone totalled $101bn (€94bn) as of September 2014. A key point of this venture is to target fast capital deployment and the avoidance of cash drag associated with illiquid investments.
"This is a new way to approach the market and investors," says Arias. "You will find examples of industrial companies and asset managers creating funds together but not creating a jointly owned company. By providing this approach we believe we will give more comfort to institutions."
"You will find examples of industrial companies and asset managers creating funds together but not creating a jointly owned company. By providing this approach we believe we will give more comfort to institutions"

Pedro Antonio Arias
The new firm will start with a focus on real estate and pan-European core assets in particular within a Luxembourg closed-end fund. Amundi has submitted an application to the Luxembourg regulator for the real estate fund, which Amundi and EDF have already commited to seed with €300m. This fund is now raising external capital with a first close expected in June and a second, with an overall target of €700m, by the end of 2015. The fund has already made four investments: two offices and a hotel in Berlin, and a shopping centre in Cottbus, close to the German-Polish border.
Infrastructure investments will be managed by a French fund under French supervision, which is currently pending authorisation. A recent focus has been recruitment and initially there will be 15 people – five or six in Luxembourg and nine or 10 in Paris, depending on whether one or two new renewables funds are launched. The teams will partly be staffed with personnel from EDF and Amundi, although the real estate team could involve external recruitment. The identity of the CEO had not been disclosed at the time of writing.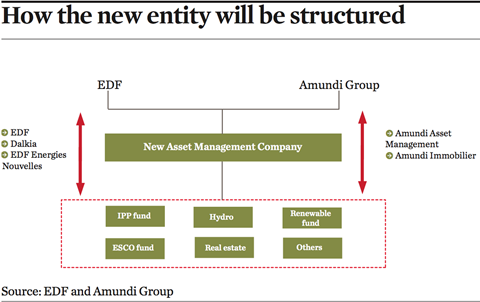 On the renewables side, the unanswered question is whether to start with regional funds or a single diversified fund. Either way, the approach will be straightforward: Amundi and EDF will both commit seed capital both to mature solar and wind assets currently owned by EDF Energies Nouvelles, which will sell a stake to the new venture. A further fund is likely to focus on energy efficiency, an existing business model in the US and Germany but new to France. Next year the venture could look at hydro assets.
As with the real estate fund, the strategy is to take existing, seeded and authorised funds to market with the aim to pre-seed around 50% of the target assets. EDF would continue to hold a stake and manage the assets, as it would do usually.
What about the issue of transparency of valuations? Since most of the renewable assets will have been built by EDF, how will the regulator view that assets will simply move from one EDF 'pocket' to another? "We have had a number of meetings with the AMF and we know how to tackle this issue, but we want to explain the process fully," notes Arias, who observes that the relative maturity of the solar and wind asset classes considerably aids price transparency.
At the moment there are no plans to invest in core infrastructure, although this is possible in the future if the market becomes more liquid and transparent, with more addressable volumes.
Overall, Arias points out the strong alignments of interest: not doing deals also yields market intelligence to outside investors. And if an investment does go bad the parties should have a common interest to continue to manage it. "By having this dual approach with a financial and an industrial investor, we are approaching an area where they will have some comfort," concludes Arias. "I am sure putting these layers together is something that should be attractive and more secure."
France's Agirc-Arrco: Reform of last resort
1

2

3

Currently reading

Amundi & EDF: Adopting a dual approach

4

5

6