Pension scheme managers and trustees should consider striking contingent asset deals with sponsoring employers to hold as security in case of company bankruptcy in the wake of the collapse of UK construction company Carillion.
The group was placed into liquidation last month with a reported debt burden of £1.3bn (€1.5bn) and cash reserves of less than £30m, after last-minute talks to extend bank financing failed.
With seven of Carillion's 14 pension schemes being assessed for entry into the Pension Protection Fund (at the time of going to press), the collapse cast more doubt over the capacity of UK businesses to fulfil their pension promises to staff.
The Pension Protection Fund's (PPF) monthly snapshot of UK funding levels showed an aggregate shortfall of more than £100bn at the end of 2017 across 5,588 private sector defined benefit (DB) schemes. Consultancy Xafinity Punter Southall estimated last month that it would cost £700bn to fund all schemes sufficiently to transfer them to insurers through a buyout.
Ian Mills, managing director at investment consultancy Redington, says it can sometimes be "very difficult" for pension trustees to get the required information from company directors to properly assess the sponsor covenant. This is especially a problem if schemes are considered "a legacy problem the company would rather not have". As companies merge with and acquire others, this problem can increase.
Intransigence from company executives can have serious knock-on effects, Mills explains. Without crucial – but often commercially sensitive – information about the sponsor's prospects, trustees "have a duty to be prudent" with their forecasts and funding models, he says. Invariably, this would mean asking the employer for more contributions.
"That's a difficult message to get from the trustees," Mills says.
The Pensions Regulator last year warned employers of the need to balance payments to shareholders with funding contributions to their pension schemes. Its research showed that the deficit reduction contributions of FTSE 350 companies with DB schemes amounted to just 7% of the amount paid out as dividends.
Carillion compares favourably to the regulator's analysis. Between 2012 and 2016, the firm paid £209.4m to the schemes – ­more than half of the £393.7m it paid­ ­to ­sha­re­­­hold­ers.
But, as Xafinity Punter Southall's Martin Hunter points out, calling for extra cash will not always solve a scheme's – or a sponsor's – problems.
Instead, he argues, negotiating for contingent assets "can be more valuable".
"By the time problems become apparent it can be too late, so you need to have something planned"
In recent years, several schemes have secured funding promises from sponsors in the form of asset-backed agreements rather than cash. With a contingent asset, the sponsor promises something other than cash – often a fixed asset such as a building or machinery – to the pension scheme, usually held in an escrow account or a structure known as a 'Scottish partnership'. In the event of bankruptcy, the asset then becomes the sole property of the scheme to either hold its investment portfolio or sell on.
In addition to securing assets, such agreements can also reduce a pension scheme's annual levy payment to the PPF.
Redington's Mills predicts more contingent asset deals in the wake of Carillion's collapse: "They give security over something tangible."
Hugh Nolan, director at Spence & Partners and president of the Society of Pension Professionals, agrees that contingent assets are an important option to consider.
"By the time problems become apparent it can be too late, so you need to have something planned," he says.
Nolan argues that there was not much that Carillion's pension trustees could have done to improve the funding situation once the company's difficulties came to light through profit warnings issued in the second half of the year – but there are lessons to be learned by others.
Nolan urges pension managers and trustees to monitor for "warning signs", such as management changes and profit falls. Having the sponsor's finance director attend pension board meetings can help too, he adds.
"Every pension scheme in the country is reliant on the sponsor covenant," adds Redington's Mills. "It's fundamentally important that the trustees have a clear view of what the covenant is and what they will do if it is at risk."
Public Pensions Assess Carillion Hit
Carillion was a significant outsourcing partner for central and local government in the UK, and had more than 400 outsourcing contracts in place providing services to local authorities including facilities management, maintenance, road building, library services and delivering school meals.
Many of these contracts included cost-sharing agreements related to pensions provided by the Local Government Pension Scheme (LGPS) to staff transferring from the public sector to the private sector, meaning Carillion was registered as an employer contributing to 13 LGPS funds. LGPS officials have been working to ascertain the shortfall in pension contributions as a result of Carillion's liquidation. The pension fund for the London borough of Ealing was in talks last month with liquidators PwC about recovering debts.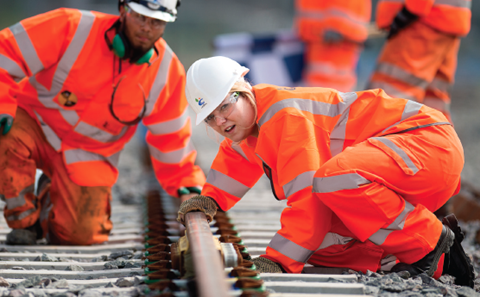 Jeff Houston, head of pensions at the Local Government Association, told IPE: "We don't have all the data yet but early indications are that in the majority of cases Carillion was fully funded. Unless something unexpected pops up we therefore do not expect to see local authorities having to pick up any significant deficits as a result of this event."
As well as exposure to liabilities, a number of LGPS funds lost money because of exposure to Carillion shares or bonds.
The LGPS Advisory Board estimate a total loss of £3m-4.5m, less than 0.05% of total assets.