Interview: Chinelo Anohu-Amazu, National Pension Commission of Nigeria
Chinelo Anohu-Amazu, the head of Nigeria's National Pension Commission tells Carlo Svaluto Moreolo about plans to extend pension provision in Africa's most populous country 
The National Pension Commission of Nigeria (PenCom) faces a series of tough challenges. As the country's pension regulator it has to design rules that encourage productive investment of pension fund assets. At the same time, its regulatory work must facilitate full and timely payment of pension benefits. 
PenCom was set up as part of the 2004 Pension Reform Act that transformed the Nigerian pension system. According to PenCom, the act empowered the commission to "superintend on all pension matters in Nigeria". Ten years later, a 2014 reform all but increased its powers.
PenCom aims to contribute to a steady increase in the coverage of the Nigerian pension system. The system covers 6.95m Nigerian workers, in a population of over 180m.
Chinelo Anohu-Amazu, director general of PenCom, is enthusiastic about the Commission's plan to increase coverage. She describes it as "the next revolution in the Nigerian pension reform", and one of the most ambitious projects for the pension system – referred to as the Contributory Pension Scheme. The plan, which should be launched this year, will provide a 'micro-pension' to workers in the 'informal sector', which includes casual jobs, temporary jobs and those working in subsistence agriculture. 
"Some people have said that is near impossible. But the pension reform was met with the same sceptical attitude when we began and it happened. That makes us hugely optimistic," says Anohu-Amazu.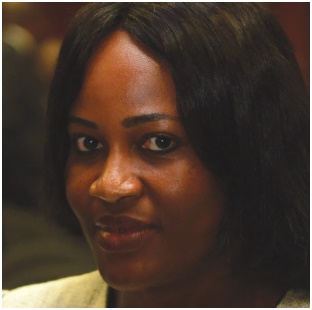 She explains that the much of the country's working population is in the informal sector: "There are at least 32m people who are actually working but because it's informal employment they are out of the pension system." 
That population of informal workers is heterogeneous, as some are low-income workers, while others have high incomes, she adds. Workers can be both employees of small businesses and self-employed, such as Nigeria's myriad of traders. The informal sector includes entertainment professionals of the emerging Nollywood industry, such as actors and musicians. 
The revolution, Anohu-Amazu says, will only take place if PenCom engages directly with those informal workers. For that reason, she has set up a new department at PenCom to deal exclusively with micro-pensions. "Our staff has to go into the streets and sensitise people. We have to build trust."
Pension rules will be adapted to the informal sector, so workers saving into a micro-pension have permanent access to 30% of their fund. 
As well as broadening pension provision, the project will also increase financial literacy. 
It is also hoped that all these efforts, says Anohu-Amazu, will help create a thriving ecosystem for investment in the country's real economy. 
The 2014 reform included several provisions aimed at supporting this ambition. One example is the possibility for workers to access their retirement savings accounts (RSAs) to fund a mortgage. "This ties in neatly with the need to invest in housing. We have a 15m housing deficit in Nigeria. That is any developer's dream, once you sort out how you are going to pay for it."
"We have to make sure that when the money comes in, it is going somewhere. I am a big fan of doing things that people can see, like roads, bridges and houses"
Building the ecosystem, however, does not mean encouraging unsupervised investment of pension funds in any asset class. On the contrary, PenCom has designed strict guidelines on what pension funds can and cannot invest in. 
One of those checks and balances is the separation between entities that collect and invest the mandatory pension contributions, and those that physically hold the funds. The first are called Pension Fund Administrators (PFAs) and the second Pension Fund Custodians (PFCs). PenCom licenses the PFAs and PFCs. There are currently 21 PFAs and four PFCs, plus seven Closed Pension Fund Administrators (CPFAs).
Anohu-Amazu explains that the system has benefited from being highly regulated. "There isn't one case of mismanagement in the system, because of all these checks and balances."
As part of the 2014 reform, PenCom's enforcement powers were strengthened. The penalties for breaking the rules are becoming "stiffer", if anything.
But PenCom has tried to make sure the guidelines are designed in a way that enables investment in assets beyond just Nigerian federal government bonds.
PFAs invest 65% of the mandatory contributions in domestic government bonds. This is well below the 80% ceiling set by PenCom but much higher than the director general would want. PenCom aims to push PFAs towards private equity and infrastructure, provided that the investments follow the guidelines. 
"We are getting a lot more interest, especially from abroad, in setting up infrastructure investment opportunities. Potential investee companies come and look at the guidelines before they structure the investments so that they are compliant with pension fund regulation and therefore investable by the PFAs," says the director general. 
Anohu-Amazu has a clear goal in mind. "We want to create an enabling environment for co-investments, where both pension funds and other investors have skin in the game. We have to make sure that when the money comes in, it is going somewhere. I am a big fan of doing things that people can see, like roads, bridges and houses." 
PenCom's funding is limited but by international standards it is well staffed, having 385 employees. Anohu-Amazu says: "That isn't sufficient to support the efforts to extend coverage to all sectors across the country. We realise that to get more people in the scheme, we need to have more people deployed in the states, so that they can approach people and explain the benefits to them." 
However, the benefits of a pension system are already showing: "We've seen an increasing need for rating agencies. We've seen a huge increase in the insurance industry, because part of the law makes it mandatory for employers to provide life insurance for their staff. We've also seen an increase in bond issuance," says Anohu-Amazu. 
There are benefits to the wider private sector as well. Companies bidding for contracts must have their pension affairs in order. This requires them to step up their game, says Anohu-Amazu. 
This positive impact on the entire financial services industry and the wider private sector, could also be thanks to the collegial nature of the PenCom board. PenCom reports directly to the country's President, and the board brings together representatives of the Central Bank of Nigeria, the Securities and Exchange Commission, the Nigerian Stock Exchange, as well as representatives of the labour market. A chairman, the director general and four full-time executive board members lead board decisions from within PenCom.
Anohu-Amazu, a lawyer by training, has served in PenCom since its inception, and was part of the Pension Reform Commission that designed the 2004 reform. Today she is pushing her agenda to encourage domestic institutional investment in the African economy, on a continental basis. 
"It was about bringing people from the continent together and taking responsibility to solve our own problems. And the pension funds are increasingly the platform for that, particularly regarding the infrastructure problem."