Founded four years ago, the UK Pensions Infrastructure Platform is about to launch its first internally managed fund. Chief executive Mike Weston talks with Jonathan Williams about the fund's strategy and his desire to collaborate, not compete, with other asset owners
Mike Weston has big plans for the Pensions Infrastructure Platform (PiP). Appointed as chief executive in September 2014, he was hired to ensure the venture would be more than just a fund-of-funds co-ordinator to funnel the UK Treasury's desired £20bn (€28.5bn) of pension assets towards infrastructure projects.
Launched in 2011, after talks between the Treasury, the Pension Protection Fund (PPF) and the National Association of Pension Funds – now known as the Pensions & Lifetime Savings Association (PLSA) – the PiP was designed as a not-for-profit alternative to existing fund management offerings, emulating Australia's IFM Investors and Switzerland's IST in being owned directly by pension funds.
The £20bn target of the chancellor of the exchequer, George Osborne, was unrealistic, and the fund was initially seeking a more modest £1bn in assets that can be leveraged to £2bn.
A former CIO of the Daily Mail and General Trust's pension fund, Weston praises the efforts of PLSA chief executive Joanne Segars, who oversaw the majority of the work during the venture's first three years, securing agreement from five of its 10 founding investors (see panel) in early 2014 for a £260m investment in its first fund, a public/private partnership (PPP) equity fund managed by Dalmore Capital.
PiP has since launched a second fund investing in solar power, managed by Aviva Investors, and has seen some of its founding investors and other pension funds back the £4.2bn Thames Tideway Tunnel project with £370m in collaboration with Dalmore Capital. In total, PiP takes credit for directing £1bn in capital towards both Aviva and Dalmore Capital. Founding investors PPF and British Airways have participated in all three of the ventures.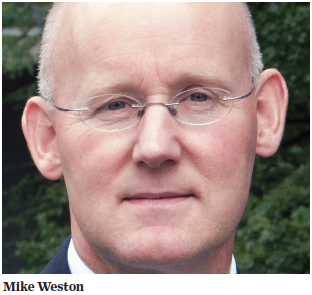 Weston says one of his priorities at PiP has been hiring staff. The recruitment drive saw Ed Wilson named investment director, joining from banking group Lloyds, and Paula Burgess depart CCLA to be COO.
Wilson – who, for the last two years has been Lloyds's head of infrastructure, energy and utilities, debt solutions and capital markets – will be overseeing PiP's first in-house fund, which he hopes the Financial Conduct Authority will approve in time for launch by 2016. Wilson will be able to grow in-house investment staff somewhat, but Weston says it will never have a "massive" team behind it.
"The ambition for the fund is that it is a multi-strategy fund," he tells IPE. "[It will be] multi-strategy on the basis of investing across all the sub-sectors of UK infrastructure and across the capital structure – so debt and equity."
Renewable energy is of interest, Weston says, and PiP is looking at both on and offshore wind, in addition to its solar power exposure already in place via the Aviva fund.
Weston says the fund, which aims to raise £1bn, will act as a "one-stop shop" for pension investors seeking core UK infrastructure, targeting returns of 2-5% in excess of the retail prices index. To achieve a diversified portfolio, Wilson will be tasked with identifying 15-20 assets.
But the fund's size will not stop PiP from offering further funding on a similar scale to the Thames sewer project due to its existing relationship with its founding investors. "Effectively, we are the in-house infrastructure investment teams of these schemes," Weston says, adding that the relationship will allow founding investors to co-invest in any project they deem sufficiently interesting but possibly unsuitable for the £1bn fund, or where founding investors wish to have a larger exposure than is viable for PiP.
Weston also emphasises the need to clearly "bookend" areas in which PiP will invest, and cites the Universities Superannuation Scheme's (USS) acquisition late last year of Moto Hospitality, the UK's largest service station operator, as a good example. He says PiP considered the asset but that it would sit more comfortably within USS's portfolio than with PiP, as it combines elements of private equity, real estate and infrastructure. "For us, there was too much economic sensitivity."
One of Weston's concerns is the growing attention pension funds are paying infrastructure. Asked about the London Pensions Fund Authority's £500m infrastructure joint venture with the Greater Manchester Pension Fund – a former founding investor that publicly withdrew its support from the PiP – he stresses that value will be created by co-operation not competition. "If you're talking about sizeable projects, where some additional capital would help those projects go forward, then a tie-up with PiP as an additional provider of capital is a perfectly logical thing to do."
He is nervous about the UK government's plan to pool the assets of local authority pension schemes in England and Wales into six vehicles, as he fears the pools could end up competing for the same assets, driving up prices: "It will do no good to anybody."
He recalls how PiP ended up competing against USS when it came to the Thames Tideway Tunnel but admits that, even if the competing groups had sat down and negotiated, they might not have reached a deal. "One of the things that is quite high on our agenda is how to make sure we can co-operate with funds and not compete," he insists. "It doesn't benefit pensioners at the end of the day if we are sitting down and competing with other pension schemes."
But Weston admits that such collaboration, unusual as it is in the UK, is one of the many challenges he will need to face if PiP is to succeed.
UK Pensions Infrastructure Platform
• Launched in late 2011 as a collaboration between the National Association of Pension Funds – now the Pensions & Lifetime Savings Association – and the PPF.
• PiP attracted 10 founding investors: the pension funds for BAE Systems, the BBC, British Airways, BT, Lloyds TSB, Strathclyde and the West Midlands, as well as the PPF, LPFA and RPMI.
• Founding investors gave a soft commitment of £100m and funded the project's start-up costs with £100,000.
• PiP has launched two funds, a PPP equity fund managed by Dalmore Capital and an Aviva Investors-managed solar fund.
• Two founding investors, the PPF and the BA pension fund, have been involved in all investments.
• The Greater Manchester Pension Fund (GMPF) and Tesco pension fund invested in the PPP equity fund, while Reed Elsevier committed to the solar fund and DMGT invested in Thames Tideway Tunnel.