The funded status of US corporate defined benefit (DB) plans is getting better, thanks to investment gains and higher corporate bond interest rates that decrease liabilities.
The first two months of 2019 were positive. The 100 largest DB pension plans sponsored by public companies improved their funded status to 92.6% at the end of February from 91.4% one year earlier, according to the monthly analysis that Milliman includes alongside its 100 Pension Funding Index (PFI).
If the pension plans were to achieve their expected 6.8% median asset return – as assumed in Milliman's 2018 pension funding study – and if the current discount rate of 4.08% were maintained, their funded status would reach 95.7% by the end of 2019 and 99.5% by the end of 2020.
Would these results slow down the trend toward de-risking through annuity purchases? This trend charged ahead in 2018, according to the Russell Investments report on what it calls the $20bn club. The club is the group of firms with global pension liabilities exceeding $20bn (€18bn). They are 3M, AT&T, Boeing, Dow Chemical, EI du Pont, Exxon Mobil, Federal Express, Ford, General Electric, General Motors, Honeywell, IBM, Johnson & Johnson, Lockheed Martin, Northrop Grumman, Pfizer, Raytheon, United Parcel Service, United Technologies, and Verizon.
Russell analyses them because "the major developments in the corporate DB space have often begun with this group, and observing them helps us understand the industry at large".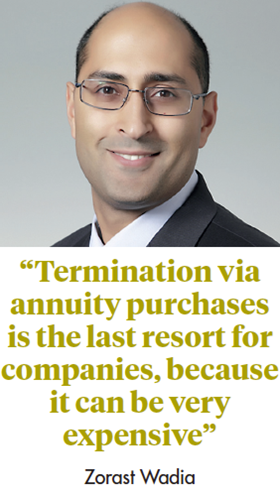 For example, FedEx offloaded a large portion of its retirees to insurer MetLife with a transaction exceeding $6bn and last year Lockheed Martin transferred a significant portion of its plan to insurers Prudential and Athene for about $2.5bn. "This transaction was unusual because it included a buy-in annuity purchase in anticipation of a plan termination," says Justin Owens, co-author of the report on the $20bn club. "With buy-in annuity purchases, the sponsor still pays the benefits to participants, but they are reimbursed by the insurer. While buy-in transactions have been uncommon in the US until now, this move by Lockheed Martin may signal a new move in that direction."
"But termination via annuity purchases is the last resort for companies, because it can be very expensive." says Zorast Wadia, co-author of the Milliman study. "To transfer liabilities to an insurance company, the funded status must be 100%.
"Finally, the insurer wants some profit margin. So while all companies are focused on handling DB pension plans' risks, not all will decide to transfer the risks buying annuities."
Royce Kosoff, a managing director for Retirement at Willis Towers Watson, says: "The focus on risk management is going to be stronger because of the rollercoaster that DB pension funds experienced last year. 2018 was a visible demonstration of the volatility effects on the funded status: December's market downturn wiped out all the gains that were achieved in the previous months."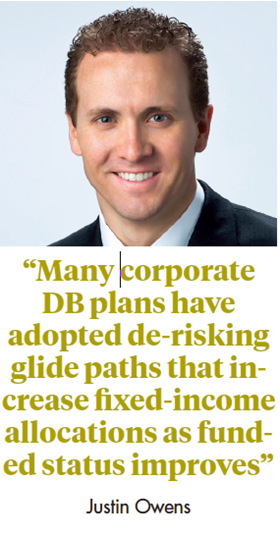 Notwithstanding good equity market returns, "many corporate DB plans have adopted de-risking glide paths that increase fixed-income allocations as funded status improves", says Owens. "During the course of 2017 and much of 2018, good investment returns and contributions pushed funded status up. This triggered asset allocation changes favouring more in liability-hedging fixed income. Asset allocation data from the largest US corporate DB sponsors' annual filings show a significant shift toward fixed income during 2018. This shift helped to preserve funded status when we saw the downturn in late 2018."
There are still big corporate pension funds that invest more than half of their portfolios in equities. These include Altria, Johnson & Johnson, Kellogg, Merck, Pepsi, and Warren Buffett's Berkshire Hathaway, according to Milliman 2018 Pension Funding Study.
"The focus on risk management is going to be stronger because of the rollercoaster that DB pension funds experienced last year" - Royce Kosoff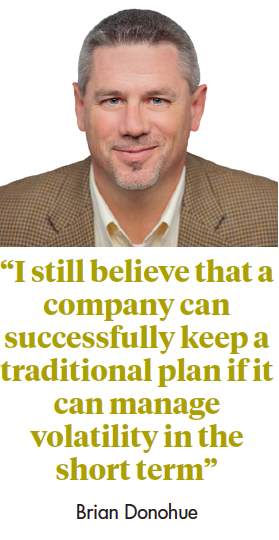 "During the last 10 years we've seen more talk than action about de-risking," says Brian Donohue, partner at October Three, a specialist consultancy firm. "Yes, there is an incremental shift of asset allocations toward fixed income, but not a wholesale movement. Traditional pension plans that still invest more in equities are betting on them performing better than fixed income in the long run. If it's true, pension obligations will cost less. Even though since the beginning of the 21st century a bond portfolio has outperformed an equity one, I still believe that a company can successfully keep a traditional plan if it can manage volatility in the short term."
A 2017-18 trend that will slow down in 2019 is the increase in contributions. Last year, many companies took advantage of the relatively high tax deduction on contributions before cuts (from 35% to 21%) came into effect. Lockheed Martin contributed $5bn, FedEx $2.6bn, Raytheon $2.1bn, GM and Dow Chemical both about $1.7bn. "This short-term window of opportunity has now closed," says Owens. "Sponsors have less appetite for funding their plans in the near future."