"I don't think anyone expected the fund to ever reach a trillion dollars when the first transfer of oil revenue was made in May 1996," Yngve Slyngstad, CEO of Norges Bank Investment Management, wrote following the announcement in September that the assets of Norway's Government Pension Fund Global (GPFG) had reached that seminal total.
Of course, surging past the trillion dollar mark is as much the result of short-term factors such as a buoyant dollar and high equity market values as long-term investment strategy.
A hallmark of Norway's wealth stewardship has been its transparency – the general public knows far more about GPFG than any other comparable sovereign wealth fund. But Norway has also felt the need to tread cautiously when it comes to the fund's investment policy.
Indeed, NBIM has been permitted to make remarkably few strategic changes to its investment strategy over the years: adding direct property as an asset class in the 2000s and moving away from external active equity managers. The Finance Ministry, which ultimately governs the fund, has resisted other proposals, for instance to invest in unlisted infrastructure.
But a joint letter to the Finance Ministry by Yngve Slyngstad and Øystein Olsen last month recommending divestment from oil and gas stocks represents a new chapter.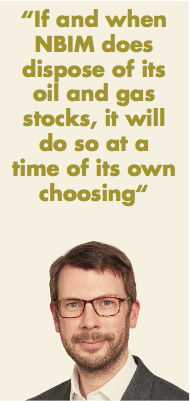 The recommendation is made purely on risk grounds; taking into account future oil and gas revenue and the state's holding in Statoil, NBIM calculates that the oil and gas equity holdings more than double overall exposure to oil and gas risk.
Given the fund's assets of around €860bn and its current equity benchmark of 65.9%, the weighting to oil and gas stocks in the index, at around 6%, implies holdings in global oil and gas stocks in excess of €30bn (by comparison, Exxon's market cap is around €290bn).
Considering the equity market drawdown of 2008-09, which hit the fund badly, it is quite understandable that Norway should want to reduce the market exposure risk of its asset portfolio to the source of that wealth.
This issue is not new – Sony Kapoor, managing director of Re-Define, who has advised Norwegian political parties on the fund's policy, has advocated oil and gas divestment for years.
Reluctance to change the strategic mandate in a consensus-driven society might explain why this has taken NBIM so long. Avoiding the diplomatic sensitivities that could arise from a future divestment from Saudi Aramco post IPO could also be behind the timing.
The decision is also significant as it will doubtless prompt other institutional investors to re-consider their oil and gas holdings.
One thing is certain: if and when NBIM does dispose of its oil and gas stocks, it will do so at a time of its own choosing, using every trading venue it possibly can, and well outside the scope of public scrutiny.
Liam Kennedy, Editor
liam.kennedy@ipe.com
Norway reduces oil risk
1

Currently reading

Norway reduces oil risk

2

3

4