Private markets, social impetus
There is a late-stage investment cycle feel in many markets. In private equity, reports of mega-sized fund raisings and buyouts are competing with concerns about high-yield spreads and covenant-light loans. Finding yield where everyone else wants the same thing is becoming increasingly hard.
Of course, rational investors want to avoid piling in to richly valued assets – the problem being that includes most main asset classes now. As ever, pension funds must weigh up short-term market dynamics with longer-term strategic thinking. Defined benefit (DB) schemes need to evaluate their capacity for illiquid assets and defined contribution (DC) funds must consider ways to incorporate illiquid assets in mark-to-market portfolios.
The evolving dynamics of capital markets are key: as banks retreat from certain lending activities, institutional investors have been taking up the slack. In leveraged loans, for instance, pension funds are getting a look-in as providers of capital to fund private equity activity. In the longer run, stricter regulatory requirements could make it less attractive for private companies to list, stifling the pipeline of growth companies. Smart, socially responsible long-term investors can position themselves as private-market-focused growth capital providers.
Recent moves advocating Norway's Government Pension Fund Global invest 4% of assets in private equity is the latest of a long line of strategic thinking on asset classes and investments for the fund – which has embraced real estate but eschewed infrastructure. No doubt for some in Oslo with a sense of vision, a putative Norges Private Capital could, conceivably in the 2020s, compete with CPPIB Investment Board, KKR or Blackstone. As it looks to its future, why would Norway, or any globally focused investor, want to limit its risk exposure to parts of the capital structure that are growing?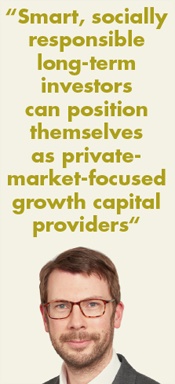 More pension fund investment in private markets will lead to a nuanced debate on social responsibility, given the absence of transparency in public markets. This will mean more than just funding green energy investments and being active corporate citizens. If it does embrace private equity, Norway's GPFG will not only face the challenge of deploying over $40bn (€33bn) in private equity markets. It will need to reinvent the way private market investments are evaluated and assessed from the perspective of social responsibility.
The 2008-09 financial crisis led to a focus on capital structure and investors'  best place on it. Attention was focusing on previously obscure or bank intermediated areas such as private lending and the riskier parts of public debt markets – and private equity has made a comeback since a post-crisis nadir. Thinking strategically, the balance between private and public markets might be as crucial a determinant of future success as other investment questions – including active versus passive or equities versus bonds.
Liam Kennedy, Editor of IPE
liam.kennedy@ipe.com
Pages in: Private markets, social impetus