APG's Growth Factory takes a radical approach to tech disruption, following the vision of director Joep Beukers
APG
● Client assets: €470bn
● 2017 client return range: 5.6-7.9%
● Participants: 4.5m
GroeiFabriek
● Locations in Amsterdam, Heerlen Brightlands Smart Services Campus and New York
● 8-20-week experiments implemented by multidisciplinary team
● Dashboard to measure lessons learned; project targets and social targets
● McKinsey three-horizon framework to plot innovations against long-term strategy
The Dutch pensions powerhouse APG has a lot to get right – with 4.5 million members, throughout the country in national, regional and local government, academia and the military. The downside reputational risks are considerable were APG to fail to maintain pension records or miss payments to its 1.5 million retirees.
The Netherlands also has a monolithic defined benefit (DB)pension system with little choice for end beneficiaries. As such, you might be forgiven for thinking that the likes of APG have a path dependency that involves managing the basic processes of the two main services – pensions payout and record keeping. Well, partly.
APG has complex organisational and innovation needs, not least as the administrator and asset manager for ABP, the Netherlands' largest pension scheme with €419bn in assets and 1.1 million beneficiaries.
With a background in Heerlen, in the former Dutch industrial heartland of Limburg, where its administration offices are located, APG also has roots across society. ABP is the main shareholder as well as the main client. It started in 1922 under the terms of the Burgerlijke Pensioenwet, signed into law by Queen Wilhelmina on 19 June of that year, according to ABP at 85, a commemorative volume produced in 2007.
ABP at 85 features archive photos – including dated mainframe computers, reel-to-reel data storage units and state-of-the-art 1970s workstations.
APG's GroeiFabriek (Growth Factory) is APG's response to the need to innovate. It came into being in late summer 2015 under the leadership of Joep Beukers, who originally joined two years previously to focus on business process engineering.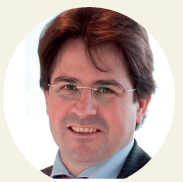 Following graduation in chemical engineering, Beukers worked at Philips and then ING, specialising in procurement and organisational processes through the Lean Six Sigma approach. This is a fusion of Japanese Lean Manufacturing processes as adopted by Toyota with the 'just in time' approach and the Six Sigma methodology first adopted by Motorola in the 1980s and popularised by Jack Welch at General Electric in the 1990s.
Beukers jokes that as a chemical engineering graduate, his ambition had always been to be director of a manufacturing plant – hence the industrial nomenclature of the GroeiFabriek. "I'm a chemical engineer. And as a chemical engineer, your big dream when you are studying chemical engineering is to be a director of a plant or a factory."
According to a mission statement written by Beukers and entitled Innovation Manual: GroeiFabriek – Everything You Need to Know and More, APG anticipates that its current products and services may soon be obsolete. It summarises GroeiFabriek's four main activities as:
● Stimulating the growth of new ideas from within APG
● Experimentation "without limits"
● Building an ecosystem of continuous innovation
● Launch of ideas to market itself or via APG
Beukers, who reports to Francine van Dierendonck, APG board member for participant and employer services, emphasises: "We want to make our funds stronger, and want to be a trusted guide, in order to help people making the right decisions."
The "golden rule" of the GroeiFabriek, according to Beukers, is that 60% of the people in an experimentation team should be APG staffers. Teams are multi-disciplinary and could include IT, pensions, risk or communications staff, for instance. "We hire APG people temporarily from the different departments and they can work on the experiment team for three to six or eight months, dependent on how long the experiment takes.
"Making sure that the right people get in and also making people enthusiastic to start working in the experiment team takes a lot of effort, time, and organisation."
The GroeiFabriek utilises McKinsey's three-horizon framework whereby the first focuses on incremental improvements to core businesses and processes; the second focuses on projects that could deliver substantial revenues in the immediate term; and the third horizon concentrates on future exponential innovations.
As such, the unit focuses on the latter two, with horizon three projects kept under observation while horizon two work is subject to work looking at exploration, experimentation, piloting and eventual rollout. "I'm really primarily focusing only on the radical innovations," explains Beukers. "The disruptive part is where we say okay, it either should do what we're currently doing, but radically differently. So either 10 times cheaper, or 10 times faster."
Work in all these stages follows templates with mandatory and optional tools to facilitate the work. For instance, the 10 mandatory tools in the Explore phase include a Big Hairy Audacious Goal, a Value Proposition Canvas and a Business Model Canvas.
A Big Hairy Audacious Goal is a "10-year goal to catalyse team effort and team spirit". The Value Proposition Canvas focuses on customers by means of "pain relievers" and "gain creators". The Business Proposition Canvas is a visual tool for documenting and testing business models, describing added value and how it can be delivered.
Hackathons are one way to generate ideas, alongside innovation challenges and ideation sessions. APG is a sponsor of the Odyssey Blockchain Hackathon, to be held in Gronignen this April and the organisation will provide a 'challenge' for the event, according to Beukers. This will involve 10-12 teams coming up with an idea to a pensions-related problem and building a blockchain-based solution.
"Crazy ideas come from that," says Beukers, but some then feed into the GroeiFabriek innovation funnel. The GroeiFabriek also hosts a hackathon at its Heerlen Brightlands Smart Services campus.
Other sources of ideas include a yearly APG innovation challenge. Ideation sessions typically involve multiple teams brainstorming ideas that are refined through a voting processes and brought back to the GroeiFabriek for potential future development.
The ultimate goal of all these exercises are workable new business units. Last year 70 people from across APG worked in the GroeiFabriek, across 23 experiments, bringing three to 'life' (against a target of four).
Kandoor: a marriage of AI and human intelligence
Perhaps the most advanced projects supported by the APG GroeiFabriek is Kandoor, a web-based automated financial advisory service.
Kandoor consists of a website where users can obtain independent financial advice thanks to a combination of machine learning technology and a large group of volunteer financial advisers. Users type in their question, ranging from pensions to mortgages, and the website provides an immediate response. If the system cannot answer the question immediately, the question gets forwarded to one of the 200-plus volunteer experts, who will usually provide between four and eight hours. The system has so far provided answers to over 160,000 questions, with a 89% positive response rate. The strength of the system lies in the combination between machine learning and volunteer advice, which guarantees independence. The system has built an impressive database of questions and answers and, as a result, the automated responses have become more detailed and to the point.
Carlo Svaluto Moreolo
One idea currently in the 'funnel' is an idea for a dating app, which Beukers describes as "quirky", although he emphasises it is at a very early stage. Overall, GroeiFabriek ideas have to be "radically in line with our strategy", and there has to be an internal sponsor.
Beukers elaborates: "Very often in new technologies or more improved technologies, the question is, does it still solve the problem to the impact that we initially thought? Or does it create an opportunity to the impact that we believed at the ideation phase?
"Then we have several stage gates, where we ask ourselves two questions: are we still able to make it?
Do we believe we are able to make it?" In other words, as he explains: "Does it still solve the problem to the impact that we anticipated? Does it create an opportunity to the impact that we believed at the ideation phase?"
So far one experiment – Kandoor – has made it to rollout.
Corporate scenario analysis for APG
A scenario must be challenging, plausible, relevant, and consistent. APG envisages the following potential future possibilities:
● Basic scenario – the current pension system remains unchanged. Limited changes may take place in the pension contract and participants' expectations (evolution not revolution)
● Lifecycle planning 3.0 – significantly increased life expectancy and low returns lead to a redefinition of life cycle planning
● The fourth industrial revolution – the rise of robotics results in unprecedented technological possibilities, but also leads to high unemployment and divisions in society
● The fight for the individual – the need for extensive freedom of choice and the unification of Europe lead to a wholly individualised pension system
● Side-by-side for one's own country – populism is rampant, leading to protectionism and a significant role for the national government, which protects the current system
From APG's 2017 annual report
Kandoor is an AI-enabled chatbot that allows any Dutch individual to receive robo-enabled financial advice. Beukers describes it as a platform that links people with finance-related questions to those who have answers. Each year around 100 people work on question-and-answer scenarios – for instance on tax or pensions (see boxout).
While the main focus of the unit is administration, some work is investment-related. Panoptes, described on the GroeiFabriek Facebook page as a "techruption" experiment with the Maastricht University Brightlands Institute for Digital Smart Society (BISS Institute), aims to develop ways to visualise carbon footprint data.
The GroeiFabriek works on a 'fail fast' basis, meaning experiments are swiftly concluded if they do not meet expectations. Among those failures last year were an experiment to measure client satisfaction. This has been rolled into one to evaluate value creation through emotional recognition in the voice. A further co-operation with IBM was brought to an end for cost reasons.
In the slow world of pensions and long-term investment, the pace is fast. "You move on from one experiment to the other," Beukers concludes. "If you look at the success ratio in the innovation philosophy, you say 100%, because we only have brilliant failures."
Pension tech for dummies
1

2

Currently reading

APG: How a giant stays agile

3

4

5