Arabesque, a provider of technology solutions for sustainable finance, has recruited investment veterans Herman Bril and Ulrika Hasselgren as the group expands to meet growing demand.
Bril, who is currently CIO of the UN Joint Staff Pension Fund (UNJSPF), will take up the role of CEO of Arabesque Asset Management in July. Hasselgren, former global head of sustainability and impact investment at Danske Bank, joins with immediate effect as group head of Nordics and head of Europe for corporates and sovereigns.
Established in 2013, Arabesque has three integrated businesses. Besides Arabesque Asset Management there is Arabesque AI and Arabesque S-Ray, which provides sustainability data, advisory and research services based on a algorithmic approach combining big data and environmental, social and governance metrics.
Georg Kell, chair of the Arabesque Group and founding executive director of the United Nations Global Compact, said: "A more sustainable financial system is starting to emerge, with technology and digitalisation the key drivers shaping the future of ESG investing.
"I am thrilled to welcome Herman Bril and Ulrika Hasselgren to Arabesque, with their experience of successfully developing and implementing sustainable investment strategies at various financial institutions.
"As the company scales up its products and services worldwide to meet market demand, their vision and leadership will be invaluable."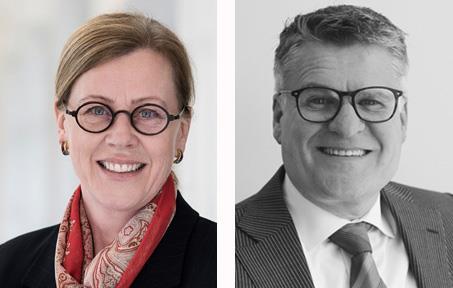 Bril joined the UNJSPF in 2016. Before that he served as group CFO and managing director at Cardano Risk Management, and was head of treasury and capital management at Aegon NV, and head of asset management and CIO of Syntrus Achmea Asset Management.
He is also the co-editor, with Kell and Andreas Rasche, of Copenhagen Business School, of a book launched this year, 'Sustainable Investing: A Path to a New Horizon'.
Bril said: "Technology and data are playing a key role in reshaping sustainable investing, spurring market transformation away from industrial-era concepts towards future-fit models and new horizons.
"Powered by the market-leading ESG data assets of S-Ray and the group's AI technology, Arabesque can help drive change through its autonomous, sustainable investment products and solutions."
Before her role at Danske Bank, Hasselgren was global head of RI strategy and ESG integration at Institutional Shareholder Services (ISS) after it acquired Ethix SRI Advisors, the company she co-founded in 1999. She has served on the boards of Eurosif, Dansif, and Swesif, and chaired the LuxFlag ESG label eligibility committee.
"I'm excited to be joining Arabesque's fast-growing team with its collaborative and entrepreneurial culture, and I look forward to bringing innovative new data, insights and investment products to the Nordic market," she said.
The news of Bril's and Hasselgren's hire comes after Arabesque last month announced Daniel Klier, former HSBC group general manager and global head of sustainable finance, as the new CEO of Arabesque S-Ray and group president. One of Arabesque S-Ray's tools is something called the Temperature Score, which translates publicly reported greenhouse gas emissions from each company to a Celsius degree temperature and identifies companies that have incomplete emissions reporting.
DWS, Allianz X, Commerz Real and the federal state of Hessen have a minority stake in S-Ray.
Looking for IPE's latest magazine? Read the digital edition here.