In March 2020, as the Australian economy went into COVID-19 lockdown the government unlocked the national superannuation pool, seeking to ease the financial stress on individuals.
The easing ended on 31 December 2020, but not before superannuation funds had dispensed almost A$36bn (€22.7bn). Some 4.8m initial and repeat applications were processed and approved by the Australian Taxation Office.
Under the COVID-19 early release scheme, savers were able to access up to A$20,000 in two tranches from their superannuation accounts.
Until then, they could not be touched until retirement, or what is known as the "preservation age", which is 55 and 60 in Australia.
Australia was the first country to allow its citizens to raid their super savings.
David Knox, Mercer's senior partner and senior actuary for Australia, lists Spain and the US as two other examples of countries where people were allowed to access their pensions during the pandemic.
"In Spain, people were able to access their money – but it was capped at an amount equal to their income for the month," he says. "The Spanish government required proof of salary lost before Spanish workers were able to withdraw.
"In the US, certain pension schemes allow withdrawals of up to US$100,000 but the number is small because US pensions are mostly in defined benefits. So there can be no early release."
Australia's superannuation industry itself was critical of the decision to allow early release but a leading industry executive now concedes that early concerns were overblown. "None of the hysterical headlines (mostly about liquidity) that we saw at the time came to pass. There was no liquidity crisis, and it was a smooth process," he says.
Total withdrawals of funds amounted to less than 1.2% of the system's total assets under management (AUM). Put another way they account for just over one-third of annual inflows of A$100bn into the system.
"Apart from inflows, if you think about returns, which in a good year might be as high as 10%, a reduction of 1% or so is not something the system can't cope with," Knox says.
But while the amount withdrawn has barely dented industry AUM, individuals may yet count the cost of early withdrawals.
Andrew Boal, chief executive of Rice Warner, a superannuation consulting and actuarial firm, says that, from the system's perspective, the amount taken out is "not a disaster". But for some it will make retirement harder than it needs to be.
Nick Callil, head of retirement solutions, Australia at Willis Towers Watson, says: "In my view, pension savings shouldn't be the first port of call for getting people through what looked like a pretty bad period ahead.
"From a policy perspective, ideally we don't want people to take money out of super but obviously COVID-19 presented an extraordinary circumstance."
Up to 600,000 people have depleted their super savings, according to Boal. "A lot of these are younger people, often in more affected industries, such as hospitality and retail. Yes, they will have to start saving again," he says.
In today's dollars, Boal calculates that the superannuation balance of someone who is 25 now, who took A$10,000 in early release, could be about A$30,000 to A$35,000 worse off by the age of 65. They will have lost the compounding effect of that A$10,000 had they left the money in their account.
Most of these young people belong to two large industry funds – Hostplus and REST Super – which represent the hospitality and retail sectors. Their members were the hardest hit during the lockdowns. The two funds paid out a total of A$6.2bn as of the second week of December (see table).
Australia's biggest industry fund, the A$200bn AustralianSuper, had the highest number of withdrawal requests, – 645.678 worth A$4.8bn – but a spokesperson for AustralianSuper says the fund's liquidity position is back up to its pre-March level.
One industry source told IPE that the retail funds (run by banks and other financial institutions, and collectively managing A$591bn at 30 June 2020), saw a lower level of outflows than the industry funds.
"The uptake of the government scheme is reflective of the demographics of the funds," the source says. "So it is not an industry super versus retail super distinction. It is more a case of funds that have lots of young members versus funds with older demographics.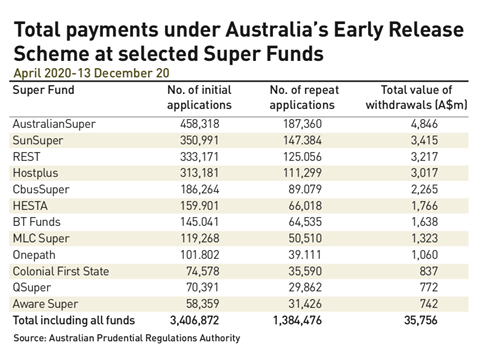 "Funds like Hostplus, REST and AustralianSuper have large membership bases, and they have mostly young members. Generally, members of retail funds are older and have higher balances."
Boal reiterates the industry consensus line: that the purpose of superannuation is for retirement, not hardship. "Surely a society like ours has a better way to deal with those in need than asking them to dip into their own retirement savings", he says.
The sector says the key question is no longer the impact the scheme has had, but the precedent set.
An industry leader says: "I do believe it is a wake-up call, and it is an ongoing issue. The genie is out of the bottle. If this government or a future government looks to provide early access on an ongoing basis – whether for housing deposits or what-have-you – some funds will have to rethink their investment strategies."
Allowing savings to be accessed early could pose a problem for long-horizon investment, he says.
Australian superfunds in have structured their investment strategies on the premise that their capital will not be made available for purposes other than retirement. Which raises another question. Can industry funds afford to continue to have high allocations to illiquid assets, such as infrastructure and real estate, which have consistently delivered higher returns?
Most agree that, while the immediate impact of the pandemic on super funds is manageable, the broader impact will take a longer time to become clear.
Callil says: "Right now, government assistance, such as the JobKeeper programme, is buttressing employment. When JobKeeper ends in March, unemployment may go higher." He says the impact on the future savings of those who have drawn down their super accounts, together with the impact of COVID-19, could push out retirement ages.
Depending on their current income level and retirement aspirations, says Callil, the impact could extend the average working life by two to three years for someone who is 30 today, and by up to eight years for age 60-65 cohorts. In the worst scenario, people wanting to protect their standard of living may need to work to their mid-70s instead of mid-60s.
Knox says the overall impact of COVID-19 on the pension industry is likely to be lower contributions because of higher unemployment. Returns, he says, will be lower because of a fall in asset values, lower or zero interest rates, and cuts to dividends because of reduced corporate profits in a low-growth environment.