Several global firms, including private equity giant KKR and asset manager Vanguard, have thrown their hat in the ring to buy one of the last Australian bank-owned superannuation businesses.
Westpac Bank is believed to be preparing a shortlist of contenders that have submitted expressions of interest to buy its superannuation platform, BT Superannuation.
Apart from KKR and Vanguard, Apollo Global Management, CC Capital, the Carlyle Group and JC Flowers are also believed to be in contention.
BT Superannuation manages about A$45.4bn (€28.5bn) and, according to market sources, the business could fetch up to A$400m.
In 2019, CC Capital, Apollo Global and JC Flowers were among bidders for MLC Wealth, the superannuation unit of National Australia Bank, but the business went to the Melbourne-based financial institutional IOOF for A$1.4bn.
IOOF, now known as Insignia, in 2020 also completed the acquisition of ANZ Bank's One Path pension business for A$850m.
Tough nut to crack
Despite their interest, the reality is that global firms find it difficult to make it to the finishing post on Australian bids. They face competition from each other – and Australia's super funds are also hovering.
AustralianSuper is believed to be among those interested in BT Super. Another contender is the government-aligned not-for-profit super fund, IGIA Super, which in 2021 bought the super arm of Suncorp, a mid-tier Queensland-based bank and insurer, for A$45m.
For global players, Westpac's BT Super business offers the last opportunity to enter the Australia market.
When the BT sale is completed, probably by the middle of 2022, all of Australia's meaningful retail superannuation platforms will have changed hands.
With the departure of the old guard – the Australian banks – and the arrival of new players at a time of market consolidation, Australia's superannuation industry faces a watershed moment.
The newcomers will have to tread carefully under the watchful eye of the regulator, the Australian Prudential Regulation Authority (APRA), which has ramped up its oversight of the sector.
APRA undertakes protracted reviews of all newcomers. One example is KKR, which is just starting to bed down its investment in Commonwealth Bank's Colonial First State superannuation business after finally obtaining APRA approval in December 2021 – 18 months after making the acquisition.
KKR paid A$1.7bn for a 55% stake in CFS, which at the time held A$135bn in funds under management.
The New York-based private eqiuty firm is committed to invest a further A$430m on new technology over the next four years for CFS, which is now a stand-alone business.
Strong contender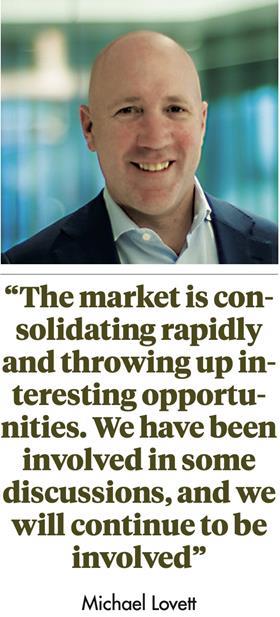 Vanguard, which has US$8.5trn (€7.6trn) under management globally, has chosen a different route to market. In the second half of 2022, it will launch what will be Australia's first new super fund in five years, subject to a licence from APRA.
The US firm will step into a market dominated by the existing industry superannuation funds. It will also face new competitors in a re-energised retail super market.
Vanguard is undaunted, planning to leverage its reputation as a low-cost manager with strong performance track records. Its ambition is to be a "relevant" player in the Australian superannuation market, which means it needs to manage at least A$50bn in assets in the country in the medium term.
Michael Lovett, Vanguard Australia's head of superannuation, says the firm has thought deeply before deciding on its foray into the Australian retail superannuation market.
Lovett says: "We have an amazing cohort of Vanguard people who know us well. When we are out of the gate, I am confident there may be pent-up demand from people wanting to get into Vanguard products."
Vanguard comes with strong credentials. It is among the best-known names in global investor circles, including those in Australia, for its index and exchange-traded funds (ETF) business. It has been in the Australian investment market for 25 years, and manages A$120bn for investors.
Unwinding mandates
Lovett says Vanguard has also worked with the Australian super industry over the years, managing billions of dollars in mandates.
To avoid any conflict of interests, the firm has been unwinding these mandates in the past year as it prepares to launch directly into the super market.
"It is largely done now. We are focusing on being a super fund for members," Lovett says.
Vanguard is targeting Australia's MySuper default market, which had A$923bn under management at 30 September 2021. But it will also work across the market, offering a range of products outside MySuper.
"If we are going to be competitive, we have to be competitive in the MySuper segment; it is the most competitive part of the market," says Lovett.
Vanguard has experience in building a market from scratch. In August 2020, it launched its personal investment offering in Australia, and today has about 110,000 individual investors – some of whom may look to take out a superannuation account with the firm.
Lovett says there is also interest in its super product from its growing adviser network, which could provide referrals to the new super business.
"We have a unique advantage. We are starting this business from scratch and we are focusing on using new technology to deliver a good digital experience to members," he says.
As it settles into the business, Lovett points out that Vanguard could also look for inorganic growth through acquisitions.
"The market is consolidating rapidly and throwing up interesting opportunities," he says. "We have been involved in some discussions, and we will continue to be involved."
Pensions track record
Vanguard is not new to the pension market.
It is a leading player in the US 401(k) retirement market, managing money for 5m Americans. It has recently launched self-invested pension products (SIPPs) in the UK.
As for the potential competition in Australia from other global investors, Lovett says: "KKR and others reputed to be getting into the market are really good firms, so you have got to take them seriously because they have a track record in multiple industries.
"Australia's top five super funds are growing quickly, and it doesn't matter whether it is the [private equity] firms or us coming into the market, it is not going to be easy. It is going to be really hard for us and other new competitors."
But Lovett also believes that new competitors in the market will "lift all boats". He says: "We are going to make the whole market better – whether it is us or KKR – for the benefit of the consumer."