Named and shamed! Thirteen Australian superannuation funds have been forced to inform their million-plus members that they have failed an inaugural superannuation performance test mandated by the financial regulator, the Australian Prudential Regulation Authority (APRA).
Named and shamed! Thirteen Australian superannuation funds have been forced to inform their million-plus members that they have failed an inaugural superannuation performance test mandated by the financial regulator, the Australian Prudential Regulation Authority (APRA).
The tests were the first under the prime minister Scott Morrison government's newly-minted Your Future Your Super legislation. Their objectives is to shame and name poorly-performing funds – and to enforce higher performance hurdles across the superannuation industry. APRA announced the results in August.
Collectively, the 13 funds manage A$56bn (€35bn) in assets known as 'My Super' products – default accounts for super fund members.
Distressing as it was for the 13 funds, the industry as a whole was relieved that the number was lower than the 20-odd figure that had been mooted in some quarters.
APRA assessed the performance of 76 MySuper products over the past five years against its own objective benchmark. Fourteen million Australians hold savings totalling A$900bn in MySuper products.
An important choice
APRA executive board member, Margaret Cole, says trustees of the 13 products that failed now face an important choice: they can urgently make improvements to ensure they pass next year's test; or they can start planning to transfer their members to a fund that can deliver better outcomes.
"APRA has intensified its supervision of trustees with products that failed the test, and has requested that they provide a report identifying the causes of their under-performance – and how they plan to address these causes," Cole says.
APRA wants trustees of the named funds to monitor their products closely and to report back important information, including the movement of members and outflow of funds.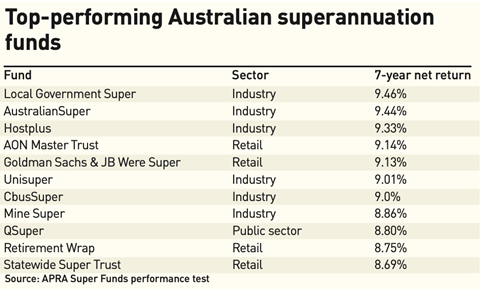 To prevent these funds from trying to whitewash poor performance, the corporate regulator, the Australian Securities and Investment Commission (ASIC), has issued a standard pro-forma letter for distribution to members.
"The text of the letter you send to beneficiaries is mandatory – don't change it," explains Jane Eccleston, ASIC's senior executive leader for superannuation.
"Any communication you make in relation to your annual performance assessment, or about your performance, should provide information in a balanced and factual way that is not misleading and/or deceptive."
Australia's federal superannuation minister, Jane Hume, who pushed relentlessly for the APRA test, says the government "is hauling performance out of the darkness and into the light".
On the whole, the concept of a performance test is being welcomed by the industry.
Industry Super Australia (ISA), the peak body for industry funds, says the test provides another tool for consumers to differentiate the good funds from dud ones.
ISA points to its own analysis of the Your Future, Your Super performance test results. This finds that more than 860,000 retail members with A$30bn in savings are invested with under-performing for-profit products.
And a day before release of the inaugural APRA performance test, the Super Consumers Australia (SCA) published the results of its own research into the claims that funds were making about their performance. "Funds that went on to fail the test had claimed they'd been delivering good outcomes to their members," says Xavier O'Halloran, director of SCA.
"In our study, the funds came up with their own metrics to measure performance. We found that all but one cleared their own hurdles. This highlights the importance of having independent tests," O'Halloran tells IPE.
He adds that despite APRA allowing "a generous" performance buffer of 0.5% in its benchmark, 13 funds still failed.
"We think the performance test is entirely appropriate when employees are forced to put away 10% of their income towards their superannuation," he says. "The obligation is on the government to make sure that the market performs correctly."
The performance test is intended to ultimately force funds to improve their performance, either by merging with another fund, reducing fees or changing their investment strategy, he adds.
Benchmark questions
While broadly supporting the need for performance tests, the Association of Superannuation Funds of Australia (ASFA), which represents both industry and retail funds, nevertheless points to what it calls the "tyranny of benchmarks".
Glen McCrea, deputy chief executive of ASFA, says APRA has used a retrospective benchmark to judge fund performance. Super funds decided on a consumer price index (CPI) plus investment model many years ago but this obviously has now been found to fall short of the APRA benchmark, he says.
Some aspects of the test are good, he says. For example, the inclusion of administration fees encourages funds to reduce fees to below the industry average.
But McCrea tells IPE the "pass/fail mentality" is harsh because there is "a lot more grey" when it comes to assessing performance.
"There are funds which have growth strategies delivering returns of 7% or higher, yet they failed under the APRA benchmark," he says. "There are funds with conservative assets getting returns of below 5% and they passed."
McCrea argues that such discrepancies will confuse consumers. Understandably, they will ask why a fund that gets a 7% return fails and another with a 5% return passes the test.
Obviously, he says, there is "a reason and logic" to the APRA assessment, but it has missed the "consumer perspective". McCrea says fund members receiving letters from their failed funds will be confused and uncertain about what to do next.
ASFA says some of the 13 failed funds would have been in the top quartile of performance in some OECD countries.
"In many OECD countries, pension funds, because they are defined benefit schemes or cater for older demographics, have a more defensive approach, and they invest in bonds and other fixed-interest products," says McCrea.
"Over five years to the end of 2020, pensions in the Netherlands delivered a best return of 6.4%, and there were a range of countries which returned anywhere from zero to 3-4%. By comparison, Australian funds delivered an average return of 20% last year."
Transparency (or lack of it) in the APRA approach is a troubling issue, according to the industry.
"It would be useful for consumers to know how much their fund has fallen below the APRA benchmark. Is their fund close to passing or has it failed by 2%?" McCrea says.
The APRA performance test will be widened to include other superannuation products from next year.
"It will be a big year," says McCrea. "If a fund has a second strike against it, it will lose members to another fund and it will not be able to accept new members."
"I think there need to be hard conversations between APRA and the industry. As the regulator, APRA needs to play a key role to ensure that members are looked after if their funds are deemed no longer a going concern.
"At the end of the day, it is about consumers and about providing stability to the system. That is the key role, which the regulators do well."