If Australia's latest five-yearly Intergenerational Report (IGR) is to be taken seriously, Australian retirees can look forward to comfortable retirements 40 years hence.
If Australia's latest five-yearly Intergenerational Report (IGR) is to be taken seriously, Australian retirees can look forward to comfortable retirements 40 years hence.
Assuming a pair of rose-tinted glasses, Australian retirees in 2060 will be in a happier and more financially-secure place than was the class of 2020.
Australia's Treasury first published an IGR in 2002, sketching what it sees as a likely picture of the Australian budget and the economy 40 years out. The initial report was prompted by concerns about the implications of Australia's ageing population and its impact on the budget.
The new IGR devotes five pages to the country's universal superannuation system. By 2061, it says, the average Australian's super balance at retirement will be A$466,000 (€290,250) measured in 2020-21 dollars – up from A$125,000 today. Just a quarter of retirees – down from two-thirds today – will have a balance of less than A$250,000.
This will come from a huge national savings pool of A$34trn in 2061 dollars, a pool which, as a proportion of GDP, will rise from 157% at 31 March 2021 to 244%.
That outsized super nest egg will allow the government to rein in spending on age pensions, the IGR says, with budget allocations to age pensions increasing from 2% to 2.9% – up less than 1% – at a time when the proportion of over-65 Australians is projected to have risen from 6% (2019-20) to 23% (2060-61).
Commenting on the report, the Australian Super Fund Association (ASFA) says the age pension will remain sustainable largely due to the nation's maturing compulsory super system, aided by scheduled super guarantee rate rises.
By comparison, it notes OECD governments' current spending on pensions is (already) higher than the 2060 projected rate for Australia.
But there is a big 'if' in this forecast. From the moment the report was handed down by Treasurer Josh Frydenberg (who held it back for a year because of the COVID-19 pandemic), it has been met with scepticism. Leading economists and commentators dismiss the budget projections as too optimistic. "Obviously a more mature super system will provide more for those people who have the opportunity to save through their working life, but our point is that the story isn't as rosy as (Treasury) is painting it to be," says Stephen Anthony, chief economist with Macroeconomic Advisory, a research firm.
Anthony tells IPE: "The whole story is undermined by the fact that it is based on a spine – the engine room of the economy. But the economy is not going to be firing like they say it will, so it is more than likely that super balances won't be as healthy either."
While conceding that, in a relative sense, retirees in 2061 will be better off than today, he says that, potentially, there will be big liabilities to be paid. Therefore, any conclusion drawn about the capacity of households to manage future risk is too optimistic.
Anthony also points out that the report has not taken into account those Australians who have more uncertain working patterns or earn lower wages. This applies disproportionately to women, who are more likely to have broken work patterns because of caring duties for family, and to those with broken families.
Questionable assumptions
Rafal Chomik, senior research fellow with the NSW Ageing Future Institute at the University of New South Wales, says: "The IGR shows that super will continue to mature, that funds will continue to grow, and that the age pension will lose importance for retirees. But as with a lot of these projection exercises, the outcomes depend on the assumptions.
"Several assumptions are important here, including employment patterns, wage growth, and rates of return. Investment return is particularly important."
In its IGR modelling, Treasury assumes a default superannuation portfolio rate-of-return in nominal terms at 7.5% a year in the accumulation phase and 6.5% in decumulation, Chomik tells IPE.
Similar modelling by the OECD in its Pensions at a Glance publication, Chomik says, uses a rate of return of 5% nominal and 3% real.
What happens outside Australia's borders will have an impact on the assumed rate of super growth, he says.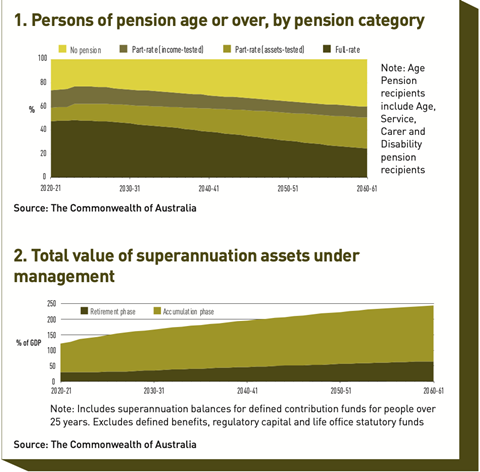 While he says Australian defined contribution (DC) funds have historically managed to achieve higher rates than are typical across the OECD, Chomik concludes that the IGR's projected super growth rate is based on historical data and, as with Treasury's productivity assumptions, may be over-optimistic.
"While rates of return on investment tend to exceed rates of GDP growth, if lower rates of productivity and GDP growth came to pass, we could expect to also see lower rates of return," he says.
Productivity growth in Australia has fallen in the past five years, and it is the veracity of the projection on productivity growth that is precisely the issue taken up by private-sector economists and think tanks.
The report is based on the assumption that productivity in Australia will continue to grow at an annual clip of 1.5%. But in reality, the productivity growth rate looks likely to move in a range between 0.5% and 1% of GDP – because economic reform has stalled for the past two decades.
The last big reform was introduction of a Goods and Services Tax (GST) in 1992. Since then, successive governments have bowed to populism and backed away from tough economic reforms.
In place of reforms, Australia has relied on migrant intake for population growth to improve productivity.
COVID-19 has stalled migration and created a huge debt mountain which, according to Anthony, could take 40-50 years to pay back and create a surplus.
Based on current trends, and including unfunded state and federal superannuation liabilities (A$387bn in 2019), by 2024-25, federal, state and local government debt combined will hit 80% of GDP – up from 30% just two years ago, Anthony says.
Also looming are several major issues that will make a big call on the federal government budget – spending on a national disability scheme, climate change and defence is growing or poised to grow rapidly in coming years.
"If you put it all together, we will be struggling to manage the fiscal burden of the combination of these issues," says Anthony, who worked on the first IGR.
"The 2002 report forecast a federal budget fiscal gap of 5% of gross domestic product by 2040. But it seems clear we will reach that sort of gap by the middle of next decade."
Under such circumstances, it is conceivable that retiring Australians will have to rely on their own savings, and face the prospect of higher tax on those savings. Pensions will be less generous and retirement will have to be delayed.