Gail Moss writes that French pension providers are looking to diversify their asset allocation to counter political and economic uncertainty
At a glance
• Pension funds are turning to high yield, private debt and infrastructure to boost returns.
• Fixed-income durations are being shortened to protect against risk.
• The imminent French presidential election is causing some market uncertainty.
French pensions are dominated by state-run funds, with about €150bn of assets managed by the Big Three – the pension reserve fund Fonds de Réserve pour les Retraites (FRR), the private sector scheme Agirc-Arrco and the civil service scheme, ERAFP.
All these are driven by a cashflow-investing approach. In particular, FRR – whose primary liabilities are payments to pensioners for the current and next few years – has two roughly equal portfolios, a return-seeking and a liability-matching segment. Half the latter is in French sovereign debt (OATs).
The other schemes, with longer-term liabilities, hold two-thirds in low-risk fixed-income assets, and the rest in equities.
In terms of asset allocation all three schemes, Mathilde Sauvé, head of institutional solutions, AXA Investment Managers (AXA IM), says: "Like the European pension funds, their rather short-term duration target in their matching portfolio allows them to be in a better position if interest rates go up, while adopting a more absolute return approach in their fixed-income buckets. Meanwhile, pension funds have included geographical diversification within their equity portfolios, particularly in terms of the US."
The rest of the pension system includes €150bn in corporate schemes and schemes for the self-employed (pillar 2), and €550bn in individual savings (pillar 3), of which two-thirds is invested via insurance contracts and one-third via investment funds.
In these pillars, there has been more diversity in asset allocation in the pursuit of yield, against the continuing global backdrop of low interest rates.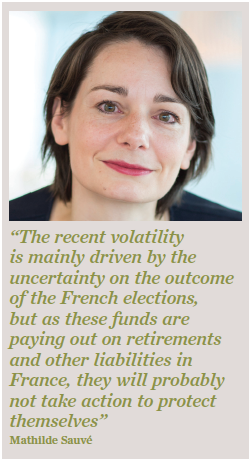 Dominique de Préneuf, director general, Franklin Templeton France, says: "This has led investors to diversify their bond portfolios into areas such as high yield and private debt, increase exposure to illiquid assets such as private equity and infrastructure – given the illiquidity premiums on offer – and increase holdings in physical real estate, through investment funds or unlisted property companies."
According to de Préneuf, global themes influencing the growth of infrastructure investing include ageing assets, which create new investment opportunities as governments update, fix or modernise these assets.
Another theme is population growth, especially in emerging countries where more urbanisation and a rising middle class should stimulate demand for new facilities.
"Thirdly, we also think that that in some developed economies, budgetary constraints and low growth rates could potentially lead governments to reduce their spending on infrastructure over the next 20 years," says de Préneuf. "That means they may look to the private and investment sector to help fill some of these potential funding gaps."
He says one advantage of infrastructure investing is that it delivers regular and predictable returns, owing to the nature of the assets which often benefit from monopolistic positions in regulated sectors with high barriers to entry.
"The asset class also delivers a historically high return, and effective protection against cyclical and economic cycles, uncorrelated with other asset classes," he says. "Infrastructure companies reported steady and stable earnings growth during the global financial crisis."
Another trend for pension funds has been the increased use of exchange-traded funds (ETFs), he says. "The constant pressure on fees has given rise to the popularity of ETFs – mainly in the equity sector, but also increasingly in the bond sector," says de Préneuf. "This area of the market has proven popular because of the transparency of the asset class, and its – in general – low cost structure."
Facing up to low yields
Innovation in asset allocation is also being used to address low yielding assets.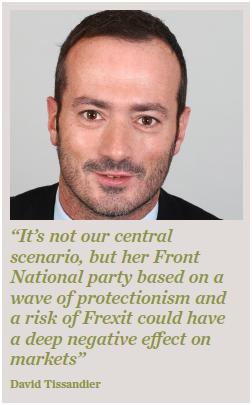 "The main change over the past few years has been an allocation to alternatives, especially non-listed assets like private debt, specifically to improve returns," says Frédéric Debaere, Mercer France's head of investments. "This includes corporate debt, and also debt from commercial real estate projects. Infrastructure is also a trend, usually through equity funds, although interest in debt funds is growing: direct investments and co-investments for some of the biggest institutions having more resources and an adequate governance budget."
And for those institutions with significant real estate exposure, Debaere observes a stable focus on domestic core and core plus investing, compared with added value or more opportunistic strategies, which are more risky.
On the equity side, he says investors are now moving away from traditional cap-weighted indices, towards factor-biased equity strategies, including low-volatility.
Sauvé is seeing clients allocating to emerging market debt: "Although in return portfolios, it is seen as risky as equities, and put in the same bucket," she says.
Meanwhile, Debaere notes limited allocations to impact investing or thematic niche funds: "For example, 'silver age' investments such as providers of care for the elderly exploit the trend of ageing populations, while some pension funds are also backing environmental themes, like renewable energy or clean water."
Focus on risk
An important consideration in asset allocation is risk management.
Debaere says: "There is a consensus that yields could increase, and inflation and interest rates could rise as well. This is probably not so much because of the political uncertainty linked to the presidential election, but because of more general uncertainty, including over oil prices. The question of diversification with a long-term mindset is key."
"For us, political risk is important for 2017 – possible disappointment with Trump, the French elections, the Brexit effect," says David Tissandier, head of balanced portfolio management at La Française.
One of the causes of uncertainty, says Tissandier, is whether Le Pen wins May's presidential election: "It's not our central scenario, but her Front National party based on a wave of protectionism and a risk of Frexit could have a deep negative effect on markets."
Since September, the economic outlook has suggested a scenario of more inflation, the 'Trump effect', says Tissandier.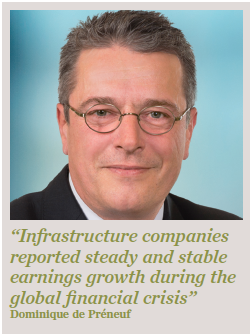 He says: "Most of our new allocations are for covering, or to actively manage, interest rate risk." Tissandier adds: "We are now underweight duration in our portfolios, because we don't see significant value in European fixed-income markets, especially government bonds."
He says clients have decided to change their fixed-income benchmark so as to have less exposure to duration sensitivity. That also includes reducing credit.
On the equities side, La Française is also advising more exposure to cyclicals to get the most of the pickup cycle, because it predicts strong global growth in the long term.
For pension funds, Sauvé says that the widening of the spread between OATs and the German Bund in the first few months of 2017 has prompted attention. The spread between 10-year French and 10-year German bonds peaked at 80bps, although it was down to 60bps at the end of March.
"The recent volatility is mainly driven by the uncertainty on the outcome of the French elections, but as these funds are paying out on retirements and other liabilities in France, they will probably not take action to protect themselves against this," says Sauvé.
On the equity side, pension funds are seeking strategies with lower volatility, either by picking individual stocks or using an overlay to derisk.
Another approach is to diversify return portfolios, such as by high yield, emerging debt or less liquid strategies in the credit continuum for those allowing such investments.
Finally, Sauvé says that inflation risk is not a consideration, because few pension schemes are run on a defined benefit basis, so there is no inflation indexation. But, these schemes can consider inflation-linked bonds as a way to diversify matching portfolios.
Debaere says: "We see significant investments in short-dated bonds on institutional portfolios, some reallocations to alpha-oriented strategies like absolute return and growth fixed-income, and we see some dated defined-maturity bond mandates, but it's not widespread."
Over the long term, La Française's view is to be cautious on fixed income and interest rate risk, says Tissandier. "For clients having appetite for risk, we are positive on equities, with more opportunities in Europe and emerging markets, thanks to a compelling valuation case," he says.
However, de Préneuf says: "Previously, investors were very focused on risk-return profile when it came to portfolio construction, but increasingly it is no longer sufficient to base portfolio construction only on risk/return. It is also necessary to look at regulatory constraints, volatility and drawdowns and the inclusion of ESG/SRI criteria."
Pensions In France: Why make it simple?
1

2

3

Currently reading

Asset Allocation: A diversification call

4