Richard Bruyère presents the results of Indefi's fourteenth annual research report analysing institutional investment trends in France
The institutional market in France has been going through a rough patch. As so often, the perception depends on the chosen perspective and, while the glass may appear half empty to some, others will have a positive view of developments.
Our 14th annual research report on institutional investment in France provides a summary of our analyses relying on data collected from 214 institutional asset management delegators, including:
• 111 insurance companies (52% of the panel in number of respondents);
• 38 pension institutions (18%); and
• 65 other investors, including nuclear decommissioning funds, banks' treasuries and various non-profit and public institutions (30%).
At the end of 2014, the participating institutions managed assets in excess of €2.26trn.
Institutional asset base
Institutional asset management is growing. As has been the case recently, market performance is the main driver underpinning the growth of balance sheets. As over 80% of institutional assets are allocated to fixed income – a reflection of the insurance bias of the market – investments have benefited from the decline in interest rates.
For the second year running, institutional investors have enjoyed net inflows (over €20bn in 2014 according to our estimates) these are driven by:
• Positive inflows in life insurance;
• Technical measures in the Agirc-Arrco pensions regime, which contributed to an all-time high for assets under management within these structures;
• Structurally and growing pension institutions benefiting from favourable demographic balances.
Even though the days are long gone when the market was experiencing organic growth in the region of 4-5% per annum, the 2014 figures mark a turnaround from 2012 when it recorded net outflows for the first time.
This scenario places further pressures on institutions to find suitable investment opportunities. In the May 2014 IPE, we highlighted the diversification trend characterising French institutional allocations. The latter is here to stay, with the following asset classes experiencing steady inflows as they provide yield and distribution benefits to investors with a friendly Solvency II treatment:
• Fixed income diversification (non-euro and/or non-investment grade issuers);
• Private debt (loans and private placements, directly underwritten or via eligible funds – so-called fonds de prêt à l'économie introduced in August 2013 by a new insurance regulatory decree); and
• Private equity and infrastructure.
In addition, this year, we have witnessed for the first time a turnaround in alternative investments. Since 2007, French institutions' allocations to hedge funds and other absolute performance products have halved. But almost €2bn was deployed last year in the search for decorrelated returns. Most of the capital has been invested in vehicles offering better control over liquidity risk, including segregated funds, managed accounts and so-called 'Newcits' funds.
Asset allocation fuels growth
Against this changing allocation, the institutional asset management market has seen steady growth over the past three years. It has increased by more than €75bn since 2011 and exceeded the €300bn mark this year. An upsurge of this kind has not been witnessed since the funding of the Fonds de Réserve pour les Retraites (FRR) and the creation of the ERAFP public sector scheme in the mid-2000s.
This time, however, the rise in accessible assets for third-party asset managers is driven by the insurance sector as these institutions overtook pension bodies (excluding FRR or ERAFP) as third-party delegators in 2014. While the proportion of assets outsourced by insurance companies has fluctuated around 5% over the past decade, it recently shot up as a consequence of the diversification trends (see figure 3).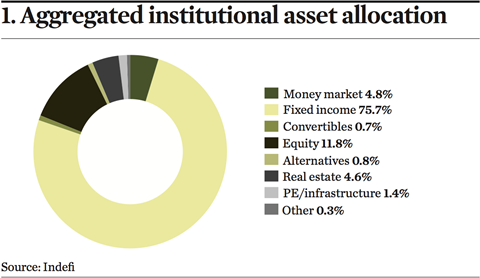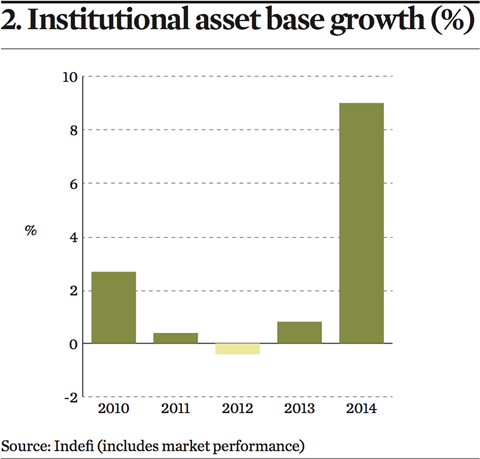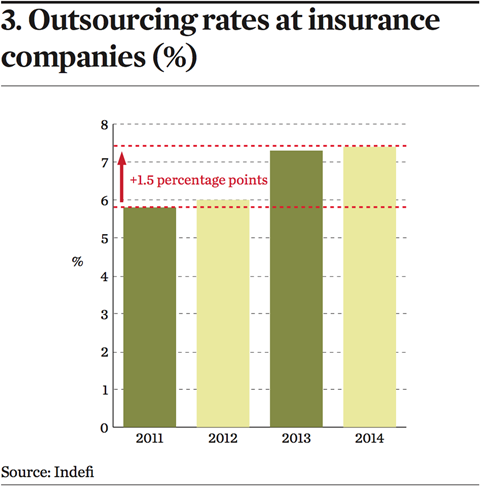 This changing institutional landscape is resulting in a polarisation of business opportunities for third-party asset managers. In this context, not all players are winners. At the risk of over-simplifying, a large fringe of domestic managers have missed out on these trends, while international specialists have gained traction. This window of opportunity will remain, at least as long as interest rates remain below 2%.
Yet, France being France, everything needs to be tailored to local customs. Nothing illustrates the idiosyncrasies of the institutional market better than the active-passive debate.
Resisting passive invaders
French institutional investors remain believers in value-added active asset management. This is strengthened by the strategic position of most domestic asset managers who define active management as their DNA and the primary source of their competitive advantage. This explains why the share of passive management in France is lower than in other European markets.
It is fair to say that this is currently facing challenges, if not fundamental questions, by the overall weak performance of active equity managers in 2014, the pressures exerted on the institutional community towards enhanced efficiency in the name of cost control, and the marketing blitz of passive providers.
Index-tracking has been gaining ground for a variety of reasons, such as a more tactical approach towards equity investment using exchange-traded funds. However, French institutions are unlikely to go the Swiss route of a shift of assets towards vanilla passive delegation – all the more so since they are able to source active products at prices not far from passive solutions.
We, however, expect increased appetite for advanced or smart beta indexing. These strategies enable investors to express their (financial and extra-financial) beliefs in a customised way. They are likely to gain further ground as they represent, in investors' minds, a continuation of active management. This rise will challenge asset managers, domestic and international alike, to revisit their strategic positioning and offerings to address changing client demand.
Richard Bruyère is a managing partner of Indefi
France's Agirc-Arrco: Reform of last resort
1

2

3

4

Currently reading

Asset Allocation: A growth story revisited

5

6