Investors see the outlook for the asset class as positive in the medium term but riskier in the short term
Key points
Emerging market debt's low correlation to European fixed-income assets can make them attractive portfolio diversifiers
Volatility has seen investors rebalance portfolios, although there is little appetite to cut allocations
Increasing EMD duration has exacerbated the effect of Fed tightening
The potential tapering off of rate hikes by the US Federal Reserve combined with overvalued developed market fixed income continue to make EMD attractive
It has been a turbulent year for emerging market debt (EMD), with the asset class down 7.3%, to the end of August 2018.
Pension funds must decide how to respond: is this a buying opportunity or an ongoing threat? Petri Ala-Härkönen, director, fixed income, currencies and commodities, at Finland's €46.4bn Varma Mutual Pension Insurance Company frames the problem: "Last year was a good year for the asset class. This year, the narrative has changed, with dollar strengthening, synchronised growth turning to US-centric growth, and various local problems in countries such as Argentina and Turkey coming to the fore."
EMD is both diverse and growing. The JP Morgan EMBI Global diversified index contains the most liquid dollar-denominated sovereign and quasi-sovereign EM bonds, and totalled $541bn (€470bn) at the end of 2017. EM corporate debt, as represented by the JP Morgan CEMBI indices, was valued at $855bn at the end of 2016.
To further complicate matters, EMD is three asset classes: hard currency sovereign, local currency sovereign and hard currency corporate. There is also the niche of local currency corporate credit.
For investors that do allocate to it, it plays a useful portfolio role. "Emerging markets have lower per capita GDP combined with a higher population growth rate than developed markets," says John St Hill, deputy CIO at the UK's £3.4bn (€3.9bn) National Employment Savings Trust (NEST). "All else being equal, this should lead to an increase in corporate profits over time." Another reason is EMD's relatively low correlation to UK Gilts – about 0.3: "Most of our members are UK-based. It's therefore a useful diversifier in the portfolio."
Pension funds get their exposure in several ways. According to UBS, "there has been an increasing interest in investing passively into emerging market debt." Nevertheless, many opt for active management. "Our approach to EMD investing has always been 100% active," says Eero Ketola, head of fixed income, FX and hedge fund investments at the €23bn Elo Mutual Pension Insurance Company in Helsinki: "A few years ago, this was done entirely through actively managed funds. However, at the moment a significant amount of our hard currency exposure is taken directly by our in-house team."
NEST sets the risk-return framework within which its managers operate, rather than specific exposures, as St Hill explains: "We don't interfere with country and security selection. Our job is to determine the risk and return we're seeking and to set the benchmark for our managers, allowing them to operate on a day-to-day basis." Allocations are close to NEST's long-term EMD benchmark, which is 50% hard currency, 25% corporate and 25% local currency debt (generally short-dated). "We haven't adjusted our exposure in response to short-term volatility," says St Hill.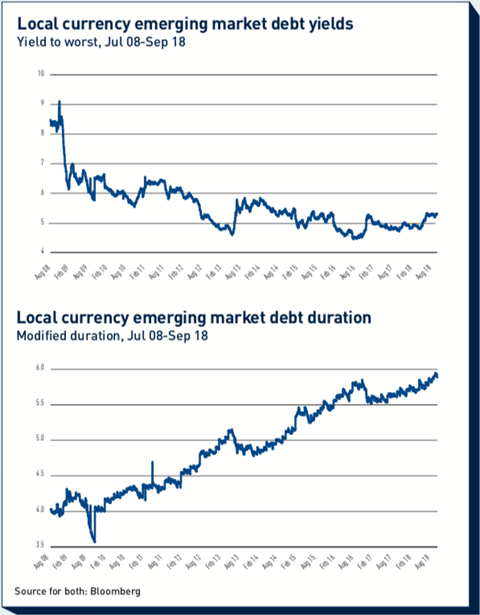 Varma gets indirect exposure through a number of funds and direct exposure in hard currency, mainly sovereign, debt, plus currency carry. The funds are a mix of local and hard currency, corporate and sovereign debt. "We are currently overweight EMD relative to benchmark," says Ala-Härkönen, "although we lowered forex exposure in the spring."
Currency adds further complexity to EMD investment, particularly with local currency. Indeed, UBS advises: "Local currency should be seen as an additional source of return and needs, therefore, be analysed as an asset class in its own right."
Elo has increased its EMD holdings over the past few years. "At the moment there are no plans to change our allocation, which is already significant," says Ketola. However, maintaining weightings in such a volatile market presents challenges: "Currency and interest rate moves have been extremely violent the past few weeks. For investors like us, this means that we have to actively manage our portfolio. Regional over- and underweights change very rapidly and vary on a country-by-country level."
Dollar-denominated EMD is a long-duration asset class, so it is no surprise rising US rates have reduced returns. However, if the US Federal Reserve is near the top of its tightening cycle, spreads may not have much further to go. "We expect the Fed to top out at about 3% this time," says Ala-Härkönen. Ketola, in contrast, says "there is a good chance" of underperformance as a result of Fed tightening "continuing for some time," so Elo has adjusted exposure to withstand rising US rates.
St Hill is interested in the duration dynamic. Local currency EMD duration has increased from four to six years over the past decade, while yield volatility (excluding the financial crisis) has decreased from 15% to 5%, and yield has declined too (see figures). "There are two reasons why the duration has extended," says St Hill: "Firstly, owing to the convexity effect, as yields fall, duration tends to increase and, secondly, lenders are prepared to wait longer for repayment. This suggests that the market's perception of risk has lowered.
"As the Fed tightens rates and yields increase, there will be a reversal of the duration/yield effect to a degree. But there is little to suggest yields and duration will snap back to where they were before 2008 within 12 months."
Some $249bn of EMD needs to be repaid, or refinanced, through 2019. This is not a concern for St Hill, as "refinancing is a normal part of debt markets. So long as there isn't a shift in the supply or demand curves, refinancing shouldn't be a problem."
Ala-Härkönen says it is wise to take a country-by-country approach: "Visibility is low, so it's difficult to see the effect, but some countries will definitely have trouble refinancing. Turkey remains in a difficult situation. Argentina, on the other hand, has been in constant dialogue with the IMF, and may be able to front load its recovery package."
For St Hill, turmoil has not undermined the case for EMD, while Ketola says volatility creates opportunities in hard and local currency – and, while "corporate EMD is not very attractive to us due to its relatively small risk premium, frontier markets offer many interesting investment opportunities in the long run", he says.
Likewise, Ala-Härkönen finds valuations "quite compelling" and Varma is considering an increased allocation to EMD. Areas of interest include Brazil, given how the currency has sold off, and with elections due. "The same is true for local currency markets, as the growth gap between the US and the rest of the world may start closing," he says: "If the US dollar tops out, this will help local currency markets. Also, China seemed to be tightening at the start of the year, whereas now it's in stimulus mode, which is also supportive." EMD is attractive on a comparative basis: "It's very difficult to find value in developed market fixed income. In Europe, credit spreads are still very tight, so EMD looks relatively good."
Nevertheless, he says, EMD can expect turbulence ahead: "Over the medium term of around two years we expect returns to be positive, but the short term will be bumpy."
Emerging Market Debt: Sentiments drown out sense
1

2

Currently reading

Asset Allocation: Bumpy roads ahead