Focus on central banks as they edge towards rate rises; June Fed hike is priced in
KEY POINTS
GDP growth is dispersed across the euro-zone
Emerging market debt has benefited from the more upbeat global macro environment
The reflationary theme is better established
The political calendar remains packed
Hard economic data for the first quarter show a global economy still reasonably safely on its (modest) reflationary track. Although some of the animal spirits, let loose at the prospect of exciting US tax cuts and reform, may have been somewhat dampened, the economic news coming from the EU, for so long such a sickly region, really has been pretty good.
Although more related to disappointment with US growth rather than European growth surprising to the upside, it is reassuring that EU GDP growth is quite widespread across the region currently and outstripping that of the US. While the country data is mostly positive – Italy and Greece notwithstanding – economic growth is lacklustre to say the least, and European Central Bank (ECB) president Mario Draghi was careful to point out the bank, although agreeing that growth risks had 'further diminished', was not yet readying itself to alter its very loose monetary policy stance.
Central bank actions and words continue to grip attention, as they either edge their way towards policy normalisation, or even just begin to whisper about it. Adopting such an unconventional measure as quantitative easing (QE) was unprecedented for the world's largest central banks and the effects have dominated financial markets for the past eight years.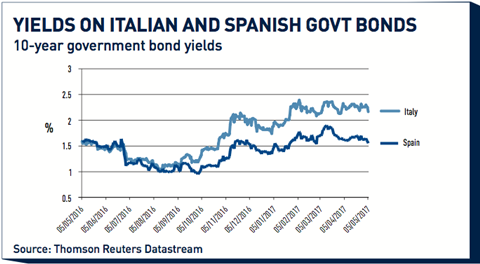 The Federal Reserve's balance sheet expanded from just under $1trn of short-term Treasuries in 2008, to $4.5trn by 2014, which included long-term Treasuries and mortgage-backed securities. By the end of 2016, when the Bank of Japan, the ECB and the Bank of England were also making large purchases, it is estimated that QE had entailed net asset purchases of about 4% of the combined GDP of the underlying economies. The numbers involved are gargantuan, and no-one should underestimate the magnitude and complexities of the task ahead.
BONDS
Discussion on the normalisation of monetary policy may be muted, but bond markets are looking to the actions of the Federal Open Market Committee (FOMC) for interest rate guidance in the medium term. A June rate hike is priced in, and recent macro data, such as US employment stats, appear to re-affirm this prediction.
In Europe, France's presidential election triggered a relief rally for spreads and risk assets. Some now argue that with Emmanuel Macron in charge, there is hope that Franco-German relations could blossom and perhaps difficult EU reforms might have more chance of being carried out.
"There is a sense that with Europe's economic and political outlook improving together, the EU's darkest times may be in the past"
Certainly there is a sense that with Europe's economic and political outlook improving together, the EU's darkest times may be in the past. However, the precarious state of Portugal or Italy's banks, and the possibility of Italy's electorate rejecting the existing order in Europe, both represent tail risks that cannot be ignored.
Emerging market (EM) debt has also been benefitting from the more optimistic global macro environment, and all EM asset classes have enjoyed significant returns since last November's aggressive post-US election sell-off. Many argue that EM still remains in the sweet spot, and that valuations are not over-stretched, and that recent flows back into the sector, although large, are not at extreme levels.
There is little doubt that many EM economies have achieved much in terms of repairing current accounts and addressing structural fiscal deficits, thus strengthening their resilience to external shocks. Not since 2013 have sovereign credit upgrades outnumbered downgrades. And global macro factors are also supportive: world economic growth is recovering; commodity prices have stabilised; the deflationary threat is waning.
While there may be disappointment that the Trump trade had to be unwound a bit, and that tax cuts and reforms may be both further delayed and diluted, it may be better news for EM. A booming US economy and a surging dollar might have triggered a huge repatriation of dollars, threatening the flows heading towards EMs.
CURRENCIES
The reflationary theme seems more secure and more safely established as 2017 has progressed, with many pieces of the global jigsaw seeming to fall into place. But, as ever, it is not quite everything, and at the moment certain signals from China, despite reassuring fundamental economic data, are causing concerns. And, more recently, falling commodity prices have also begun to unnerve investors.
While China's huge demand for raw commodities means that its influence on their prices will also be also hugely significant, it is not yet clear what is causing the declines in commodities, and whether risk appetites need to fall too. Commodity currencies have already been marked down, but there has not yet been a widespread reappraisal of risk.
"China's situation is puzzling. There has been a significant rise in domestic interest rates, suggesting a meaningful tightening of financial conditions"
China's situation is puzzling. There has been a significant rise in domestic interest rates, suggesting a meaningful tightening of financial conditions. Of critical support to the reflationary theme is the notion that central banks are keeping the global system flush with liquidity, and that includes the highly leveraged Chinese economy.
Whereas it was prudent of the Chinese authorities to be seen to rein in excessive speculation in domestic markets, there is now anxiety that the fixed-income markets might collapse, and bring down equities with them. There has been considerable 'success' in controlling pressures on its exchange rate, indeed the stability of the renminbi has been an integral contributor to the global risk-on trade.
If China cannot manage the deleveraging carefully enough, then the instability caused will very rapidly spread to the rest of the world. The People's Bank of China (PBoC) has shown that it uses its balance sheet well at times of great stress, such as when capital outflows were mounting dangerously.
China also has the 'luxury' of capital controls at many levels, which adds to the potency of its existing policy. Concerning though the situation is, to date the PBoC's strategy has been given the benefit of the doubt.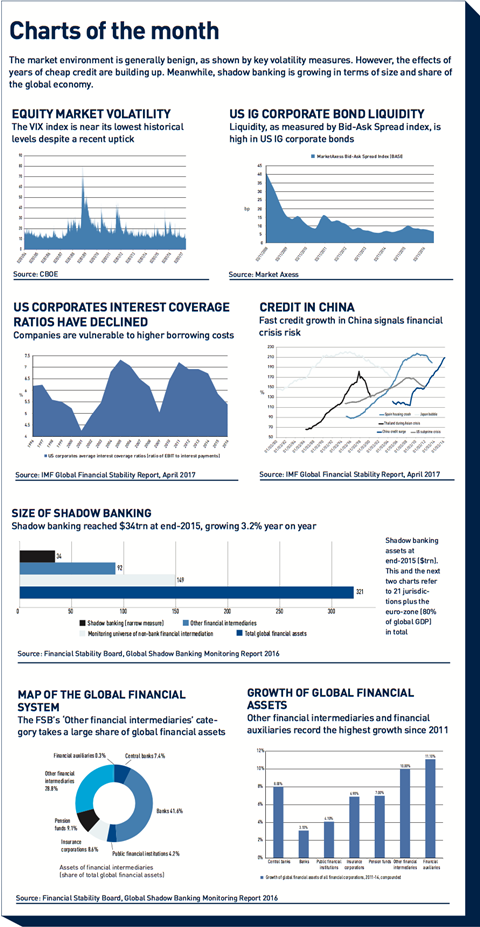 FOCUS: A busy political calendar
Politics always has an influence on both domestic and global financial markets, sometimes through a multi-year structural change, or sometimes through chaotic dysfunction, and at other times just a short sharp shock.
For many developing nations, a volatile political landscape is often assumed the norm, and elevated risk premia accordingly reflect the varying levels of constantly high political volatility. Venezuela's current turmoil has, depressingly, been witnessed previously many times by seasoned observers. And South Africa's President Jacob Zuma's undemocratic actions, are taking place in a continent which seems constantly afflicted with terrible politics.
Last year's political shocks detonated in the middle of the steady mainstream. Brexit and Donald Trump's election as US president both caused shockwaves that are still reverberating around the world. The French elections produced a different type of populist vote in choosing a candidate, although centrist and a moderate, not affiliated to any mainstream party.
While there is undoubtedly great relief at Emmanuel Macron's victory, the political calendar for the rest of this year, and into 2018, is busy. It is hard to point to which vote should be most carefully watched, whether it be inJapan or Germany or perhaps Italy.
Italy's economic woes are well documented and considerable: lacklustre economic growth; high youth unemployment; huge state debt; and a banking system creaking under the pressure. The widening spread between Italian and Spanish bonds already shows the increasing risk premia being demanded by investors.
Italy will go to the polls soon, possibly early next year. If the eurosceptic Five Star Movement persuades enough disgruntled voters to sign up, then politics could once again be throwing Europe, and possibly much of the rest of our highly inter-connected world, into even more chaos.