---
A potential rapprochement in US/China relations allays economic slowdown fears
European consumers could boost regional economic upturn
Germany and France target closer European banking union
Several factors have given risk markets a boost and propelled risk-free rates higher. These include diminishing fears of an economic slowdown, a potential rapprochement in trade negotiations and a reduced risk of a 'no-deal' Brexit.
Arguably the trade news, and the potential roll-back of tariffs, had the most uplifting effect. However, there seems to be signs of a potential revival in the goods sector, with October's global manufacturing purchasing managers' index (PMI) recording its third consecutive monthly uptick. And various Federal Reserve officials have been keen to convey that the US economy is doing well.
This optimism seems to have even spread to Germany, where the most recent ZEW Indicator of Economic Sentiment, normally a good leading indicator, improved sharply from October to November. The current conditions index, however, rose less than expected and remains near its lows of 2010.
There are still plenty of other geopolitical uncertainties overshadowing the New Year and beyond. The impeachment enquiry in the US, for example, may prove disruptive to either fundamental government workings or the financial markets. Might President Trump, eager to generate some positive news in the run up to the 2020 elections, take a more conciliatory stance towards China? The Chinese, perhaps thinking that Trump could lose the election, might resist any moves towards resolution and wait for the next White House incumbent.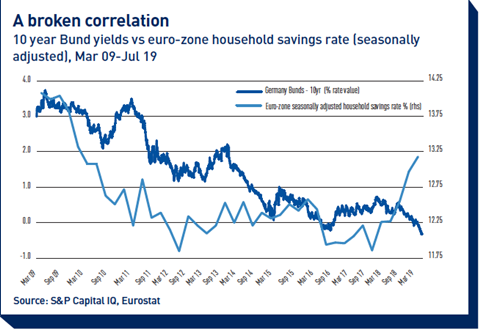 With an election imminent in the UK, it seems like many bets are off with such an array of potential political outcomes. Though the lessening of 'no-deal' Brexit fears have improved the outlook for the UK economy and its assets, there remains considerable potential for much more uncertainty. Plausible scenarios include a hung parliament or a newly empowered and free-spending Labour party in charge.
Repo market calamity sparks funding market concerns
For any business the introduction of new regulations, means extra work, and some grumbling, to become compliant in time.
After the global financial crisis, the Basel III standards for bank regulation were developed, aiming to "strengthen the regulation, supervision and risk management of banks". But with so many things in life, making one thing better often risks unintended damage elsewhere.
September's repo market turmoil was so dramatic that it prompted the Federal Reserve to cut the interest on excess reserves. It also executed market operations, in order to bring down funding/repo rates some of which had surged to 10%.
Some observers argue that the changes imposed by Basel III are surely at least partly responsible. These include the liquidity coverage ratio whereby banks are obliged to have enough high quality liquid assets to fund anticipated cash outflows for 30 days.
The regulations also deter banks from holding any negative balance at the Fed. It is now the reserve-rich big banks which lend into the settlement process, providing that intraday credit at the margin.
So, though there was apparently no shortage of reserves – almost $2trn (€1.8trn) were outstanding – a proportion of these reserves were 'unavailable'. With the Fed no longer lending at the margin, and the banks stepping back, repo seized up.
The finger of blame is also pointing at the Fed's post-quantitative easing (QE) tapering activities, which were draining reserves from the system.
This worrying episode happened outside the stressful times of year – and quarter ends. Participants are readying themselves for potential stress as the end of the year looms. Though the Fed may be quicker to step in, more needs to be done to improve the resilience of the funding markets. The hope is it can prevent these damaging dislocations from occurring at all.
Bonds
The run-up in yields has removed most of the recent easing forecasts, that is the cuts priced into forwards in the weeks before the European Central Bank (ECB) stimulus announcement in September, and President Mario Draghi's final, meeting. So, in order for yields to climb higher, and the bear-steepening to continue, either markets have to price in future rate hikes, or term premia will have to rise.
If geopolitical risks have diminished, with a lowering of tensions in the US/China trade dispute and reduced chances of a 'no-deal' Brexit, then other risk premia must rise. Perhaps inflation may reappear, or possibly a marked increase in the tentative European fiscal easing plans.
In the years following the global financial crisis, household savings rates in Europe trended lower, essentially matching the decline in Bund yields. But in early 2018, this relationship broke and, while Bunds continued their decline, the savings rate started to move higher correlating more closely with the ongoing deterioration in consumer sentiment.
While global bond yields are unlikely to revisit historical lows in the medium term, few are envisaging higher Bund yields. But if business and consumer confidence is stabilising, or even on the rise, it may be unlikely that Europe's savings rate will remain so elevated.
It would be wrong to infer too much of a comparison with the fabled American consumer's influence on the US economy. However, Europe's revival might, this time, receive a boost from its consumers.
Currencies
As risk assets moved higher, the dollar index did not weaken materially as might have been expected as a safe haven asset.
The prospect of a stronger global economy – outside the US – did support appreciation of emerging markets currencies against the dollar. However, signs of the US economy bottoming/strengthening also sent forwards markets rapidly 'unpricing' future rate cuts. The dollar held its ground against the low yielding, funding currencies such as the Swiss franc.
On a strategic note, European politicians, from France and Germany most notably, have reiterated their desire for a healthier European banking system. These calls come ahead of the meeting of Europe's finance ministers in December. There seems to be a sense of urgency to move towards banking union in order to 'mend' Europe's ailing banking sector. Consolidation within the banking industry, and the creation of stronger pan-European entities, are both seen as part of the process.
Should Europe be able to reach agreement, an overhaul of the banking sector might, lead to more lending both cyclically and counter-cyclically.
Monetary policy is more than just controlling interest rates. However, if the central bank cannot unlock liquidity and get it moving into the real economy, because the banks cannot or will not lend, then the central bank is indeed pushing on that proverbial piece of string – a perception the central banks of Japan and Europe have been trying to avoid