The latest Willis Towers Watson risk-management study reveals the ongoing challenge that German pension funds face in meeting their liabilities. Nigel Cresswell reports
The Willis Towers Watson Pension Risk Management Study of 2016 highlights a continuing challenge faced by German Corporate Pension Investors, and the means to confront this challenge by realigning their investment processes. The continuation of the ECB purchasing programme and the resulting low interest-rate environment have left investors facing heightened liability levels and a challenging forward-looking return environment.
However, the average asset allocation of investors has only slightly changed to reflect this – which should give investors much to consider in their planning for 2017. The asset allocation remains broadly 60% in bonds, 25-30% in equities, and the remainder in a mixture of cash and alternative assets.
This asset allocation has some comparability to those of Japanese and Dutch pension entities, but would be considered both more conservative and less diverse relative to the portfolios of Anglo-Saxon asset owners, who have embraced both a higher tolerance for risk, and a much more diverse range of return premia in spending that risk. Based on our 2016 Global Pension Asset Study, an average allocation across the world's largest seven pension investor countries would have 44% in equities, 27% in alternatives and 29% in bonds.
The combination of conservative and less diversified asset allocation alongside a challenging economic outlook has considerable impact on the expected returns for German investors and on the effectiveness of their risk-spend. With broadly the same asset mix as today, investors of 2014, could have expected a 10-year forward looking median return of nearly 4% a year. In 2016, the asset allocation only provides a prospective median return of just over 2% a year – an almost halving of the future returns.
This can be attributed to the actions of the ECB. Quite simply, reduced discount rates and an investor-demand-led suppressing of many risk premia have led to returns being 'brought forward' in many markets. This has led many investors to feel that while they are in a low-interest-rate market, they are not in a low-return-rate market. This may well have led to the lack of change and conservatism in portfolios, but it fails to address a looming problem. Investors need to be aware that the gains of today are simply at the expense of those in the future, and without a change to portfolios, a sobering set of returns may be expected, ultimately pushing up the cost of their pension provision.
It does indeed appear as if investors are becoming aware of this issue. In our study, many investors indicated that they wish to increase the diversity of their portfolios to address these concerns. In particular, potential investment in global equity mandates, real estate, leveraged loans and infrastructure were mentioned. However, such changes, while welcome, do not go far enough in addressing the situation in our view.
To align with the liability and return goals investors expressed, there is a need for a more radical shift in both the risk budget allocated, and the portfolio construction process to spend this budget. As an example, our analysis suggests that a move to a better-diversified portfolio, embracing a wider range of return premia, would lead to an increase in returns of more than 60bps, while decreasing the risk-spend by a third. Clearly this risk reduction could further be recycled into higher allocations in return seeking assets, increasing returns further.
Furthermore, adding to this a reassessment of the available risk-budget would enable investors to build portfolios targeting returns aligned to their goals, rather than resigning themselves to their fate.
The study also points to the changes in risk management. Over the last 20 years, the perception of risk of corporate investors has gradually shifted away from a pure asset-only assessment to a more holistic asset-liability approach. In spite of this, the adoption of liability-hedging strategies that are aligned with such risk measures is still low.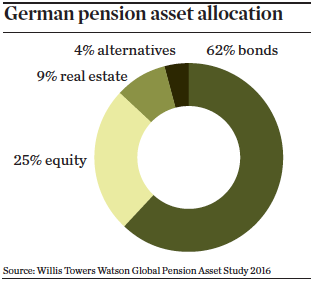 Only a third of the study participants are explicitly hedging interest-rate risks, with an even lower take up of credit spread and inflation risk hedging. Instead, a unique feature of the German market is the use of model-driven risk overlay structures to shift portfolio weights over time. These are primarily asset-only focused, and aim, often through a mixture of tactical asset allocation and risk-reduction in times of market stress, to reduce annual losses.
However, this short-term risk focus is at the expense of managing for longer-term funding risks, or asset-liability risks. While regulated entities may be encouraged by annual regulatory tests to use such structures, the need of corporate funds to adopt such approaches is less obvious, and is perhaps more indicative of their own risk preferences. Such structures are, however, increasingly under review by investors.
Unsurprisingly, investors are under pressure to reduce all costs in the low-interest rate environment, and assess these relative to a lower overall return. Investor reviews have laid bare not only the explicit costs of such structures, but also the implicit costs – such models have typically 'forced' strategic asset allocations to be heavily overweight liquid-only asset classes, and many investors have therefore missed out on accessing a relatively attractive illiquidity premium. Increasingly, we see the adoption of a more holistic risk-management framework as a natural consequence of such reviews.
Opportunities certainly do exist. So what are the challenges that have hindered investors from implementing such change?
First, the challenges inherent in implementing diversifying strategies are certainly higher in Germany than elsewhere. A mixture of tax regulations and (sometimes non-aligned) investment regulations, particularly but not exclusively for the quasi-insurance-regulated entities, have created a higher hurdle. Thankfully, a potential tailwind of tax reform and additional guidance around regulatory requirements may be around the corner, although further clarification is still needed on both – certainly the tax 'simplification' promised is proving to be illusory.
Second, the governance requirements of the diversifying strategies and of modifying risk approaches have presented a barrier for many entities, in terms of understanding, expertise and resourcing requirements. To address this, investors are faced with a need to either revisit and upscale their existing frameworks and resourcing, or alternatively look to outsource non-strategic aspects, to leverage more effectively their existing structure.
Our study, and our experience, suggest that many investors are now embracing these additional hurdles, with the outsourcing model being the preferred route. Investors are increasingly looking to specialist providers, often in the form of fiduciary mandates at an asset class level, or across the full asset base to professionalise the investment process. This is enabling them to embrace additional complexity within a manageable resourcing and governance framework.
German investors are aware that the difficult environment is here to stay, and while radical change in their portfolios has thus far been broadly elusive, our study suggests the need for change is gradually being recognised, with new implementation models enabling a reassessment of risk and consideration of how best to spend that risk.
Our analysis suggests those who choose to stay with the existing arrangements will need to brace themselves – few tend to be content with just a half, particularly when others who embrace change can have the whole.
Nigel Cresswell is head of investment for Germany at Willis Towers Watson
Pensions In Germany: Draft law under discussion
1

2

3

4

Currently reading

Asset Allocation: Investors embrace change

5

6