Asset allocators are sanguine about 2018
Key points
Global inflation and central bank policies are key themes
Markets are again setting Treasury prices for the first time in a decade
Analysts prefer equities
Regionally, Europe and emerging markets are prioritised
Keep calm and carry on investing. Heading into 2018 with a positive economic picture, indicators such as employment and profit growth are close to 10-year highs in almost all regions. The global economy appears healthy, reflecting a broad-based recovery.
Even emerging markets, previously a weak spot, have joined the rebound. Corporate confidence and improved balanced sheets are translating into business spending, contributing to overall growth. "It's the breadth that gives us faith in the resilience of a persistent recovery," says Valentijn van Nieuwenhuijzen, chief investment officer of NNIP Partners.
Underpinning this the key themes are global inflation and central bank policies. First, interest rates did not rise in 2017 as predicted but instead retreated. That may change in 2018, if US wage inflation gains traction as a delayed reaction to tighter labour markets. "We're already seeing those green shoots," says Maximi Alimi, head of research and investment strategy at AXA: "That trend may lead next year toward more Federal Reserve tightening, and normalisation in long-term inflations expectations."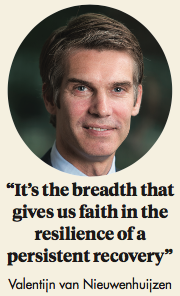 Second, central bank balance sheets are due to shrink as global quantitative easing regimes fade. These additional funds were still sloshing through markets in 2017; the Fed began to unwind, but the European Central Bank (ECB) and Bank of Japan remained loose. In consequence, market fundamentals have been blurred, but finally arriving at a moment of truth.
The withdrawal of central bank liquidity has implications for volatility. Despite the ceaseless background chatter of political risk, the correct strategy has been to stay confident and buy the dips. That might not last as central banks soak up liquidity. One cost-effective strategy to address volatility might be call options to replace long exposures in equities.
Demographics remain inexorable. Baby boomers keep retiring and shifting their fixed income allocations to preserve capital. So unless the Fed takes unexpectedly hawkish action, bonds will still experience strong inflows. In 2017, those flows approached half a trillion dollars (€432.5trn) – with no thanks due to outperformance. "It's like musical chairs. The music has gone on so long, must it stop soon?" asks Cameron Brandt, director of research, EPFR Global. Brandt, if anything, would be more concerned about a "stomach churning drop" for equities, which have underperformed bonds for seven of the past eight years.
The social and political backdrop rounds out the drivers. For instance, Italian elections and American midterms may produce surprises, or Catalonian attempted secession might spark further upheavals. Andrew Milligan, head of global strategy at Aberdeen Standard Investments, highlights the populist social element: "Angry electorates in several countries are making life harder for free trade and globalisation, and undermining structural reforms."
How will these overarching themes translate into shifts in asset allocation? "We have a live policy experiment, with markets setting Treasury prices for the first time in 10 years," says Neil Dwane, global strategist at Allianz Global Investors. Yield curves have already steepened on a global basis, indicating a short term clear and present danger for the bond market. Erik Knutzen, head of multi-asset investing at Neuberger Berman, expresses a preference for equities. He would underweight developed market government bonds, since, "investors are not being properly compensated for interest rate risk". Many fixed income products seem irrationally priced, considering it costs more to borrow from the US government than from corporations.
Global reverberations could develop as prices normalise. In today's low interest rate environment, investors have been hunting for income rather than returns. When Treasuries yield only 2.3%, investors can justify turning to emerging markets, where the average Asian sovereign, for example, delivers about 3.5%, and India and Indonesia provide 7%. Dwane notes that if the US government began offering 3%, investors might be more reluctant to buy foreign corporate bonds. He says, "they would also reconsider spreads between US and other risky bond markets."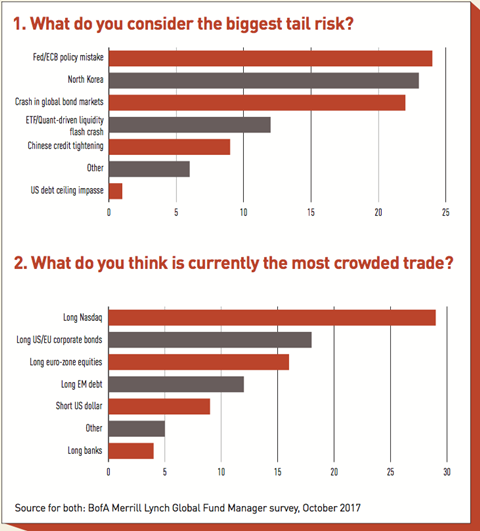 Inflation surprises have not been priced into a world of negative interest rates, where Japan and the ECB are still buying bonds. Milligan considers what may happen if the ECB moves even slightly toward zero or positive rates. Bond flows may move away from the US, since so far, other central banks have been snatching up any fixed instruments with positive yields while their own are negative.
Analysts express some consensus toward a preference for equities. As long as reflation is gradual, "credit will struggle to keep up with equities," says van Nieuwenhuijzen. Profits have thrived for several reasons. Discipline in the corporate sector helps, combined with releveraging, which supports return on equity. Moreover, European and emerging markets have the potential to fully utilise production capacity, which is operating at only 80%.
Among other asset classes, high cash levels reflect investor caution, yet muted optimism is a positive indicator. Elsewhere, investors may move into real estate, a long duration asset, if they are confident the recovery has legs.
Lastly, Anthony Tutrone, global head of alternatives at Neuberger Berman, reports his firm's positive view of private equity. He states that valuations are not unreasonable, capital structures sound, and interest rate coverage robust. Importantly, private owners exert control, making room for operational and financial improvements.
Among sectors, Alimi favours financials, considering European banks have cleansed their balance sheets and should benefit from higher rates; Brandt likes healthcare and biotech, noting that a kinder US tax regime may let firms pay higher dividends and repatriate cash; Dwane makes a case for energy, based on the potential for an oil supply shock. Alimi and Nieuwenhuijzen are less sanguine about consumer staples, and defensive government bond proxies. As for technology, the monopoly and tax status of Facebook and Google may come under scrutiny. "The mood music there is clear," says Dwane.
When they divide up the world, analysts are advocating Europe and emerging markets over the US. However, such a unified opinion also suggests a contrarian play. Dwane, Germain, Alimi and Milligan all agree that European and Asian equities appear less extended, with better profit outlooks.
"If you believe in reversion to the mean, Europe should attract fresh money. We started to see flows pick up after the French election, which lasted until Catalonia refocused people on Italian elections at the end of May," Brandt says.
Across the globe, Knutzen argues for emerging markets, noting global economic growth and that none of the main players are in recession, balance sheets have strengthened, and "the rising consumer and middle class is a durable trend". Concerns in 2017 about a rising dollar, higher interest rates and inflation – which would have been negative for emerging markets – have been mitigated.
"The strongest predictor of short-term inflows is a reform story," Brandt emphasises. China and Brazil could benefit from proposed economic overhauls. In India, President Modi got a "second wind", he says, when he pushed through a sales tax.
Buoyant South Korean equity funds are a conundrum. After years of watching foreigners own the free float in their equity market, Korean pension funds have become enthusiastic buyers again. Brandt concludes wryly, "you might think firing nuclear tests is the way to boost equity flows!"
Outlook 2018: Heading for regime change
1

2

Currently reading

Asset allocation: Keep calm and carry on

3

4

5

6