Jim Robinson reviews the recent mandate activity of large Nordic institutional investors
Nordic pension funds have invested considerable amounts in real assets in 2016. The Danes have led the way.
In April, Denmark's AP Pension invested €67m in a deal to buy farmland in eastern Romania and lease it back to FirstFarms, a Danish agriculture company already operating in the country. The plan is to buy extra land connected to these plots, which will add value, according to chief executive Søren Dal Thomsen. "While working on this, we will get a continuous return in the form of land rent from FirstFarms," he said at the time.
The investment came soon after it ramped up its investments in high-yield corporate bonds, saying that yields on these in the US and elsewhere had risen so much it was now turning its sights towards this sector. It appointed Babson Capital Management as its manager for global high yield with a €188m mandate.
That same month, labour-market pensions firm PKA invested around DKK350m (€47m) in two natural gas power plants and a portfolio of onshore wind turbines in Ireland and Northern Ireland. PKA, which runs three pension funds in the social and healthcare sector, co-invested alongside global infrastructure manager I Squared Capital, which it already invests in.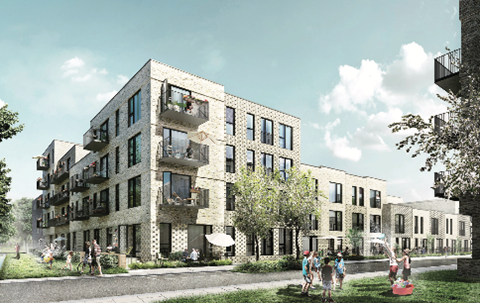 In October, PensionDanmark made a €40.3m investment in an Ørestad housing development that will comprise of 28 houses and 67 apartments, with completion expected in late 2018. In March, Nordea Life & Pension invested DKK500m in real estate financing through a fund it launched with other investors. Nordea was one of the main investors in this fund, which aims to raise DKK2bn of capital from Danish and European institutional investors.
In Iceland, the multi-employer pension fund Frjálsi increased its mortgage debt investment to around 5% of its €1.4bn in total assets in September, from 2% in the first two months of this year. CIO Marinó Örn Tryggvason told IPE: "Pension funds have been gaining market share both at the cost of the banks and the government's [Housing Financing Fund]."
Private equity and technology were also of interest, with Swedish buffer fund AP6 following up an investment in technology fund Northzone VII with a €25m commitment to its successor. Other participants included AP3, SEB Pension and Industriens Pension, all existing Northzone investors. In July, ATP and PFA jointly invested DKK1bn in a private equity fund, managed by Via Venture Partners, targeting Nordic tech firms.
AP7, meanwhile, awarded sizeable passive equity mandates to BlackRock, State Street and Northern Trust in March (reappointing the latter two) in an overall award amounting to €25bn in assets. The passive global equity mandates are the cornerstone of AP7's SEK261bn (€26.3bn) Aktiefond, which forms one of the two building blocks of its four investment options – Såfa, Offensiv, Balanserad and Fösikitig. BlackRock, State Street and Northern Trust beat 15 other managers to win the three-year contracts.
Back in February, Danish labour-market pension fund Sampension announced that it was building a portfolio that would seek to benefit from higher European inflation, even though the European Central Bank was still engaging in action to ward off the perceived risk of deflation. The DKK250bn pension fund said it took the view that the level of interest rates in Europe was unjustified.
Investment director Henrik Olejasz Larsen told IPE, Sampension was buying European inflation-linked bonds and inflation swaps, adding that the deals were being done directly rather than through a manager. He acknowledged such buying was against the grain of most institutional investment behaviour at that point in the cycle, but he said Sampension saw the action as protection against rising nominal interest rates in Europe, which had been falling. At the time, he said: "We do not really think the current level of interest rates in Europe is justified."

Pensions in Nordic Region: Iceland - Opportunities abound
1

2

3

Currently reading

Asset Allocation: Pension funds embrace the real

4

5

6

7

8

9