Switzerland's double whammy of a strong currency and negative interest rates represents a formidable challenge for the pension fund industry, says Daniel Ben-Ami
At a glance
• Switzerland is facing the dual challenge of dealing with a negative interest rates and a strong currency.
• Swiss pension funds can react in several ways, including increasing their risk appetite, living with declining solvency or cutting benefit payouts.
• Alternative assets are growing in popularity, although from a low base.
• Public pensions are generally more vulnerable than private ones.
Switzerland's status as a world leader in deflation – at least by some measures – poses serious challenges for its pension fund industry. Circumstances are forcing it to tackle a situation that could well affect other parts of western Europe before long.
Consumer prices in Switzerland are falling at an annual rate of 1.4%, according to the latest figures, while official interest rates for overnight lending are about -0.7%. This means that although rates are still positive in real terms, they are uncomfortably low.
Fortunately for Switzerland, its economy is not in as bad a shape as such figures might indicate for other countries. Indeed, in January the Swiss franc surged against the euro after the Swiss National Bank (SNB) broke the peg with the euro-zone. The Swiss currency, with its traditional safe haven status, was simply too strong to tie to that of its sickly neighbours. James Wood-Collins, CEO of Record Currency Management, one of the largest foreign asset managers for Swiss pension funds, says: "It was an absolute earthquake in all of the Swiss financial system and in FX [foreign exchange] markets more generally." With the European Central Bank (ECB) about to launch quantitative easing (QE), the cost of maintaining the cap looked set to become prohibitive.
These features of the Swiss economy, negative interest rates and its own strong currency, provide the backdrop to the asset allocation challenges facing the country's pension funds. Consider the gap between bond yields and the technical reference interest rate – the rate at which pension funds discount their liabilities. At 2.75%, there is a clear three percentage point gap between it and the -0.3% yield on 10-year government bonds.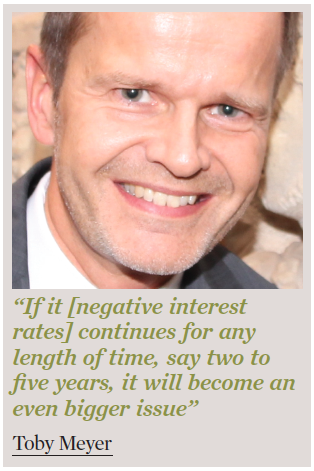 This predicament is prompting pension funds to rethink their long-established practices. Pierin Vincenz, chairman of Helvetia insurance, and a grandee of the Swiss financial community, says: "Everyone is in the process of defining new asset classes and new investment philosophies; it is where we are at the moment. The results and consequences will be seen in the next two or three years."
In broad terms, Swiss pension funds have three choices. They can increase their risk appetite, recognise the gap and live with declining solvency, or cut interest credited to active members. Each of these paths brings with it advantages, as well as potential problems. "There is no perfect solution," says Daniel Ritz, director of institutional clients at Unigestion in Zurich. "It's a difficult situation."
Although asset allocation has so far remained relatively stable, there have been significant shifts. According to figures from Credit Suisse – compiled in its role as a custodian bank – holdings of liquidity (cash and near cash) fell from 7.4% in the final quarter of 2013 to 4.7% in the third quarter of 2015. Over the same period, real estate holdings rose from 19.9% to 22.2%. Over that time, Swiss franc bonds have been steady at about a quarter of the average portfolio, with foreign currency bonds at about 8%.
Ritz says that within the fixed income portion of pension fund portfolios, there are three possible tactical moves. First, to remain invested in developed market government bonds. This can include seeking the best possible carry or real return. Second, chasing yield. Such a strategy can include moving down the rating curve, increasing duration and investing in high-yield bonds. Third, going for unconstrained solutions. This can involve taking a dynamic exposure to foreign exchange or credit risk, or pursuing themes such as investing in selected emerging markets.
Another route is for pension funds to increase their weighting in alternatives, which includes less liquid investments such as private equity and infrastructure. It is generally perceived as higher risk, so it only accounts for a small portion of the typical Swiss pension fund. However, the average weighting has increased from 4.7% in the final quarter of 2013 to 5.9% in the third quarter of 2015, according to Credit Suisse estimates. This compares with a typical quota of perhaps 15% in this asset class.
Pius Fritschi, managing partner of LGT Capital Partners, which specialises in alternative investment management, says the larger and more sophisticated pension funds have moved in this direction over the past two years. "They realise that we are moving into a different environment and they have started to do the work; some of them have already shifted," he says. "With the currency move in January 2015, this move has accelerated." Those with high cash holdings are under particular pressure to find ways to generate higher yield.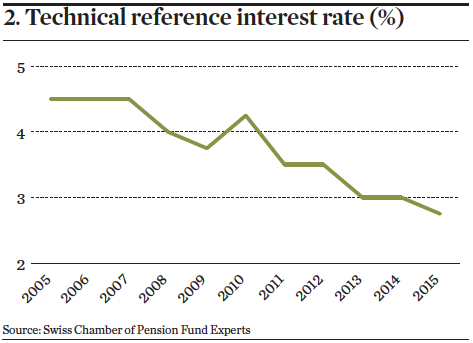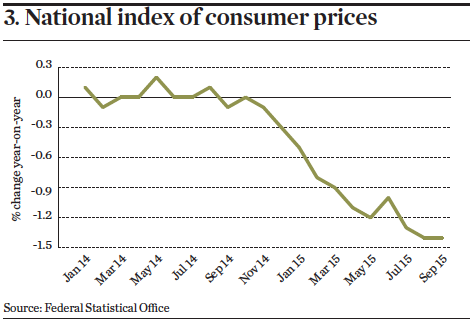 But although the direction of movement is clear, it is not without difficulties. Stefan Haab, who runs Pictet Asset Management's institutional relationship team in Zurich, says: "It's a challenge time-wise and information-wise." He points out that the typical Swiss pension fund does not have the resources or know-how to run such assets. Often they have to outsource tasks.
Of course, some pension funds are more resilient than others in their ability to deal with the difficult environment. Those with a high coverage ratio – the extent to which a pension fund's imputed net assets are covered by retirement assets, as defined by Switzerland's BVV2 pension regulations – are generally more robust than those with lower ratios.
Toby Meyer, head of institutional product platforms for the Swiss institutional business of UBS Asset Management, notes that private pensions are generally better funded, while public pensions are often underfunded. "The asset allocation is driven [according] to what group you belong to," he says.
However, he says that if negative interest rates persist, the effect could be more dramatic. "If it continues for any length of time, say two to five years, it will become an even bigger issue," he says. It will mean many pension funds struggle to meet their liabilities as their coverage ratio decreases further. This could push pension funds to take more risks in equities or real estate.
If the ECB reduces euro-zone interest rates further, the SNB will almost be bound to react. This will, in turn, put further pressure on Swiss pension funds. Many euro-zone countries are already flirting with negative bond yields, including Austria, Finland, Germany, Italy and the Netherlands. In Scandinavia – outside of the euro-zone – both Denmark and Sweden have also dipped into negative territory.
"For us, the exchange rate with the euro is important," says Fritschi. "Lower euro-zone rates mean pressure on the Swiss market and local interest rates. It means yields will stay low, so it will be hard for institutions like pension funds."
Swiss pension funds have found themselves subject to forces they would probably prefer not to tackle. But whether they like it or not, they look trapped in a Darwinian struggle of survival of the fittest.
Pensions in Switzerland: Retirement reform revisited
1

2

3

Currently reading

Asset Allocation: Re-defining asset classes

4

5

6