Recent investment activity of large Nordic institutional investors
Nordic asset owners have invested more in alternatives in the past several months, with real assets featuring prominently in the mix.
One of the bigger reported investments was a DKK8.8bn (€1.2bn) commitment to a new energy infrastructure investment fund by five Danish pension funds and one Norwegian investor.
Copenhagen Infrastructure III is run by Copenhagen Infrastructure Partners (CIP), and will invest in energy infrastructure with stable cash flows, including onshore and offshore wind farms, solar energy, biomass-fired power plants and transmission grid systems.
Danish labour-market fund PensionDanmark is the largest investor, committing slightly less than 50% (DKK4bn). The others are Norway's KLP, the Danish doctors' pension fund Lægernes Pension, the Danish lawyers' and economists' pension fund JØP and the Danish engineers' pension fund DIP. The deal was announced in March.
Also in infrastructure, Denmark's Industriens Pension said it was investing DKK900m in a UK gas pipeline and processing plant. Announcing the investment in December last year, the DKK145.5bn labour-market pension fund said it would boost its infrastructure assets to DKK15bn, or 10% of its entire portfolio.
The Scottish Area Gas Evacuation system consists of a 323km gas pipeline network in the Scottish part of the North Sea and a gas processing plant in the village of St Fergus, 65km north of Aberdeen.
The investment was expected to be finalised in the first half of 2017, following approval from authorities and other shareholders.
PensionDanmark and Danica Pension backed the launch of a $300m (€279m) shipping fund run by Navigare Capital Partners. PensionDanmark said it put $200m into the vehicle.
Maritime Investment Fund I will buy, lease, and sell ships, including dry bulk, product, and container ships, and crude oil and chemical tankers.
PensionDanmark and Danica's investment comes after PFA and PKA last September announced they had linked up with private equity firm Axcel to buy a majority stake (72%) in the Danish shipping finance company Danmarks Skibskredit.
Danish pension funds also made several real estate investments, mostly at home but also abroad.
A relatively large domestic investment came in the form of PFA, PenSam and insurance and pensions firm Topdanmark increasing their stakes in the development of the former Carlsberg brewery in Copenhagen by buying the 25% stake owned by Realdania.
The deal took PFA's stake to 29.99%, making it the biggest investor in the project, which is to the west of central Copenhagen.
PKA, meanwhile, invested DKK4.2bn (€565m) in Carlsberg City via a secured loan-financing facility. The credit line finances the building of a further 200,000sqm or more of space on the old brewery site.
Under the terms of the agreement, Carlsberg City can draw on the credit line as needed. The facility expires at the end of 2022. The loan is secured, backed by mortgage security in the project.
Danish and Swedish investors have backed a €1.1bn Nordic logistics platform created by private equity firm NREP. Sweden's AP1, and Denmark's PFA Pension, DIP, JØP, and Lægernes Pension invested in the NREP Logistics Property fund alongside German institutions Allianz and Helaba Invest.
It was seeded with an initial 1.1m sqm portfolio of 49 assets with an average eight years left on leases.
Johan Temse, investment manager at AP1, said logistics property was an "interesting way to capitalise on future global trade, consumption, e-commerce and supply-chain reconfiguration".
Further afield, Denmark's ATP pension fund and AXA insurance companies bought a project in Amsterdam to develop the largest hotel in the Benelux region.
Through a 50-50 joint venture, they acquired the development from real estate developer COD by means of a forward purchase. Building work on the hotel, which will operate under the name Nhow Amsterdam RAI Hotel, started last September and is expected to be completed in the second half of 2019.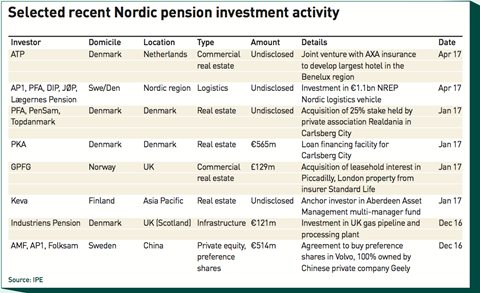 Sweden: AP funds power on
1

2

Currently reading

Asset allocation roundup: Busy in alternatives

3

4

5

6

7

8