INDEFI Market Research's latest annual research on the French institutional market confirms the emergence of key trends for European asset management. Richard Bruyere reports
At a glance
• The French pensions market is unique in Europe in its dependence on insurance assets.
• Regulations are expected to play an increasing role in asset allocation decisions.
• Smart beta is gaining in popularity.
• The third party institutional market is becoming less monolithic.
The introduction of the EU's Solvency II Directive upon a market dominated by insurance assets and persistent low interest rates is seeing investors shift towards higher diversity and adopting more innovative investment strategies than before.
The latest INDEFI report emphasises the role that insurance companies are expected to play in the developing institutional outsourcing market. It also underlines the challenges third-party asset managers face to adapt their business model for this opportunity.
The French institutional market is unique because of the dominance of insurance assets. Not only does insurance play the same protective function as in other countries (health, home, car) but it is also the vehicle of choice for retail savings as well as pension contracts. Life insurance thus channels almost 40% of French households' financial savings (versus 30% each for securities, cash and bank savings products).
As a result, more than 80% of French long-term institutional assets fall under the Solvency II umbrella (see figure 1). This proportion is unheard of in the rest of Europe and does not include exempted institutions which are using this framework as a guideline for their own asset-liability management and investment strategies, as they anticipate a convergence between the EU's Institutions for Occupational Retirement Provision (IORP II) Directive and Solvency II – a reflection of the 'pervasiveness' of the new insurance regulatory framework.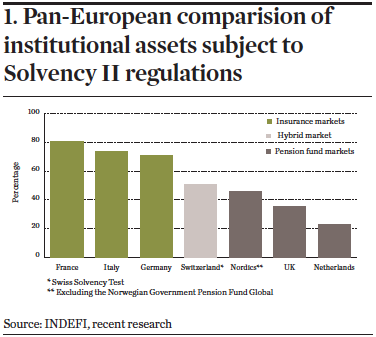 After a gestation period of over a decade, Solvency II finally came into effect in January. While investors have had time to anticipate and adjust their investment strategies, our analysis shows that the regulatory framework should have long-lasting impacts on the structure and dynamics of the institutional market.
While falling interest rates have driven asset allocation changes over the past five years, regulations should now come to the fore.
Investments in non-euro, non-investment- grade securities exceeded 4% of fixed-income allocations last year. This represents about €70bn committed to asset classes like high-yield (euro, US and global), emerging markets debt, international (global) bonds and private debt (loans and private placements).
The appetite for private debt is only expected to grow. In less than five years, French institutions have committed more money to this class than they ever have invested in private equity. This is a sustainable shift fed by liquidity premia and favourable regulatory treatment (for example, Fonds de prêts à l'économie (FPE) investment vehicles and infrastructure debt).
While bond yields are moving into negative territory across the euro-zone curve, French institutions are pioneering strategies which allow them to maintain equity exposure.
Alongside long-short market neutral strategies and convex asset classes such as convertible bonds, more investors are testing (partially)-hedged equity programmes to achieve optimised returns on capital under Solvency II. These strategies combine active or passive directional investments and optional hedges (under overlay or fund format).
In addition, many smart beta strategies are enjoying increased popularity. These include relatively traditional strategies such as minimum variance or risk parity. They also encompass approaches driven by extra-financial and environmental regulations. The recent law on energy transition for green growth requires all investors managing more than €500m to publish an annual report to explain how they are taking into account environmental, social and governance (ESG) criteria in their investment strategy and, more specifically, how they intend to tackle climate change. Low carbon indexing is one possible answer that appeals.
Beside traditional fixed income and equity investments, investors are increasing their allocations to private asset classes, in particular real estate and infrastructure, and to a lesser extent, private equity (see figure 2).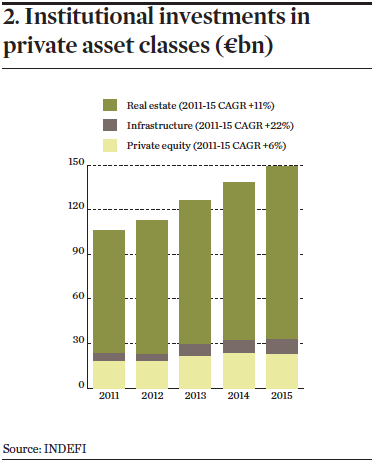 • The former two are yield-generating investments which benefit from a favourable regulatory treatment under Solvency II.
• The latter one is more controversial owing to the diversity of performance and the perceived prohibitive fee structure.
Against this backdrop, the third-party institutional delegation market is becoming less monolithic and should lead asset managers to adapt their approach.
• Specific delegation formats are expected to increase at the expense of collective investment formats (such as UCITS funds). This includes insurance mandates but also segregated funds and overlay mandates. The use of collective funds – a traditional feature of the institutional market – is jeopardised by the forthcoming International Financial Reporting Standards (IFRS) 9 standard, should investors subject to the norm have to apply it in its current version.
• Asset management without services no longer works. Innovation is expected from asset managers in areas as reporting, portfolio look-through as well as data analysis and interpretation.
For third-party asset managers, France today provides a blueprint for the European institutional market. Key considerations to be taken into account include:
• A large-scale client-base shift with the rise of insurance companies as a source of asset management outsourcing opportunities, both on the institutional and retail (unit-linked) sides.
• The rise of CO2 -led investment strategies is expected to continue, driven by asset owners' own social responsibility objectives and/or regulations.
• Solvency II as the reference framework for managing long-term investments, towards which IORP is expected to converge over time.
Richard Bruyere is the managing partner at INDEFI
Pensions In France: Change of tack on pensions
1

2

Currently reading

Asset Allocation: Start of a new era

3

4