Although there were significant bounces during February andMarch in Chinese stocks, commodities, and emerging market assets, there is still a nervous pall hanging over markets. The G20 summit produced no guidance about co-ordinated action to ease the malaise, although few were expecting a masterful joined-up plan from the world's policy makers. Regardless of market mayhem, as US Treasury Secretary Jack Lew succinctly put it: "Don't expect a crisis response in a non-crisis environment."
Despite reasonably healthy data from US consumers and the non-tradable sector, it is the tradable sector, with manufacturing in particular, that has repeatedly disappointed since the recovery started. The Fed has obliged market sentiment with its recent dovish comments, although a June hike is still priced in.
China's macroeconomics is a focal point for the the global economy, capital markets as well as policymakers. Although there might be little sign of stabilisation, perhaps in response to stimulus, Premier Li warned of the need to fight "a difficult battle" ahead, and said growth targets would be in the 6.5 -7% range, the lowest rates since the early 1990s.
Whether that growth target will be achieved remains to be seen, but in the near term, watching for the pressures on China's foreign exchange reserves is more critical for investors.
The extremes in volatility seen in trading on the Chinese stock market are also worrying, and could have damaging implications for consumer and business confidence.
Market volatility has seriously affeccted European bank stocks and bonds, with worries over global growth, high exposure to commodity producers and the policy of negative rates. The danger is that beleaguered banks tighten lending conditions, which could damage the euro economy at a time when business and consumer confidence – battered by market gyrations – is under pressure. Also for Europe, migrational tides are adding to political risk, as is the uncertain outcome of the UK's Brexit referendum, set for 23 June.
Bonds
Historically, the level of US credit spreads would be a sign of an economy nearing or already in recession. Although economic growth is disappointing and the outlook dull, growth is still positive: the US is not in recession.
If these fears are unfounded, investors are asking themselves why credit appears cheap. For the bears, the threat of recession is dangerous and real, so the spreads are probably warranted, meaning that, at this point in the business cycle, credit is an asset class to be avoided.
Those with a more optimistic take on the US macroeconomic outlook suggest that the disconnect between credit and equity markets is caused by the collapse in oil and commodity prices, plus a significant fall in liquidity within (US) corporate credit, rather than a foretelling of another economic collapse.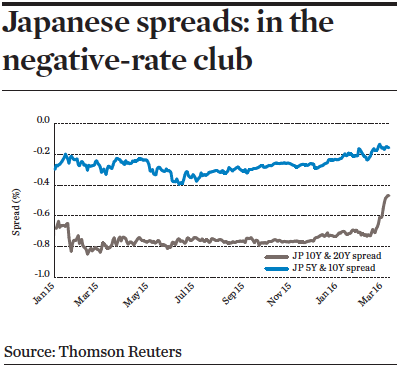 Obviously, the surge in mutual fund outflows has put extra stress on spreads, but most critical has been the unpredictability and unreliability of market liquidity, especially in times of stress.
The Bank of Japan's (BoJ) decision to join the negative-interest-rate club seems to have exacerbated two trends at opposite ends of the investing maturity spectrum. First, super-long JGB's have outperformed shorter-dated bonds, causing a dramatic flattening of the JGB curve since the BoJ's negative-interest-rate announcement. Domestic investors, including those in search of a diminishing supply of positive yields, as well as pension funds and insurers, have all been extending maturities.
Second, there has been an uptick in the already high propensity of the Japanese to accumulate cash (rather than bank deposits).
Currencies
A G20 response that weakened the dollar – like the 1985 Plaza Accord – would certainly have eased market anxieties. With a weaker greenback, pressure on the renminbi would be alleviated, This could ease the downward pressure on emerging market currencies and commodity prices, which might ease some of the pressures in emerging credit markets. However, a weakened dollar requires other currencies to strengthen, something which policymakers in both Japan and the euro-zone do not want.
The rising yen, in particular, has helped alleviate FX market strains and perhaps explains the small drop in China's foreign reserves in February. China's commitment to manage its exchange rate now referenced against a basket of currencies – CNY nominal effective exchange rate (CNY NEER) – including the Japanese yen, has made it easier to move the USD/CNY fixings lower as the CNY NEER has continued falling.
The Argentinian peso has been the worst performing currency versus the dollar, down about 15% (using the official rate) over the first two months of 2016, after last year's announcement that capital controls were to be lifted.
Inflation, running at about 30% annually is a pressure point for the currency. However, there is a chance that the debt default 'battle' may now be nearing an end, and the country might be able to exit its technical default in April. That might not be enough to turn the currency immediately around, but it could represent the beginnings of a turnaround in the country's economic fortunes.
Focus: fiscal policy
There was talk, before the G20 summit, about a co-ordinated intervention to save the global economy. A currency accord would not have found agreement among the group, although a synchronised fiscal spending plan could have cheered markets; the majority of the G20 is strapped fiscally.
Although, in aggregate, government deficits in the developed markets have been shrinking over the five or six years since their expansions, they are still historically large. Within the G20, only Germany managed a budget surplus last year. It seems France was joined by both Spain and Greece in exceeding the Maastricht budget deficit limit of 3% in 2015.
While many budget deficits have improved within developed markets, government debt as a proportion of GDP has been climbing to record levels, with Japan the worst 'offender'. Japan's gross government debt as a percentage of GDP stands at a spectacular 245%.
For emerging markets, many budget deficits have been increasing since 2012-13 as the crisis morphed from its sub-prime beginnings, through Europe's crisis and onward to emerging markets. Within any economic or investment grouping, it is, of course, always important to differentiate, and there are healthy fiscal positions, as well as perilously bad ones.
Unlike the past, the majority of emerging market countries are keen to maintain as much of their hard-won fiscal (and monetary) credibility. Thus, across emerging markets there is little sign that politicians are launching unaffordable spending plans. Instead, from South Africa to Mexico, governments are announcing fiscal-tightening plans. As ever, there are exceptions, with troubled Brazil perhaps being the biggest and worst example, as its politicians seem to do their best to cause maximum chaos.