A decade ago, synthetic exchange-traded funds (ETFs) were the pariahs of the asset management industry. Investors, burnt by the global financial crisis (GFC), shunned a structure that had previously been lauded for opening up new markets and strategies. Now, though, the tides are turning – with some sectors experiencing a revival in synthetic flows both this year and last year.
The resurgence has come particularly in the US equity segment where synthetic ETFs have delivered superior returns. They have outperformed standard physically-backed index trackers and their tracking has been tighter too. But it is not just among US equities that people have started to sit up and take notice. The reawakening has reached the emerging markets, as well as thematic and objective-based strategies.
Synthetic ETFs use a swap derivative to generate returns. Where a physical ETF buys each stock or share within its index, the swap outsources the trading to an investment bank – which returns the exact performance of a specified index. This additional counterparty adds complexity to the structure and was one of the reasons those post-GFC investors steered clear. However, those perceived problems can be outweighed by better, steadier performance.
Synthetic ETFs have been available in Europe since 2001. Whereas the US ETF market had grown up mostly physical, Europe was comfortable with swap-based ETFs. In the early days, this was a structure which opened many doors.
The synthetic ETF was a natural next step for European investors who were familiar and comfortable with buying warrants and certificates. The ETF structure – more regulated and more transparent – offered a little more liquidity, and a little more peace of mind.
These funds allowed investors to access markets that were not previously available – where costs or regulation were a prohibitive barrier for many investors big and small.
Take India, which can be a challenging market for many investors. Regulations in that country are cumbersome for international investors to navigate. This has led to liquidity squeezes at times. Many investors circumvent this by trading in Mauritius, but prices there can deviate wildly from the onshore market. And taxes are punitive too, with a 10% capital gains rate on physical holders.
But it did not stop at emerging markets. Synthetic strategies allowed investors to track a market more precisely with lower capital – and often at lower costs. And as many ETF managers were owned by or linked with an investment bank, they were able to take advantage of existing derivatives structuring expertise.
This led to a proliferation of choices. On the more vanilla side there were UK, US and European equity, single countries and credit portfolios. More esoteric investments included commodities funds, leveraged equity and long short strategies. It was particularly important in the growing smart beta industry, where turnover rates can be higher.
AIG and the great financial crisis
In 2008, the €100bn ETF market was roughly evenly split between physical and synthetic investments. But things stagnated shortly thereafter. In the decade to the end of 2018, Bloomberg data shows synthetic ETF assets have doubled – which is not bad, but it pales in comparison with the 10-fold growth in physical ETFs.
The financial crash led to a lot of doubts about derivatives investing. Scaremongering made investors question the robustness of the derivatives market, and they favoured the simplicity of direct investment.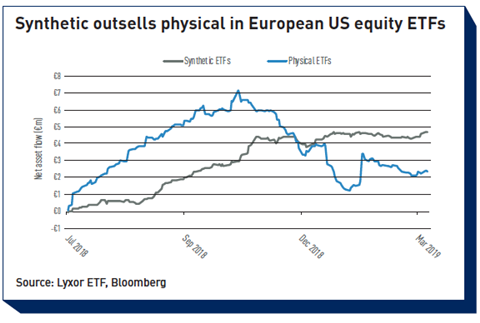 Although ETFs weathered the financial crisis without many problems, one particular incident in the exchange traded commodity (ETC) market did cause concerns. ETCs are a type of traded note – with returns linked to commodity prices. Although they function like ETFs, ETCs are less regulated, which may lead to lower liquidity.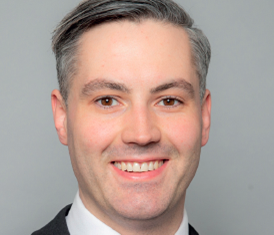 American International Group (AIG) provided commodity contracts for about 100 ETCs. Trading was suspended on these in September 2008 as the group struggled. This was a temporary blip – after the bailout, AIG posted collateral and ETCs resumed trading. But the damage was done in holders' eyes.
A turning point
A lot has changed in the last decade. Many providers have reviewed their holdings. Providers and regulators have together strengthened the governance of the structure, particularly on the collateral holdings.
Last year provided confirmation that the changes are working and that synthetic is resurgent. Synthetic today is about €1 in €5 of the ETF market, making 5% to 20% of all European ETF investment. In certain sectors this is much higher.
In the second half of 2018, US equity was easily the best-selling asset class, despite market volatility. Data from our research team shows European investors bought almost €8bn in US equity ETFs – a third of all inflows. Most of this went to synthetic ETFs.
Although the US is an efficient developed market, tax and trading frictions favour the synthetic structure. Investors can make up to a quarter of a percent more by going down this route. These are tempting margins to those who understand the structure.
The future for synthetic
So synthetic investing has gone full circle in a decade, at least for professionals. For individuals, it is still unlikely they will appeal – given the proliferation of simple, low-cost physical options. But institutions are again looking favourably on synthetic ETFs where they provide a measurable advantage. They are comfortable with the fundamentals of the structure and will evaluate each investment on its merits.
Now their use is spreading into private bank portfolios. As investors' objectives become more specific, more precise tools are required. Interest rate-hedged strategies – like inflation expectations ETFs – are inconceivable in physical form. Put simply, some of the more complex challenges investors face today demand more complex solutions.
That said, performance will be king. If swap-based funds can prolong their performance and their precision, professional investors will do their research and continue to back them.