Innovations are bringing new life to the asset-backed securities market
Key points
• The asset-backed securities (ABS) market remains subdued owing to the damage to its reputation during the global financial crisis a decade ago.
• Innovations are taking place in the types of underlying asset and the securitisation process.
• Mobile-phone-contract ABS face greater exposure than other consumer loan transactions to the credit profile and market position of the parent.
• Housing ABS remain core to the asset class.
There is seemingly no end to the type of asset that can be bundled into a tidy package that is wrapped in tradeable paper bearing promises of various streams of payment and then sold to institutional investors.
All that is required is a sufficiently large number of uniform contracts in which one party agrees to make payments to another party for the purchase of tangible item or the delivery of a service. Of course, there is a risk that some of those contracts go bad, payments are not made and investors do not receive the income they expected. That is why investors keep coming back to securitisations that are backed by essential assets that users are likely to pay for through thick and thin.
The current asset-backed securities (ABS) market remains subdued in terms of new securitisations, in large part owing to the tarnished reputation that such securities suffered during the financial crisis. But while there were some missteps in the process of creating and distributing ABS supported by mortgages on US homes, the basic mechanism of securitising assets remains sound – and several recent innovations illustrate how the financial industry is creating securities that are finding a welcome mat at many institutional portfolios.
In the EU market, ABS are being used by banks to tailor their capital structures by selling lower-rated tranches of loans that would require hefty levels of capital to be held on their balance sheets, says James King, a portfolio manager at M&G Investments. Alternative funds and large institutions will buy loans below investment grade, and sometimes repackage them into asset-backed securities. "Capital is expensive in the EU and the US, and a lot of banks in Europe are looking at securitisation technology as a means of obtaining capital relief," says King.
The theme of securitising essential assets is playing out in the terrestrial realm, in the market for mortgages on multifamily property, as well as in the digital realm, where the
utility of smartphones in the connected economy has made it possible to issue securities backed by mobile-phone-service contracts. Innovations are occurring in both the type of assets being securitised, as well as in the process of financing assets that are in the securitisation pipeline, refinements that are enabling investment capital to be recycled more rapidly.
While ABS supported by auto loans have continued to be an important source of new supply in the US market, net losses on both prime and sub-prime auto loans rose during 2016, a trend that continued this year, according to S&P Global Ratings.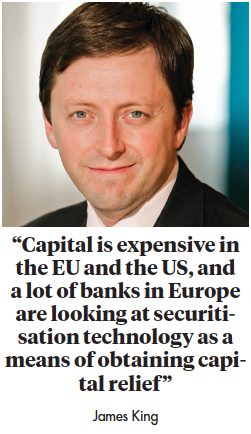 The segment has attracted new issuance from private equity firms entering the car-loan market. But auto-loan bonds do not expand the range of assets that institutions can invest in. In fact, in a world where Uber and Lyft are vying for domination of the business of arranging rides through their respective smartphone apps, the smartphone may be a more essential asset than a car – and potentially a better credit risk.
Some issuers are betting on just that, and they are using the agreements between consumers and mobile-phone service providers as collateral for a new type of asset-backed security. Verizon Communications, through its wireless subsidiaries, has issued four device payment-plan agreement securitisations, known as DPPs. Each ABS is issued by a discrete trust, and the agreements
collateralising the notes were originated by Cellco Partnership, d/b/a Verizon Wireless
or other subsidiaries of Verizon Communications. The assets held by the trust have typically included agreements with a 24-month original term, and remaining life of 20-22 months, according to pre-sale analysis reports by Fitch Ratings. On Verizon's fourth issue, in June, Fitch considered 32% of the pool to be sub-prime, and assigned a base case default rate of 3.9% for the pool, and 4.6% and 5.1% for the two 'worst case' portfolios it analysed.
Mobile-phone-contract ABS face greater exposure than other consumer-loan transactions to the credit profile and market position of the parent, according to Fitch, since Verizon Communications and its subsidiaries act as contract originator, loan servicer, and network operator. The worst case, of course, is insolvency of the issuer, and while that appears remote – Fitch currently rates Verizon A- with a stable outlook – credit analysis ultimately rests on the likelihood of repayment and the digital dimension brings some new risks. The primary direct exposure facing investors is the risk of payments related to device upgrades not being made to the trust in the event of Verizon's insolvency.
A good sign for investors is that the size of that exposure seems to shrinking. On the most recent Verizon issuance in June, Fitch cut its assumed upgrade loss rate. "A smaller portion of the customer base is comprised of those who prioritise frequent upgrades over the cost savings associated with retaining their devices," Fitch wrote. As a result, upgrade losses have been "far lower than peak levels seen in 2013 and 2014".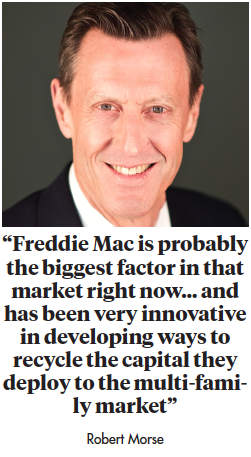 As ubiquitous as smartphones have become, there is still no asset more essential than housing, and for institutional investors who would prefer not to expose their portfolios to the smartphone upgrade cycle, there is no place like home – as long as home is an apartment in a multifamily commercial property financed by the Freddie Mac, the Federal Home Loan Mortgage Corporation, a government-sponsored enterprise.
Freddie Mac's K-series mortgage pass-through certificates, initiated in 2009, have caught on with investors across the risk spectrum. The amount of capital deployed to the K-series multifamily certificates has increased by more than $50bn (€42bn) per year in each of the past two years, according to Freddie Mac, with more than $200bn now outstanding.
Multifamily K certificates include Freddie Mac guaranteed senior and interest-only classes, and a related underlying private label trust that includes unguaranteed mezzanine, subordinate and interest-only bonds. The guaranteed certificates are typically purchased by conservative fixed-income portfolios, while the unguaranteed classes are usually sought by property or debt private equity funds targeting a higher yield.
Freddie Mac is "probably the biggest factor in that market right now", says Robert Morse, chairman of Bridge Investment Group, which manages $7.8bn in property fixed-income and equity strategies. The company "is a disciplined, cost-effective lender, and has been very innovative in developing ways to recycle the capital they deploy to the multi-family market", says Morse.
A $550m issuance of K certificates in September, FREMF 2017-KSKY Mortgage Bond Trust, expanded Freddie Mac's footprint in the US affordable housing market. To complete the transaction, the Freddie Mac K-series trust that issues the securitised notes bought two tax-exempt mortgage bonds totalling $164m that were issued by the New York State Housing Finance Agency to support affordable units at Sky Apartments in New
York City, the largest residential tower in the US. Freddie Mac also bought two taxable mortgage bonds issued by the New York agency totalling $386m, which support market-rate units. All four mortgage bonds are secured by the Sky Apartments property, and were directly purchased from the agency in a private placement, according to the Information Circular for the transaction.
The structure, which was the largest-ever single-asset tax exempt financing by Freddie Mac, could help increase the amount of capital available to build affordable housing. In the US, each state's issuance of housing bonds is capped by a formula based on state population and requirements that projects funded by housing bonds set aside a certain percentage of units for families earning less than the median income in a given area. Sky is a new building in the Hudson Yards area on the west side of Midtown Manhattan, and to qualify for partial funding by state housing agency bonds, 25% of its units were designated as affordable housing.
Earlier this year, Freddie Mac adopted what Morse calls a "highly innovative" approach to financing mortgage loans during the aggregation period, the time it takes to assemble the multi-loan pools that back each issue of K-series certificates.
With the new technique, known as a KT-deal, investors such as Bridge provide capital to fund the mortgage loans that are placed in the pool soonest. This frees up Freddie Mac's capital to be used for other transactions while the due diligence is conducted on loans to complete each pool, instead of tying up the entire amount of Freddie Mac capital for a given transaction for the entire aggregation period. The first KT-deal was about $1bn. "This is new, and Freddie Mac does a spectacular job," says Morse. "They can utilise that $1bn to lend to other borrowers."
Credit: The next stage of the cycle
1

2

Currently reading

Asset-backed securities: Essential assets

3

4

5

6

7

8