Gill Wadsworth looks at the changes adopted by pension funds as they seek investment opportunites that offer stability, diversification and healthy returns
The UK's defined benefit (DB) schemes enjoyed some rare good news this July when the Pension Protection Fund published its 7800 index, which showed an improvement in the funding ratio. The increase was only marginal, rising just 0.4 percentage points to 84.8% in July, but good news nevertheless.
However, rising bond yields were behind the improvement rather than asset growth, and when the £250bn (€354bn) of additional contributions made by sponsors over the past decade are taken into consideration, the gains seem less impressive.
Further, many funds have not been able to capitalise on equities markets' recent strong performance, having allocated away from this asset class in favour of stability and diversification.
In the five years to 31 July 2015, the MSCI World index has returned 12.4% per annum. Meanwhile, UK pension plan allocations to equities fell from 50% in 2010 to 33% in 2015, according to the Mercer European Equity allocation survey.
However, trustees have not completely abandoned growth assets. A second Mercer survey, published in May 2015, analysed 936 manager searches in 2014, revealing a decline in equity searches as pension funds move towards multi-asset and growth fixed-income mandates instead.
At a glance
• Pension funds are considering multi-asset fixed-income strategies for diversification and returns.
• Smart beta is gaining popularity as trustees revisit risk budgets.
• Global fixed-income allocations may rise as pension funds move away from domestic bonds to hedge risk.
John Belgrove, a senior partner at Aon Hewitt, says: "While becoming less tolerant of risk, pension schemes are more savvy and nimble with the remaining growth assets."
One example is a shift from active management towards passive or enhanced index strategies.
The Mercer manager search survey showed an increase in passive searches of 5%, with a "notable" interest in smart beta passive strategies.
Smart beta gives passive managers the freedom to construct their index based on particular factors which they deem more likely to benefit from market inefficiencies. But since it is still index tracking, the costs, and arguably the risks, are lower than those incurred with active management.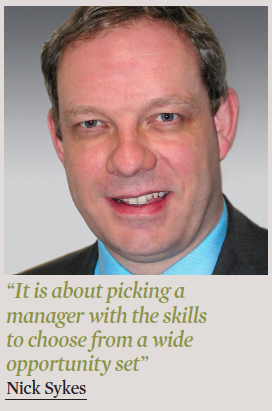 Research from Spence Johnson, a specialist research and consulting firm, shows growth of 32% in the European smart beta market during 2014 as institutional investors seek to reduce risks and improve returns.
Irshaad Ahmad, the head of UK at AXA Investment Managers, says: "Investors who are looking to smart beta as an improvement on the traditional market-cap approach are often switching out of other index-tracking alternatives. Investors that still want to hold their asset manager accountable for performance and implementation are more likely to move their active mandates into the second-generation smart beta strategies that give more control over the outcomes that are achieved."
At the end of 2014, the £3bn Devon County Council Pension Fund was just one plan to switch from an active equity mandate to a smart beta strategy.
Initially, the fuss about smart beta focused on the equity markets but there are now more opportunities to apply these approaches to fixed income.
Lombard Odier Investment Management (LOIM) has created a fundamental fixed-income strategy based on the constituents' ability to repay debt, rather than the traditional market cap approach based on indebtedness.
Kevin Corrigan, head of fundamental fixed income at LOIM, says the smart beta fixed-income strategies have attracted $5bn (€4.5bn) of assets which, he says, has come from both corporate and local authority schemes. However, the UK market is still in its infancy. "We are showing some traction but conversations are still very new and novel because [the institutional pensions] industry is quite slow – firstly, at adapting to new ideas and then executing them," he says.
Alongside smart beta, fixed-income investments are also employing multi-asset strategies.
UK pension funds have long incorporated alternative fixed-income assets alongside traditional Gilts and corporate bonds, but these were typically held in single-manager mandates.
Nick Sykes, director of consulting at Mercer, says this trend is slowing, with funds choosing a multi-asset manager able to make quick tactical decisions across a range of assets.
Sykes says: "It is about picking a manager with the skills to choose from a wide opportunity set. It is recognising that trustees make a decision at the strategic level and it is better to leave asset allocation decisions to the manager."
Fund managers agree that UK pension funds' interest in the multi-asset approach has developed from a need for diversification coupled with a lack of governance budget.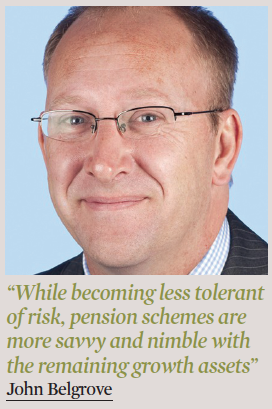 Paul Flood, a portfolio manager at Newton Investment Management, which launched a multi-asset income fund in February says: "It is clear that splitting fixed income into its constituent parts does not allow the benefits of efficient capital allocation because it is dependent on the pension fund manager deciding to change asset allocation rather than the professional manager".
In June, Hermes launched an absolute-return fund demonstrating a continuing appetite for multi-asset fixed-income funds. Fraser Lundie, co-head of Hermes Credit, says: "Investors must look beyond issuers and focus on a multi-strategy approach which incorporates both long and short investments across multiple security types including loans, bonds and credit default swaps."
The move to what Aon Hewitt's Belgrove calls a savvier approach to scheme investments can also be seen in UK pension funds' attitude to global allocations.
Andrew Stephens, managing director of BlackRock's UK institutional business, says pension funds are considering their underlying objectives before deciding to invest regionally or globally.
He says: "In active equities, for example, a trend to global allocations enables managers to search more broadly for relative value and is likely to throw up more opportunities to deliver excess returns. The same argument cannot be made for passive exposures. Indeed, the dominance of the US stock market in a market-cap-weighted index could make an argument for regional allocations where relative country exposure can be controlled."
Meanwhile, in fixed income, it has been common for pension funds to favour global allocations for growth-seeking assets, while domestic markets were preferred for hedging strategies.
However, Axa IM's Ahmad says that this is also changing. He says: "In the past, many UK pension funds used local credit to hedge or reduce some of their interest rate risk, but a trend we are seeing is a move to replace domestic credit allocations with a blended global credit and liability-driven investment (LDI) strategy. This means managing interest rate risk through the LDI component and capturing a better risk-adjusted return through a more diversified global credit portfolio."
The trend to smarter thinking by UK pension fund trustees can be seen in a willingness to employ different tools and techniques within investment strategies.
Multi-asset strategies mean even the smallest schemes can access a range of assets without having the necessary in-house skills and governance.
At the same time, employing smart beta strategies offers the potential to better manage risk and contain cost.
However, these are still new ideas and in some cases lack a track record to help make meaningful judgements.
The persistence of funding gaps means schemes are a long way from being able to claim any kind of victory from any of these new approaches.
Pensions in the UK: A 10-year scorecard
1

2

Currently reading

Asset Management: The rise of multi-asset

3

4

5

6

7

8