Fallout from scandals has left ATP without a chief executive and a tricky problem in choosing a successor to Christian Hyldahl

Key Points
Media coverage of a financial scandal in Denmark last year led the resignation of ATP CEO Christian Hyldahl
The uncovering of unethical behaviour at Danske Bank's Estonian subsidiary has also added to negative perceptions of Danish financial institutions
The current climate in Denmark makes it hard for ATP to choose a successor to Hyldahl
Is it possible to reach the top in the money world without getting your hands dirty? Versions of the question are doing the rounds in Denmark at a time when leadership crises at both ATP and Danske Bank have left two top chief executive posts in the country's internationally-respected financial sector lying vacant.
Boards of both organisations working to recruit new executive leaders doubtless have more practical questions to answer. But ATP finds itself with a whole new recruitment challenge – first, because the Danish public today seems more likely than ever to answer 'no' to the question at the start of this article, and second, because all Danes are compelled to pay into it, meaning legitimacy is paramount.
Danske Bank and ATP may both be large Danish financial organisations whose chief executives were forced out last autumn, but there the similarities between the two cases end.
As a private company, Danske's accountability and ownership is very different from that of ATP, for one.
And while the departure of Thomas Borgen from Danske Bank can be seen as a fairly classic case of a CEO taking responsibility for major failings in the running of his company, the story of Christian Hyldahl's downfall at ATP has nothing to do with his leadership at ATP but seems very much a sign of the times. Many observers deem it an overreaction.
Hyldahl resigned last November after coming under intense pressure in a political storm over the returns-enhancing practice of classic index arbitrage dividend tax speculation, which had taken place under his leadership in a department of Nordea a decade earlier. Although never something to shout about, this once-common – and legal – form of financial arbitrage had suddenly become a source of outrage for Danes and their politicians.
"Whoever ATP finds next, they'll have to be squeaky clean," says one industry insider. But is that possible given what is demanded – and will it even be enough to shore up ATP's all-important reputation at home?
When Hyldahl was appointed in 2016, ATP's then-chairman Jørgen Søndergaard, who knew at the time about the dividend-tax activity that had taken place at Nordea, described the new recruit as "a leader of high integrity". The Danish Financial Services Authority, Finanstilsynet, declared him a "fit and proper" leader of a financial institution. But standards seem somehow to have changed in the ensuing two years.
How did this happen?
Last autumn, 21 months after Hyldahl replaced Carsten Stendevad at ATP's helm, the so-called CumEx scandal began to dominate Danish media, including evening TV viewing, with many international financial firms being named and shamed for apparently having profited illegally from withholding tax speculation.
Reporting included allegations against Australian bank Macquarie, while ATP, along with Danish second-pillar pension funds PFA and PKA came under fire by association for having made a high-profile investment deal with the Macquarie to buy Danish telecoms company TDC.
Hyldahl described the case to the national broadcaster DR in October as "deeply shocking" if it did turn out that many major financial institutions had, in bad faith, systematically disadvantaged taxpayers through so-called CumEx transactions where withholding tax is returned multiple times on the same share.
But by the end of the following month, Hyldahl had been dragged into the scandal himself, with media reporting focusing on the already-public fact about dividend tax speculation at Nordea a decade before, despite these transactions being fully legal and materially different from CumEx transactions.
Politicians from several political parties then questioned whether Hyldahl should continue as leader of ATP, while others said they simply wanted more information on the case.
In the face of this pressure, an extraordinary meeting of the supervisory board was called for Monday 26 November to discuss the case – but Hyldahl jumped the gun and handed in his notice the weekend before, saying he wanted to avoid hurting ATP's reputation.
Rather than signalling a change of standards, his departure is seen by some commentators as having been triggered by an overreaction by politicians who were unable to distinguish between the Nordea transactions and the CumEx scandal. Frustration over the Danske money-laundering surely contributed to this perfect storm.
It is the first time Torben Andersen, appointed chairman of ATP's board in February 2018, has been in charge of finding a new CEO for the fund. He cites three particularly important requirements for candidates: understanding of finance and investments; understanding of political processes and ATP's role and social responsibility; and to be declared "fit and proper" by Finanstilsynet, the Danish FSA.
"We hope to have the new director in place before the summer holidays, but the most important thing is that we find the right person to lead ATP," Andersen says.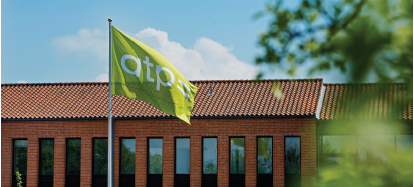 Given ATP's unique role in Danish society – a public institution granted independence through its own Act of Parliament, which manages a basic first-pillar pension supplement for every worker – popular perception at home is crucial to its survival.
This vulnerability to public opinion is all the more delicate right now, with the Danske Bank scandal having fuelled what one insider describes as the "angry" attitude towards the big earners in the financial sector – and the imminent general election, which is driving politicians to play to voters' feelings.
The scandal at Danske Bank over money-laundering through its Estonian branch came to a head in mid-September last year when the results of an investigation commissioned by the bank were published, revealing that much of some €200bn of payments through the branch that had been identified were suspect.
CEO Thomas Borgen tendered his resignation the day this bad news broke, initially saying he would stay on until someone was hired to replace him. However, such was the pitch of public and stakeholder fury, that he had to clear his desk within days.
At ATP, acting chief executive Bo Foged would seem a prime candidate for the pension fund's top post, but he has made it clear from the start he does not want to be considered.
"Being CEO for ATP is a very public thing; you're in the media a lot, and I really enjoy my private life," he told IPE.
The board revealed last month it has engaged the well-known Copenhagen headhunter Frank Halborg, partner at Heidrick & Struggles, to find the right person for the job.
It was Halborg who found Hyldahl back in 2016, and he was also behind the recruitment of Carsten Stendevad, who stepped into the shoes of the Lars Rohde in 2013 when Rohde was appointed head of the Danish central bank, according to financial news daily Børsen.

On the face of it, Halborg will need to identify a candidate who is so far beyond reproach that he will satisfy the public need for a clear signal that Denmark's reputation as a beacon of moral rectitude has been restored.
Fit and proper
Some say, though, perhaps too cynically, that if ATP's supervisory board insists on utter spotlessness in its search for Hyldahl's successor, it may have to choose a younger candidate. On the other hand, youth could mean the individual lacked the requisite depth and length of financial experience to satisfy the Danish FSA's "fit and proper" criteria for approving leaders of financial businesses.
After all, in October the authority turned down Danske Bank's proposal to promote Jacob Aarup-Andersen, head of wealth management at the group, to chief executive, finding that the 40-year-old had too little experience for the key financial role.
Much of the speculation in Denmark about who might succeed Hyldahl has focused on the likelihood that someone with a background in government, such as a permanent state secretary within a ministry, might be preferred as the pension fund seeks to avoid another damaging political clash.
However, one source says this option could make it necessary to persuade the FSA to relax its "fit and proper" criteria, which would be seen as a disaster by many in Denmark.
In the current climate, the risk that politicians could start interfering with the financial regulator to get the candidate they want is too high, the source says: "I hope the politicians will recognise that they cannot micro-manage the FSA, but the problem is that the credibility of the FSA has been hampered somewhat by the Danske Bank scandal."
And although the late Palle Simonsen, who led ATP for the last decade of the 20th century, came to the fund directly from government, the question is whether in today's more complex investment world the DKK785bn (€105bn) pension fund could operate successfully without a markets expert at its head.
Experienced headhunter Sarah Dudney, client partner at The Buy-Side Club in the UK, suggests a way ATP's board could solve the puzzle.
"You might be able to get around this conundrum by making a political appointment, and giving them a clear mandate that involves some distance from investment, and then making a second hire for the investment role, so you have someone who can carry the can from an investment point of view," she says.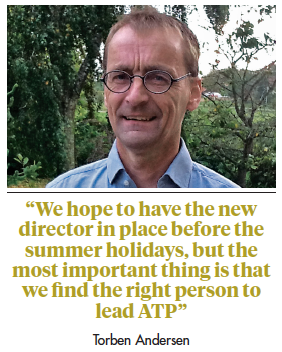 Whatever the board finally decides, Dudney expects the recruitment process to involve all the tools of the executive search trade to ensure the final choice for CEO is scandal-resistant. "They'll have to pass the most extraordinary scruples test. In the non-public sphere it is very common for boards to do so thorough due diligence involving private investigators," she says