Citing rising interest rates and falling equity prices, Denmark's ATP reported its investment portfolio lost DKK57.6bn (€7.7bn) between January and June, or 36.4%, but the organisation's new leader said guaranteed pensions were not threatened by the dire result.
In its interim report this morning, the country's largest pension fund – which provides the statutory labour-market supplementary pension scheme – announced total assets had plummeted to DKK733bn at the end of June from DKK947bn. IPE understands that these half-year losses, in absolute as well as percentage terms, are the biggest ATP has ever experienced.
ATP's total assets comprise its return-seeking investment portfolio, which is based on the bonus potential, plus a much larger hedging portfolio that backs guarantees.
The bonus potential alone diminished to DKK108bn from DKK160bn, while the market value of the investment portfolio – which leverages the bonus potential with borrowing from ATP's hedging portfolio – ended the period with a value of DKK342bn, according to the figures released this morning.
The value of the assets backing guaranteed pensions (the hedging portfolio), shrank to DKK624bn at the end of June from DKK788bn at the end of last year, and ATP said rising interest rates had been responsible for nearly all of the fall in the present value of guarantees seen in the first half.
ATP said: "The markets were very much characterised by turbulence in H1 2022.
"Rising interest rates and falling equity prices resulted in a negative investment result at ATP, but this does not threaten the basic security of the guaranteed pensions," the Hillerød-based institution said.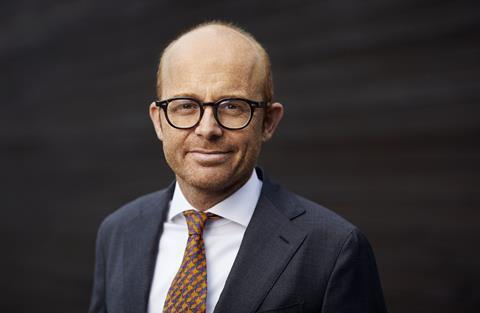 Martin Præstegaard, who took over from Bo Foged as ATP's chief executive officer in July, said: "It has been an unusually difficult H1, but our business model ensures that the pensions for our members remain unchanged despite the turbulent developments in the financial markets in 2022."
Despite this year's negative return, he said, ATP's average returns had still been above 10% over the past five years and the scheme still had "a healthy balance" between the size of its guarantees and the bonus potential reserves.
ATP said financial markets were expected to remain marked by a great deal of uncertainty for the rest of the year.
Among the various asset classes making up the investment portfolio, which is managed with a risk factor-based, all-weather approach, government and mortgage bonds were the main culprits for the DKK57.6bn loss, having made a DKK48.4bn loss alone.
Listed foreign equities were responsible for a DKK10.7bn slice of the loss, and listed Danish shares took the blame for a further DKK9.7bn.
Inflation-related instruments, however, were the big winners in the period, producing DKK10.7bn of gains, while real estate, infrastructure and unlisted shares generated relatively slim gains of DKK1.3bn, DKK500m and DKK200m, respectively, the new data showed.
Asked by IPE why the steep losses were not a disaster for ATP, Præstegaard said: "It's not a disaster in the way that we have a guaranteed product, so our members actually experienced that their pensions are unchanged, and that's our main role in the Danish pension system.
"Along with the state pension, we provide a lifelong guaranteed pension and it has to be fixed so people can expect that even when the markets are falling, they have the same pension," he said at a press conference in central Copenhagen this morning.
On the hitherto resilience of values for unlisted investments such as infrastructure and unlisted equity, Præstegaard said there had been a long traction of them being more or less volatile, especially because they were illiquid.
"But in general I think you will see some revaluation of that asset class," he said, stressing there would be a big spectrum of different outcomes for different illiquids portfolios.
Generally speaking, though, he said, these asset classes also had to react to high interest rates.
"So the discounting rates are increasing, and of course if we run into a downturn, some say a recession – we don't know how deep we will have to go – then their earnings will also be hit and that will hit valuations," he said.
According to the Danish FSA's standardised N1 pension returns formula – designed to facilitate comparisons between pension providers – ATP's return was -26.4% between January and June, the interim report showed.

Rachel is IPE's Nordic correspondent. She has long been a freelance writer, and over the years, has written for The Telegraph, The Independent, The Observer, AMWatch and elsewhere. In 2001, Rachel's personal finance book Kickstart Your Money was published by John Wiley & Sons.
View full Profile