In its quest for better quant stock selection method, ATP has also reduced its carbon footprint by a quarter
Key points
ATP adds environmental data as a fourth 'signal' to the stock-picking algorithm for foreign equities
The change cuts the portfolio's carbon footprint by 26% but is aimed instead at creating a better selection method
Work on the project takes more than a year, with different departments involved — and is fully internal
Fund would ideally integrate more ESG factors but wants to avoid ending up with "an untraceable mixture of everything and nothing"
In the calm of ATP's red-brick headquarters in leafy Hillerød, four quant managers have spent more than a year integrating environmental criteria into the pension fund's DKK35bn (€4.8bn) to DKK40bn foreign equities portfolio. But even though everyone at the DKK838bn statutory pension fund wants ESG (environment, social and governance factors) to be part of their organisation "from top to bottom", the exercise appears to have been a head-over-heart project.
"What we have done has improved our carbon footprint significantly, but the main thing for us is that through this, I really believe we'll have a better selection method," says Kasper Ahrndt Lorenzen, ATP's CIO. "We'll price ourselves out of companies that don't think the green transition is going to happen."
The work to add environmental data as a fourth 'signal' to the algorithm used to pick stocks for ATP's systematically-invested portfolio of foreign equities in its return-seeking investment portfolio has been complete since January, when it went live.
According to the pension fund's analysis, this change has, in one fell swoop, shrunk the portfolio's carbon footprint by 26% – a side benefit that Ahrndt Lorenzen says is not the point.
"If you think about the transition to green economy, environment is a metric we believe is going to have a consequence, and business leaders need to approach it in the right way," he says.
Within the broad field of environment, ATP homed in on climate as its focus behind the 'E' signal it would integrate into the quant algorithm.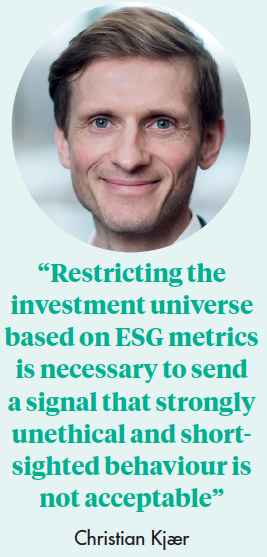 It has done this by using a "management metric score" for companies rather than an "exposure metric score", and by only using the scores in select sectors where it deems exposure to be the most severe, the pension fund says it has effectively created its own "exposure score".
So the method ATP has used is as much about management response to climate challenges as it is about the industry in which a company happens to do business.
Cool-headed calculations were also done during the project to find out exactly what impact adding the environment signal would have on the foreign equity portfolio's pure financial return – rather than simply accepting that shrinking the universe could reduce money gains.
In fact, backtests of the portfolio, with 15% volatility, showed that having a focused green tilt in problem sectors would have added 0.1 of a percentage point to average annual returns overall.
For now, adding the environment signal to the algorithm focuses only on those sectors where carbon emissions are a key problem – oil and gas, utilities, materials and transportation.
When the new signal was added at the beginning of January, the resulting securities shift was a major one, involving switching about 5% of the portfolio's equities – more than DKK2bn of re-investment – with portfolio managers changing holdings in 20 out of the 400 companies the portfolio invests in. But the preparation that has gone into that change has been long and painstaking.
ATP originally conceived the idea in the autumn of 2017. Christian Kjær, head of liquid markets, was in charge of the operation. "Our strategy for the global equity portfolio in relation to social responsibility was based on two strings at the time – active ownership and ESG restrictions.
"Restricting the investment universe based on ESG metrics is definitely warranted and necessary to send a signal that strongly unethical and short-sighted behaviour is not acceptable by any means," he says.
The pension fund's work on active ownership is about securing strong governance and pushing companies to strike what it deems to be the right balance between the short and the long term, Kjær says.
"With integration, however, you actively use ESG-related metrics to improve the characteristics of the portfolio.
"Whereas you, in theory, would expect to lose return from restricting your investment universe, we wanted to explore whether we could use ESG metrics to actually improve our portfolio.
"Selecting the best companies based on a meaningful and relevant metric to improve the portfolio rather than eliminating the absolute worst," says Kjær.
Will ATP follow this work up by adding other ESG criteria – social and governance? Kjær says the fund is continuing with its exploration of opportunities within the ESG space.
"We have added one ESG metric in our selection algorithm. Ideally we want to have a more robust implementation," he says, but adds that this needs to make sense: "What we do not want to is end up with an untraceable mixture of everything and nothing from the ESG space."
In practical terms, ATP divided the work on the project into five phases – research, data sourcing, data analysis, strategy development, and implementation.
At the beginning, the team involved studied a lot of research in the area to get some inspiration and an idea about whether it should expect to be able to improve the characteristics of their portfolio by integrating ESG metrics.
They then moved on to looking at available data. "Data quality and coverage is obviously essential to get useful results in the end," Kjær points out. "Once we found the right data vendor and got the data in hand, we spent a lot of time joining the new data points with the ones we already used in our selecting process.
"In a global equity universe, there are a lot of companies and a lot of data to organise," he says.
Once this was all in place, ATP began looking at the ESG dataset. However, numerous issues cropped up regarding data quality, changes in methodology and so on.
"In the end, we decided to focus on the most basic building blocks in the dataset in order to be in control to the greatest extent possible," says Kjær, explaining that this left the team able to decide which metrics were the most useful, and how they wanted to weight the various issues.
"Going to this level of granularity also means that the number of data points becomes very large, and as such we have more than 150 basic ESG data points per company at any given point in time," he says.
This creates a huge number of possibilities, he says, which in turn demands a disciplined analysis to get to the bottom of it. With this settled, work started on integrating the data in the actual selection process.
"What was useful, what was not, and in which sectors. And how should we weight the ESG metrics relative to our existing factors? After that, there was the actual implementation phase where we made the adjustments in the production code and, finally, make the portfolio adjustments," says Kjær.
The work that the project required was primarily done by the relevant quantitative portfolio managers in ATP's investment department – four dedicated portfolio managers and a PhD student working on the portfolio.
Data sourcing was done in collaboration with ATP's ESG and IT departments. The project – which has been ongoing for over a year and a half – remained an internal one, and no extra staff were hired to complete it. Even for those involved, it has not been a full-time task, Kjær says.
Over the years, ATP has made some profound changes to the way it invests, despite being an institution running the largest pension fund in Denmark. Kjær says ATP's flexibility is a result of the fact that it has a relatively small investment organisation but strong in-house skills.
"This enables us to develop our investment philosophies, handling even quant EQ-strategies on a large scale. This project has also been possible because there is a strong wish within the whole organisation to integrate ESG from top to bottom," he says.