Sponsored content from SSGA
For many investors, emerging market debt (EMD) has become a core part of their portfolios. Yet this asset class has also evolved rapidly, with countries like China opening onshore bond markets to foreign investors and Argentina returning to the market after many years in the wilderness.
As the US Federal Reserve (Fed) tightens monetary policy there is potential for the US dollar to rally. A natural reaction from investors might be to assume that this is not a constructive climate for EMD denominated in local currencies. We disagree.
When assessing the attractiveness of local currency EMD, many factors are at play. We consider here the outlook for local currency EMD and outline the reasons why we believe the asset class may continue to perform well in 2017 and beyond.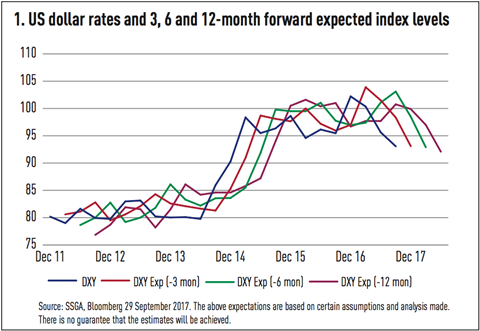 Prospects for a further rally in the US dollar
By charting the realised outcome for the US dollar index (DXY) against expectations for the DXY index three, six and 12 months ago, we can see how effective the market has recently been at estimating future movements (see figure 1). The chart illustrates that three-month and six-month forward estimates have been more reliable than the 12-month forward estimate.
As at end-September 2017, forward estimates for the dollar's value imply sideways trading for the next six months. This could, however, quickly change if the Trump administration finally manages to implement its tax reforms or if US inflation numbers pick up.
What's the link between US dollar strength and EMD performance?
What happens if the dollar does strengthen in the coming months? Conventional wisdom argues that periods of dollar strength are not constructive for emerging markets in general and for local currency-denominated EMD in particular. To challenge this hypothesis, we have looked at six distinct periods over the past 25 years, based on whether the Fed was hiking or easing (see figure 2).
Does this analysis validate the widely held view that dollar strength is bad for EMD? Our answer is no. When the dollar strengthened in the mid-1990s, EMD still performed well. Indeed, EMD's strong performance continued until the global financial crisis, even as the dollar weakened. We believe a more nuanced argument about the linkage between trends in the dollar and EMD performance is appropriate. EMD, especially in local currency, deserves a more considered framework for evaluation and should be assessed on its own merits.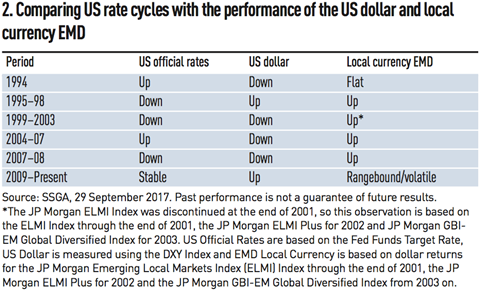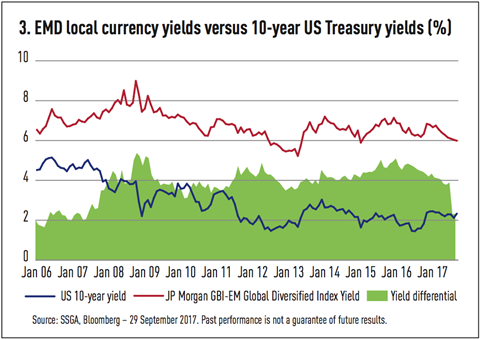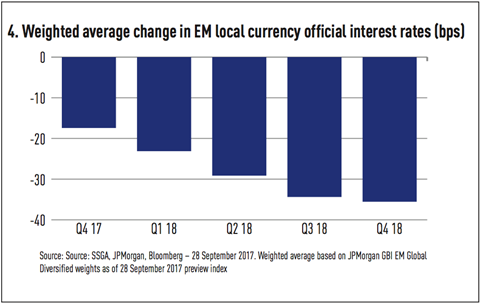 Yield Differentials
One of the fundamental long-term attractions of local currency EMD has been the yield pick-up over developed market (DM) sovereigns. In figure 3, we compare the yield on the JP Morgan GBI-EM Global Diversified index (GBI-EM index) with that on 10-year US Treasuries.
At end-September 2017 the GBI-EM index yielded 6.04%, an incremental yield of 3.92% relative to US Treasuries. The prospect of EM local currency yields moving below 6% may concern some investors. However, EM policy rates are expected to move lower in Q4 2017 and 2018 (figure 4) in response to current low levels of inflation. This could support bond prices.
When we look at real (inflation-adjusted) interest rates, we also find that EMD is attractively priced relative to developed market sovereigns. Based on the end-August 2017 Bloomberg Barclays Global Inflation-Linked index and the Bloomberg Barclays Global Inflation-Linked index, the real yield for EMD was 2.59%, compared with –0.52% for developed markets.1
Currency Considerations
Theory suggests that one of the best long-term measures of a currency's fair value is purchasing power parity (PPP). It is illustrative to consider the valuation of the currencies that make up the GBI-EM index based on this theory.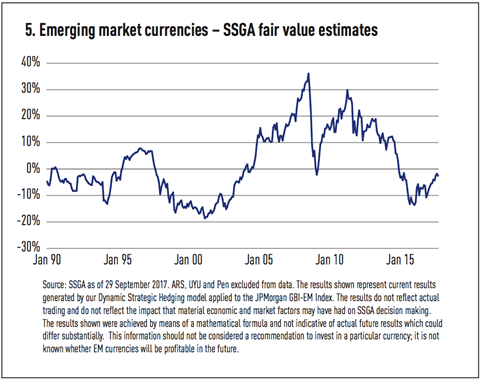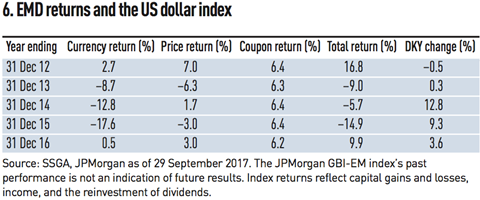 At State Street Global Advisors (SSGA), we have devised an active currency risk management strategy, Dynamic Strategic Hedging (DSH), which is grounded in PPP. Applying the DSH model to the GBI-EM index shows that EMD local currencies are trading 2.57% cheap to the US dollar (see figure 5). We can also see that EM currencies have re-rated dramatically over the past six to eight years, losing over 30% versus the dollar based on our estimate of fair value. This decline in value is consistent with the negative currency returns within the GBI-EM Index over the same period.
While the currency considerations appear favourable from a value perspective, it is worth reflecting more closely on the historical drivers of return (see figure 6).
Currency returns have negatively impacted EMD total returns in three of the last five years, while coupon returns have understandably been far more stable. In two of those three years, the US dollar was appreciating. Even with the market expecting the dollar to trade sideways into 2018, it is difficult to predict what path emerging market currencies will follow in the short term. While the yield differential may potentially protect investors against negative currency swings, currency returns could offset this carry.
Credit rating trends look favourable
The credit quality of emerging market sovereign issuers has been improving since before the financial crisis but deteriorating for DM issuers (see figure 7). An improving trend at the index level, however, can mask the heterogeneous nature of the asset class. For example, the ratings of Russia and Brazil have deteriorated considerably over the past few years.
Growth and inflation
As for broader measures of economic activity, we appear to be reaching something of an inflection point. It has been well documented that EM growth has tapered off over the past few years, influenced by the slowdown in China, the largest of the EM countries, and recessions in other large economies like Russia and Brazil. This is evident when we look at both GDP growth and consumer price inflation (CPI), which have trended lower in the past 10 years (see figure 8).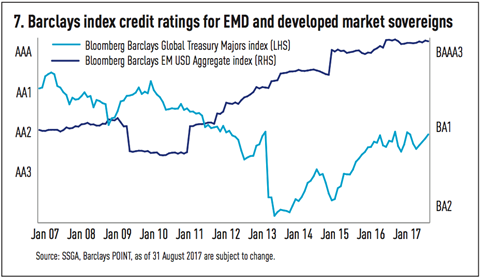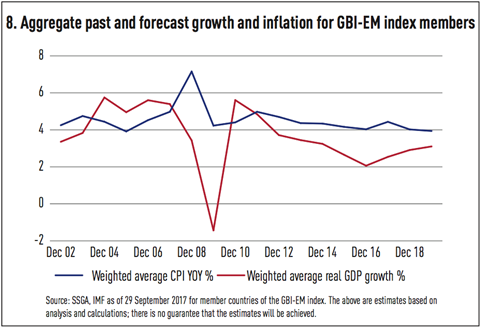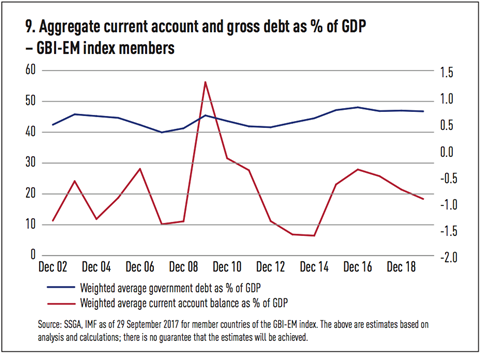 However, the International Monetary Fund (IMF) is now forecasting that the pace of EM expansion may trend modestly higher over the coming years, as growth stabilises in China and recovers in other economies. Moreover, the expectation is that this growth could be achieved without undermining the steady drift lower in inflation that has been a feature of these markets over the past few years.
This positive growth outlook can also be coupled with better fiscal balance and positive current accounts (see figure 9).
Combined with the other factors we have discussed, these indicators all point to a relatively positive outlook for local currency EMD, even in the face of a stronger US dollar.
Abhishek Kumar, CFA, is lead portfolio manager, emerging markets and Niall O'Leary is managing director, head of EMEA fixed income portfolio strategy, SSGA
1 Barclays POINT, 31 August 2017