The Australian superannuation industry is a global success story, but not without controversy. It finds itself again under investigation by the federal government
Key points
Australia's Royal Commission into banking will also analyse the superannuation industry
The super industry views its importance primarily as a substantial shareholder in the banking sector
The super industry is regarded as a global success story
There are underlying tensions between funds run by banks and those run by others
Australia's A$2.5trn (€1.6trn) superannuation industry will again come under the spotlight of a government inquiry under the Royal Commission into banking.
Inconvenient as it might be for Australia's 233 superannuation – mostly for profit – funds, there is a collective resignation that this will not be the last Royal Commission – government inquiry – into the super and financial sectors.
Given its size, Australia's super industry is structurally important to the country's economy, with total assets bigger than both GDP and the market capitalisation of its stock market (figure 1). The gap looks only set to widen.
"It is healthy to regularly look at the system to make sure that it is achieving its objectives," says Blake Briggs, senior policy adviser to the Financial Services Council, a trade body for the financial services industry. "It is also important to distinguish the different roles of inquiries over the last decade."
Currently, the Productivity Commission, a federal government entity, has an ongoing inquiry into market-related and governance issues in the super industry.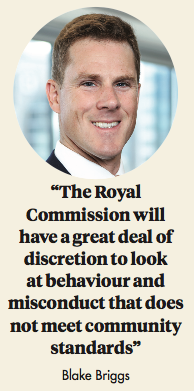 The reason for another Royal Commission is a litany of misconduct allegations against Australia's big four banks, which control 80% of the nation's banking activity. The allegations have seen a build-up of public angst.
The Royal Commission's brief into the banking industry is wide-ranging: it is to investigate all aspects of financial services offered by mortgage brokers, life and general insurers and everything that comes under a financial services banner.
A week before Christmas, the terms of reference, to be headed by retired judge Kenneth Hayne, were published. There was scant reference to the super industry.
The sole specific reference was contained in one clause. It asks the Royal Commissioner to inquire into "whether the use by financial services entities of superannuation members' retirement savings, for any purpose, does not meet community standards and expectations, or is otherwise not in the best interests of those members".
Hayne is to begin his inquiry "as soon as practicable" and will present his preliminary report by September. The final report is due in February 2019.
Briggs told IPE that the Royal Commission will ask for information, and that it will be provided. Beyond that, many, if not most, super funds are likely to have little to do with the nine-month-long inquiry.
Drawing a line
Matt Linden, Industry Super Australia's spokesperson, says public confidence in Australia's financial institutions has collapsed, raising the question of whether the banks have breached the broader social licence they were given.
"We view this inquiry from a different perspective," says Linden.
"Our funds are obviously significant institutional shareholders in the banks, and our members have significant exposure to those banks through listed equities.
"It is vitally important (for the inquiry) to get to the bottom of the issues that are causing distrust of banks and the businesses that they run.
"We hope a line can be drawn based on the outcome of the inquiry, and that the process to restore confidence in the banks can begin."
As Linden sees it, a root cause of problems involving banks stems from the sector's vertically integrated structure and remuneration linked to short term sales targets.
He says the "weight of evidence" will point heavily to these key causes of misconduct and poor outcomes for consumers.
The consensus is that, in a relatively short hearing time, Hayne is being tasked to assess a range of issues within the banking industry, leading some to conclude that the super industry may only get a cursory look.
Still, the banking Royal Commission will be an unnecessary imposition on time and resources, according to industry experts.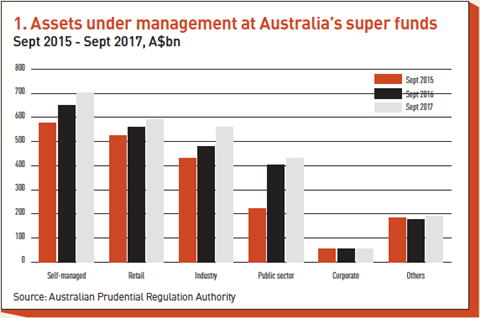 A bank analyst, Jonathan Mott of UBS, says the Royal Commission will be distracting and expensive for the financial services industry, costing each bank around A$50m-100m.
Australia's conservative government had dithered over whether to hold the Royal Commission. It was not until November 2017, that it finally caved in to pressure from the Labor opposition, but not before roping in a bystander – the super industry.
Because of its history, superannuation has been heavily politicised in Australia.
The nation's universal superannuation system was born out of a wage accord between the union movement and the-then Labor government in 1994, explains Martin Fahy, chief executive of the bipartisan Association of Superannuation Funds of Australia (ASFA), which represents 95% of super industry participants.
This legacy has meant that, even to this day, those on the conservative side of the politics contend industry funds are unwitting supporters of the union movement, and therefore Labor politics
Briggs says: "[The Royal Commission] will have a great deal of discretion to look at behaviour and misconduct that does not meet community standards; he will follow the evidence to see where it takes him."
Super successful
Unlike the banking sector, which has been beset with public relations nightmares, the super industry has been scandal free.
"Our funds operate transparently and solely in the interest of their beneficiaries," says Linden. "The evidence is the 20 years of returns, which are in excess 2%, on average, higher than retail super funds."
"The industry is a huge success story, globally," says Martin Fahy.
Based on the superannuation guarantee levy, currently at 9.5%, rising to 12% by 2025, he says that, in 2050, 50% of Australian retirees will be self-funded.
"This will be an amazing outcome. And it will reduce the government outlay on age pensions to 2.3% of GDP," he says.
Briggs points out that the superannuation system has already reduced age pension outlays by A$5.7bn each year, a figure projected to increase to A$11.1bn annually by 2030 (see figure 2).
But, success is marred by underlying tensions in the super industry.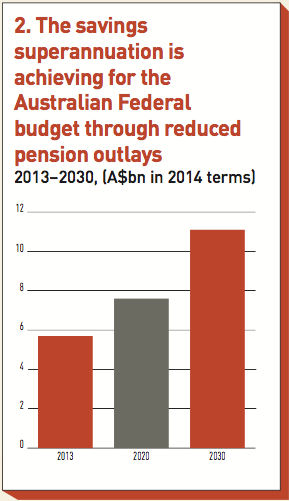 Industry funds and their retail counterparts wage a constant turf war. The tempo rises each year, with industry funds continuing to gain more pension dollars.
As of 30 September 2017, industry funds controlled A$561bn – up from A$480bn a year ago; and retail funds A$591bn – up from A$559bn over the same period.
The four big banks and AMP Capital manage two-thirds of retail super money, says Linden, adding that, historically, retail funds have a bigger market share.
This explains why bank-owned retail funds have lobbied the federal government to increase scrutiny on industry super funds, raising such issues as independent directors on their boards – and the current 'default' system, which favours industry funds.
The retail sector argues this is against the freedom of choice for contributors and competition among the funds.
Putting aside politics, the superannuation sector does have emerging issues of its own.
"The biggest risk is hubris and over-confidence," says Fahy. "We have a golden era, [but] we can't assume we can replicate that going forward."
Fahy points out that the bulk of new money increasingly has to be invested offshore.
The question, then, is: are Australian super companies able to compete for assets in unfamiliar offshore markets as effectively as at home?
Are they ready and able to compete with large global pension funds, which have bigger resources and are more experienced in international investment?
There is no definite answer to these questions.
Unsurprising, Fahy says the sector is on the cusp of a new era of lower returns.
UK auto-enrolment: Good start, must do better
1

2

Currently reading

Australian Royal Commission: Scrutiny may not be super

3

4

5