• The AUD2.6trn (€1.7trn) industry is under the microscope as part of a wide-ranging review of financial services
• Pension schemes run by banks have come in for particular criticism from the enquiry
• Final report from Commissioner Kenneth Hayne expected this month
• An interim report into Australia's financial services industry, including the country's AUD2.6trn (€1.7trn) superannuation system will be published this month.
Australians traditionally have not engaged with their retirement savings, despite superannuation funds accounting for half of average national household wealth. This is caused, arguably, by auto-enrolment, with 'super' contributions paid automatically by employers, untouched by employees.
All this could change, however, following a litany of instances of misconduct uncovered by Commissioner Kenneth Hayne during a two-week inquisition of the super industry.
Hayne has been tasked with leading Australia's Royal Commission on the banking sector, which has been extended to include superannuation funds, among others. He has been gathering evidence and conducting interviews since March. Last month, for two weeks, it was the turn of super funds to come under the spotlight.
Hayne chose four super funds to appear as case studies for his key areas of concern, narrowing his focus on: union involvement in super funds; how member fees are used; the appointment of independent directors; mergers of small funds; and compulsory insurance cover for members with small accounts.
Some Australian government ministers – notably the financial services minister Kelly O'Dwyer – have argued that industry funds such as Cbus, which serves the building industry, operate as an extension of the union movement, and are therefore aligned politically to the opposition Labor party. However, Hayne's commission dismissed this notion and Cbus was not called to give evidence. Indeed, by the close of the fifth round of hearings in August, the industry-wide super funds had emerged with their reputations virtually intact.
Ian Silk, CEO of AustralianSuper, the biggest industry fund managing AUD140bn, was one of only two industry witnesses summonsed by name, to emerge after two hours of questioning without denting his or the fund's credibility.
Hostplus, an AUD34bn fund with 1.1m young members from the hospitality industry, was quizzed on its high number of small accounts paying towards insurance cover, and on money spent entertaining contributing employers. CEO David Elia said the insurance policies of 670,739 members with small accounts had been cancelled, but defended Hostplus's entertainment policy as necessary to strengthen client relationships.
However, the for-profit retail funds, particularly those owned by Australia's large banks, did not fare so well.
Andrew Hagger, chief customer officer with the National Australia Bank's (NAB) consumer and wealth division, which oversees its superannuation arm MLS, bore the brunt of the questioning.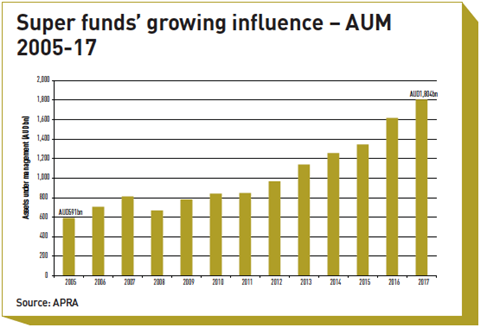 During a five-day grilling for NAB and NULIS, its superannuation trustee company, it was revealed that the bank continued to levy fees on the accounts of dead people.
Australia's regulator, the Australian Securities and Investment Commission (ASIC), released what was described as a "file of shame" – a report into NAB's 'fees-for-no-service' scandal and the bank's failure to acknowledge serious systemic failings in relation to overcharging issues dating back up to 15 years.
Commissioner Hayne has raised the prospect of criminal charges against the bank.
The commission also heard that Colonial First State, owned by the Commonwealth Bank, had breached the Corporations Act 15,000 times by not transferring members to low-fee accounts.
The enquiry exposed structural problems at the banks, which have become vertically integrated financial conglomerates. Their reliance on advisers and other intermediaries to generate business – and a trailing commission system that underpins those arrangements – explained why fees were charged to members, including dead members, for service when none was provided, the enquiry heard.
The regulators themselves, ASIC and the Australian Prudential Regulatory Authority (APRA), did not escape unscathed. Evidence put to the commission showed they could have done more to protect Australian workers and their super savings.
The commission also heard evidence regarding the perceived underperformance of retail funds relative to industry funds. For-profit retail funds often committed to what was termed 'sub-optimal' asset allocations. At times, this was done to preserve the profitability of shareholders, trustees and parent companies.
In contrast, industry funds had a broader agenda in areas such as infrastructure and real estate, and were rarely run for profit.
Hayne is due to hand his interim report to the government this month, with the final report to come next February – but commentators are already predicting measures to end structural conflicts of interest within large financial conglomerates.
"There will have to be better regulatory oversight and law to force for-profit funds to act in the best interests of members, not shareholders or parent companies," said one expert, who asked to remain anonymous.
It is too early to tell if fallout from the inquiry will trigger a massive outflow from retail funds into self-managed super funds or industry funds, but second-quarter 2018 statistics published by the APRA show a slight uptick in inflows to industry funds.