The peculiarity of bank debt is that it can be issued by institutions with strong balance sheets
Key points
High yield bank debt can be issued by institutions which have strong balance sheets
There is more scope for high yield investment in banks in Europe than the US
In Europe, there is more leverage and more assets on bank balance sheets
Sentiment towards high yielding bank debt has been cyclical
The 2008 global financial crisis threw the spotlight on the banking sector. Much has changed over the past decade, including for high-yield debt investors, but bank debt can be an integral component of any portfolio.
Investors in corporate high-yield bonds are typically investing in mid-sized companies with weak balance sheets.
High-yield bank debt though, can be issued by entities with strong balance sheets that issue securities with speculative ratings because they are subordinated to more senior debt, including deposits.
Their function is to act as risk capital buffers alongside equity and for high-yield investors, securities such as contingent convertible capital securities (CoCos) might be an alternative to corporate high yield.
Demand for such instruments varies by geography, though, with US investors shying away from high yielding bank debt. In contrast, European investors are generally more comfortable.
Before the financial crisis, the banking system was more leveraged, says Nick Brind, a portfolio manager at Polar Capital. Risk capital in the form of tier-one debt instruments, such as hybrid capital and preference shares, was meant to be written down in a crisis to act as a shock absorber. However, this did not happen.
Before the crisis regulators wanted to have bail-in bank debt, which would be triggered if capital fell below a certain level. This was set at 7% in the UK and 5.125% in continental Europe. Additional Tier One Capital (AT1) CoCos were designed to do this and to be written off or converted into equity.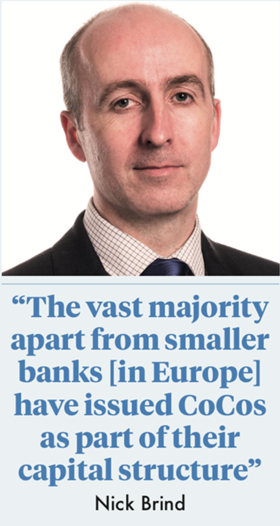 Opportunities for investment in high-yield bank debt vary significantly by geographic jurisdiction. US and Asian banks are generally better capitalised than European ones. In the US, for example, many mortgages are securitised so are not included on bank balance sheets.
In general, there is more scope for high-yield investment in banks in Europe rather than the US, says Tim Crawmer, global credit portfolio manager at Payden & Rygel. In Europe, there is a lot of high-yield subordinated issuance.
"US banks are a pretty safe investment right now especially with interest rates going up, which increases net interest margin for the banks; the economy is doing well, so the banks are a relatively safe place to invest and yields reflect that," Crawmer says.
US banks, points out Brind, hold much more capital in the form of equity, are less reliant on bond markets for their funding and more reliant on deposits. There are some opportunities for high-yield bank-debt investment in the US with issuers such as Ally Financial, which has been a large issuer.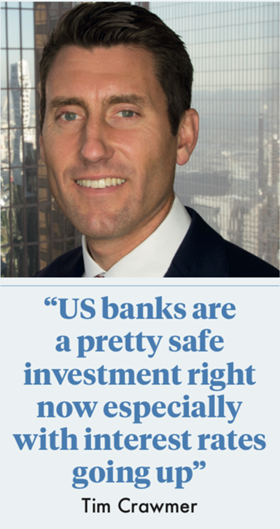 However, Crawmer adds a caveat. "You don't get paid much as they are expected to be upgraded to investment grade and the spread is similar." He argues that, apart from pure high-yield names, investors are not getting sufficiently compensated in US high-yield bank debt. "Preferred bonds from some of the bigger banks like JP Morgan do not really give high-yield type returns," he says. "Even going down to smaller regionally focused banks like Sun Trust, you get yields still trading inside those seen in the high-yield index."
High yields are seen in dollar-denominated CoCos issued by European banks, which give 6-7% yields, close to the high-yield index. "A lot of high-yield investors in US tend to shy away from those," says Crawmer. "The tail risk on them is so big, if they do go into resolution and they must write down securities, investors would see a very paltry recovery. They are not in the US high-yield index, so people don't have to own them and will only jump into those securities when they are trading at a significant discount to the index".
In Europe, there is more leverage and more assets on bank balance sheets, albeit a lot of those are lower-risk mortgages, but they are more leveraged and have a lot of more subordinated bonds.
"The vast majority apart from smaller banks have issued CoCos as part of their capital structure," says Brind. There are some large European issuers, such as Deutsche Bank, UniCredito and Monte dei Paschi, that have subordinated bonds with high-yield ratings and a lot more risk associated with them.
Crawmer points out that Europe offers a lot of legacy subordinated securities. These used to qualify as capital but no longer do so and, for whatever reason, it may be uneconomic for the banks to redeem them. "These can still have attractive yields for high-yield investors. For example, Lloyds have legacy securities such as the Lloyds Bank 13% Perpetual Capital Securities which yields around 6% in sterling and hedged back to dollars gives close to 8% and could be taken out early, which would increase the yield."
CoCos are gaining in acceptance outside the US but even in Europe their recognition took time. Initially, says Brind, many natural fixed-income investors viewed CoCos as quasi-equity, while equity investors saw them as fixed income. The negative attitudes changed as yields of 8% and 9% were attractive and some dedicated CoCo funds were set up.
A few managers, such as Amundi, have invested in CoCos from the beginning of the market but stick to issues from banks that are large national champions. These offer a yield premium over corporate debt with a similar credit rating.
"Opportunities for investment in high-yield bank debt vary significantly by geographic jurisdiction. US and Asian banks are generally better capitalised than European ones"
Four Chinese banks are among the top 10 CoCo issuers since 2010, according to Moody's. They sit alongside ANZ, Barclays, Commonwealth Bank of Australia, Credit Suisse, HSBC and UBS. Issuance of CoCos has declined from the traditional issuers in China, UK, Australian and Switzerland, according to Moody's, balanced partly by increased issuance from Asian entities such as Singapore-based DBS Group, which issued $2.3bn (€2bn) in the first half of 2018.
The fall in new issuance might be explained by the fact that many of the largest banks have already raised what they need to in terms of risk capital, says Marina Cohen, head of European high yield at Amundi.
Sentiment towards high-yield bank debt has been cyclical. Banks have a lot more capital than a decade ago, asset quality is far better and as they have written off a lot of bad debt. As a result, a lot of capital flowed into CoCos and yields came down to 5.5% at the end of 2017, says Brind. In 2018, the reverse happened and at end of November yields were about 7%.
While yields have risen significantly, investors see event risk with some Italian banks and with Deutsche Bank. But, Brind points out that before the 2008 crisis bank spreads were tighter than corporate spreads. After the crisis, despite bank balance sheets being stronger, spreads were wider than corporate spreads. That is illogical but may be where the opportunity lies.
High yield: Coping with a new environment
1

2

Currently reading

Banking debt: The paradox of bank debt

3