---
Pension funds face lower returns and greater regulatory pressures
Key points
Larger funds are turning to riskier assets to find yield
2017 returns were 6%, according to PensioPlus, the country's association
There is greater focus on low-volatility equities and ESG
DC funds now required to disclose details on fees and investment strategy
New measures will boost pension saving for the self-employed
Belgian regulation is pushing in the same direction as elsewhere – in favour of greater transparency, as pension funds search for yield.
However, little has changed recently in terms of asset allocation. Remco van Dijk, institutional sales director for Benelux at Franklin Templeton, says: "Pension funds in Belgium have ended the year with a higher equity allocation and lower fixed-income allocation, due to the market effect, and the fact that equities performed well in 2017. Equity allocations at the moment are around 35-40% of an overall portfolio."
According to figures from industry association PensioPlus, at end-2017, Belgian pension funds allocated 43% of their assets to fixed income and 38% to shares, with 11% in alternatives and 6% in real estate (see Belgian pensions in figures).
Kristof Woutters, head of pension and insurance relations at Candriam, says: "Another trend last year was the search for yield, with a gradual shift towards the riskier sub-segments of asset classes. So for equities this means international emerging markets, and for fixed income, high yield or emerging debt."
He adds: "There's also a clear shift towards private market investments such as unlisted real estate, private equity, and private debt such as loans or direct lending, in order to take advantage of the illiquidity premium."
But he observes that these are generally for the larger, more sophisticated pension funds, since smaller funds do not possess the necessary expertise. And he adds that one factor still influencing investment strategy is Brexit, which has led some pension funds to temporarily avoid the UK.
"Over the past 12 months, we've observed different and various types of asset allocation decisions," says Mathias Coumert, an investment consultant at Aon Hewitt . These are, according to Coumert:
• No change, as an intentional decision;
• No change, some investors having already implemented solutions to mitigate downside risk (active asset allocation, diversification to non-directional strategies);
• Review of the investment strategy with new sets of capital market assumptions, taking into account new market conditions (low interest rates, high equity valuations) while covering both traditional and alternative classes (such as non-listed assets).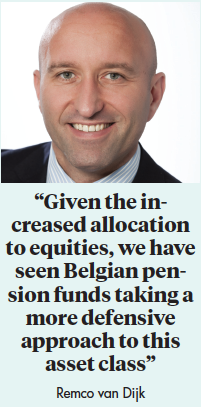 • Tactical decisions with the temporary decrease of both equity and/or bond exposure.
Dealing with risk continues to be a top priority, agrees Patrik Geldermans who is responsible for institutional business development at KBC Asset Management. He says pension funds have been increasing their allocation towards low-volatility equities and constant-proportion portfolio insurance (CPPI) strategies.
"Given the increased allocation to equities, we have seen Belgian pension funds taking a more defensive approach to this asset class," agrees van Dijk. "This means we have seen pension funds opening an allocation to so-called low-volatility equities, or adding to it if there was an existing allocation already."
He says few pension funds are hedging against interest-rate risk. "The ones that do, do so because they have a sponsor subject to International Financial Reporting Standards (IFRS)," he says. "This is a real contrast to a country like the Netherlands where the majority of pension funds have hedged against interest-rate risk. This is mainly due to the way the funding ratio is calculated in the Netherlands, making pension funds more sensitive to interest rate movements."
Van Dijk adds: "We are, however, seeing pension funds in Belgium shortening the overall duration in their fixed-income portfolios to be better prepared for a rate hike."
Not everyone agrees that this is advisable, though. Geldermans says: "As the liabilities of pension funds have very long maturities, a short-duration strategy is not in the best interest of the pension funds. Due to the current yield curve, shorter duration bonds have negative yields to maturity."
Focus on returns
Achieving returns in the current low-interest-rate climate continues to be important but not an overriding issue. "Thanks to strong returns on equities, and still marginally positive for bonds, returns for pension funds have been very satisfactory the last couple of years," says Geldermans.
The PensioPlus sample made returns of 6.0% for the 2017 calendar year, compared with 5.07% the previous year (see Belgian pensions in figures).
Geldermans continues: "Of course, we are advising our clients to prepare for lower returns in coming years." Van Dijk says: "From a fixed-income perspective, there is very little allocation to sub-asset classes like loans and mortgages, although there is some allocation to emerging market debt and high-yield bonds, but to a limited extent."
He continues: "With that in mind, yield is hard to come by. We have seen some pension funds move away from the core government bonds of Germany, Netherlands and Belgium, which have very low to negative yields, towards the slightly higher yielding peripheral countries like Spain and Portugal, in their search for yield."
Alternatives are not seen as a solution, however. Van Dijk says: "Most pension funds in Belgium have little to no allocation to alternatives. Apart from the top 10 pension funds in Belgium, which generally have more resources to allocate towards researching alternatives, the majority of pension funds allocate to traditional asset classes like fixed-income, equities and, to a lesser extent, real estate."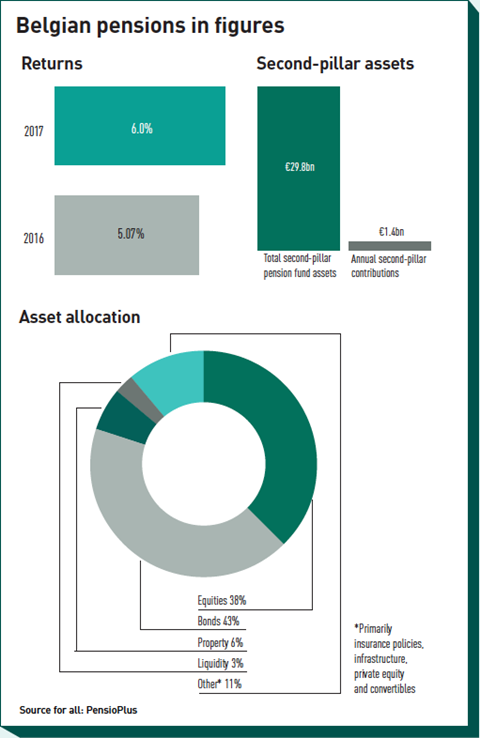 Meanwhile, according to Geldermans, ESG investments are attracting more attention. He says: "We noticed a strong demand in our ESG seminar last October. As the ESG market and investment processes are getting more mature, general interest in this theme is increasing. And the superviser, the Financial Services and Markets Authority (FSMA), is starting to ask questions regarding the ESG policy of pension funds."
"Belgian pension funds are, in general, not true pioneers in ESG," says Woutters. "But more and more clients are moving towards integrating it. We see it entering the mainstream in a couple of years' time."
Woutters says there are several reasons for this. "First, it's 'l'air du temps', that is, the times we live in," he says. "There is now a demand for more transparency, governance and socially responsible investing throughout society. Second, nobody can ignore climate change any more. It has an impact not just on the environment but it also has a financial impact on investments, so people are taking unwanted risks if they ignore it."
He also highlights increased reputational risk, with the press now routinely monitoring pension fund portfolios. Furthermore, he says, regulation is becoming more onerous, with several sections on ESG investing included in IORP II.
"Daniel Bacquelaine, the pensions minister, is planning a lot of projects and maybe there will be a new focus on ESG," adds Woutters. "Meanwhile, looking at EU legislation as a whole, Belgium is already aligned with much of this, so it shouldn't have much impact."
DC communication
Meanwhile, a major regulatory reform occurred in October last year, when the FSMA published recommendations for how pension institutions should communicate about DC plans.
The FSMA wants pension funds to provide a detailed description of fees, explaining which are charged to the plan member and how, and which are covered by the employer. The portfolio's gross yield should also be disclosed.
FSMA also expects funds' transparency reports to set out their short and long-term investment strategy, including the risks associated with investment portfolios, and the extent to which ESG aspects have been taken into account.
Geldermans says: "This relates to pension fund communication towards their members and we feel this is a clearly a good thing, as greater transparency in costs increases competition. Of course, asset managers are not really affected by this, but the same obligation is imposed on our reporting, due to MiFID II cost transparency regulations."
Patrick Marien, senior manager for client relations at Aon Belgium, says: "The emphasis on the transparent communication of costs can be considered as new. The board of directors still has the requirement to monitor investments, but the requirement on adequate employee information is stressed."
New law to boost pension savings for unemployed
A new law allowing the self-employed to accrue second-pillar benefits was expected to be passed by Parliament as at mid-February.
Since 2004, self-employed company directors have been able to accrue second-pillar benefits, but the facility has not been available to self-employed people who are not company directors. In response, many companies been established for pension and tax reasons.
With the new law, self-employed individuals will be able to choose to save more for their pension, benefitting from a tax reduction of 30% on contributions. The net tax on the pension savings will be around 12.5% of the contributions.
As is currently the case for self-employed company directors, self-employed individuals will be able to save up to 80% of their taxable salary across the first and second pillars.
To sign up for the new regime, self-employed individuals can set up a contract with an insurer or a pension fund.
Meanwhile, the government is still working on a law to develop second-pillar provision for public sector employees by giving financial incentives for local authorities to develop a supplementary pension scheme for contractual staff.
"All initiatives to increase the second pension pillar are to be welcomed, says Patrik Geldermans at KBC Asset Management. "However, this expansion will be gradual."