• A major GICS index methodology change seeks to reflect underlying market economics
Amazon, Disney, Facebook and Google have all moved home – at least in terms of the sectors they occupy. IT and communications stocks are being reshuffled in the following ways:
• The telecommunication services sector has been expanded and rebranded communication services
• Internet companies such as Facebook and Alphabet (owner of Google) move from information technology to communication services
• Media companies go from consumer discretionary to communication services
• E-commerce companies (most importantly, Amazon) have moved from information technology to consumer discretionary
The Global Industry Classification Standard (GICS) reshuffle affects investors using S&P and MSCI benchmarks, and is the most dramatic change since it was established in 1999. The only previous alteration was the creation of the real estate sector in 2016. This was smaller in scale, affecting just 2-3% of the index. Some 10% of the S&P 500 index is moving, and about 7% of the MSCI World is affected. The changes to the S&P have been implemented; MSCI changes on 3 December.
This is a reflection of fundamental underlying industrial shifts that they seek to capture, says Craig Feldman, global head of index management research at MSCI: "Over the past few years, we have seen transformations in the way that people communicate and consume entertainment. That's also been expressed in a number of M&As which have together changed the nature of these sectors. So the changes that have been made aptly reflect these – they make perfect sense."
This is no neutral re-labelling, however, as sectors have specific characteristics: high or low growth, dividend level, volatility and so on. Change sector constituents and the characteristics are also changed. So, if investors have specific sector weighting and the nature of those sectors change, their portfolios can change in unanticipated ways.
For example, the telecom services sector was a 'bond proxy', made up of high-dividend stocks. Now, communication services is dominated by growth stocks, coming in from consumer discretionary and information technology. The dividend yield is below 2%, compared with more than 5% for the telecom services sector.
The new communication services and the consumer discretionary sectors are now trading at higher multiples, while information technology remains unchanged. There has also been an impact on the volatility of the former telecom sector, which has historically been high, resulting from its elevated financial leverage. The morphing of telecoms to communications services should see this come down, and "the operating margin for the new sector will be higher, indicating greater profitability from ongoing business,"according to analysis from State Street Global Advisers.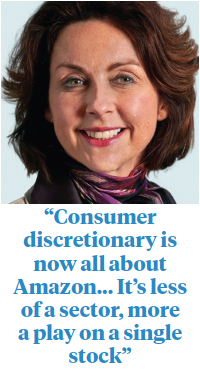 Paul Vrouwes, portfolio manager within the Automated Intelligence equity team at the Netherlands' NN Investment Partners, says: "There are going to be huge chan p pges in telecoms. It's not a dull sector of telecoms companies. Literally overnight, it will become a growth sector: higher PE [price-earnings multiples], higher price to book, plus larger company sizes."
This shuffling of the pack will also filter through into the other two sectors: IT and consumer discretionary.
On the positive side, "IT now gives investors a purer exposure to software and semiconductors, without the distraction of Facebook and Alphabet," says Rebecca Chesworth, senior ETF strategist at SPDR, SSGA. However, she notes, "Consumer discretionary is now all about Amazon, which, at 32% of the sector, is huge. It's less of a sector, more a play on a single stock."
That, says Feldman, is a necessary outcome of the way that the world is evolving: "As the focus should be on structural alignment that captures the market first, what's important is that we get an accurate representation of the opportunity set, and we have been working with clients to ensure that this has been achieved."
Even with leviathans such as Alphabet dominating sectors, the constraints faced by European investors will dampen the impact. For active investors such as NN, "because our holdings are capped at 10%, if Stock A goes from 10% to 20% of a sector, it won't affect the portfolio," says Vrouwes. And for passives too, Ucits limits exposure, as Chesworth explains: "We have released a Ucits fund for the European market, where the largest stock is capped at 25%, which affects Alphabet, at 25% of the communication sector, and potentially Facebook, the second largest stock in the sector, which is currently at 17%."
It is not just sectors in aggregate that could be affected, reckons Chesworth, as the reshuffle could see individual stock ratings impacted, "as companies are often judged in relation to the sector they are in. That probably won't have much of an impact on Facebook, but constituents of telecoms could see changes in valuation."
That will be determined on a firm-by-firm basis, depending on how analyst coverage is structured. Vrouwes says it will not affect NN, as "the stock fundamentals don't change. If some analysts end up covering different stocks as a result of the changes, this could change how they rate them, but our analysts will be covering the same stocks after 3 December as before. It won't impact on them."
He says that, while the impact on a global equity portfolio should be zero – given, as it is, a shuffling of the deck, with no additions or subtractions – "the impact on sector-specific funds will be significant". This results from the fact that "in general, IT funds are much bigger than telecommunication services sector funds, so the selling power of it funds will be bigger than that of communication services funds". The market effect of these, however, will still be muted: for example, most of Alphabet's share price moves are determined by the activity of multi-sector investors, with only a small portion due to sector-specific funds. "So, when the change happens, there will be negligible influence on the price as a result of trading," says Vrouwes. "And if any, it will be small and very short-term effect. Why worry?"
"There is no absolute consistency without how institutional investors have been managing the transition," says Felman: "Some have done this in advance, some will be doing it at the time of the change while others, as we saw with the real estate changes, will phase it in some time after."
NN belongs to the middle group, says Vrouwes: "We aren't readjusting yet, as the MSCI sectors don't change until 3 December. If we did, we would be taking on unintended risk."
Chesworth notes that European investors have been "slower to the party" than their American peers: "You might expect flows to even out, but we are seeing more than mechanical rebalancing happen in the US, as investors take account of tactical opportunities. Europeans appear just as interested in the MSCI changes, and are still at the stage of doing due diligence – updating spreadsheets, asking for information on weightings, PEs and the like."
However participants are doing it, taking the reclassification in their stride. Given the pace of change since GICS was established, can investors look forward to more frequent reshuffles? According to MSCI's Feldman: "It's not for me to predict the rate of change, but as underlying structural change merits change to the sectors, we will address this with our clients."