UK DB schemes becoming cashflow negative face many challenges
Key points
• Pension funds will increasingly become cashflow negative
• Buoyant markets can mask what could be distressed selling to meet cashflows
• Matching cashflow is becoming a bigger priority alongside balance sheet risk management
• A clear framework is needed to deliver the return, risk protection and cashflow to pay the right benefits at the right time
Fundamentally, the sole purpose of pension funds is to pay the right benefit, to the right person, at the right time. This ideally means having the correct amount of cash lined up to meet the payments as they are made. But there is an increasing challenge. About 55% of FTSE 350 pension funds are now cashflow negative, with the number expected to increase to over 80% over the next 10 years, according to Mercer 's 2017 Asset Allocation Survey. So how are pension funds doing at developing investment strategies to deliver cashflows in a planned rather than an unplanned or distressed way?
Along with cashflow challenges, most pension funds are underfunded against their long-term targets, whether that is buyout, self sufficiency or other low-risk targets. Most funds are also less than 60% hedged against their liabilities. This means they continue to have a number of funding and investment objectives to meet, the key ones being growth, risk protection and income. Unless the sponsor has deep pockets and enough spare cash, pension funds need to deliver returns and reduce risk, with the ultimate aim of fully hedging the scheme's liabilities using physical assets in place of leverage. They also need to deliver cash in a planned, not distressed, way to enable retired members' pensions to be paid.
When pension funds focus on 'de-risking', liability-driven investment (LDI) strategies do a good job in using leverage to match assets with liabilities, reducing value at risk and providing a balance sheet hedge.
At its most basic level, LDI involves borrowing money to invest in government bonds. The cost of this borrowing is generally funded from the returns on a pension fund's growth assets. LDI aims to materially reduce the risk of any future impact of increases in Gilt prices, owing to falling yields, while allowing the pension fund to stay invested in growth assets. This allows the fund to implement strategies that aim to close any funding gap and to meet the cost of borrowing under the LDI programme.
While the underlying assets, typically Gilts in the UK, do generate cashflow, leveraged LDI is generally used to help manage balance sheet net liability, rather than necessarily delivering the cashflows to meet benefits.
However, the main objective of pension funds is to pay the right pension at the right time, so actual cashflow really matters. To do this, pure leveraged LDI is overlaid with a cashflow-matching strategy, which you could describe as 'LDI plus' or, as the scheme matures, 'CDI plus' (cashflow-driven investment plus), as cashflow matching becomes the primary driver. In a CDI strategy, a pension fund would overlay cashflow-driven assets with LDI.
Of course, some pension funds will choose to delegate the task of meeting long-term cashflows along with the management of other risks such as life expectancy, interest rates and inflation, by targeting a buyout. But others, typically at least half of pension funds, according to Aon's 2017 Global Risk Survey, may choose to target a low-risk or self-sufficiency long-term objective. In this scenario, having an effective cashflow-matching strategy will be critical to avoid being a forced seller of assets, which can lock in losses, increase volatility and create a drag on actual returns.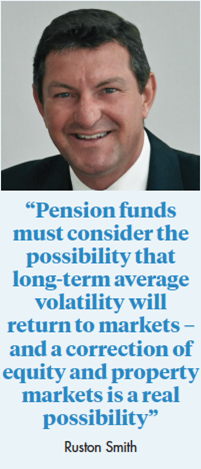 What about the natural delivery of cashflows from pension fund assets? Thanks in part to central banks' use of quantitative easing, markets have been relatively stable and typically positive. For this reason, any unplanned selling of assets, up to now, may not have felt like distressed selling. However, pension funds must consider the possibility that long-term average volatility will return to markets – and a correction of equity and property markets is a real possibility. What is unlikely, but not impossible, is a correction where traditionally uncorrelated markets fall at the same time, with Gilt values falling along with equities – which would require calls on collateral from pension funds. Calls on pension funds' collateral have been rare in the last five years or so. It is more likely, if equity markets fall, there will be a traditional flight to quality where Gilt yields fall and values rise. But with existing net negative real yields from UK Gilts, will Gilts continue to feel like the natural safe harbour?
The question is whether pension funds will be ready, come what may. So what questions should pension funds be asking? Three questions that spring to mind are:
• Can our current and intended future investment strategy deliver the returns and the cash-flow we need?
• If the unthinkable happens, are we sure we can naturally deliver on any calls on collateral as well as our cashflow needs?
• Do we have clear and appropriate measures to monitor the delivery of our return, risk, collateral calls and cash-flow needs?
Answering these questions requires analysis that includes the consideration of both asset and liability matching alongside cash-flow matching, with the use of stress tests not just on the funding position but also on the delivery of cash to pay benefits and the payment of collateral – the so-called collateral ladder. It also means thinking about 'LDI plus' where, as part of an investment strategy, an even greater focus is applied to cashflow driven investments while also replacing leverage with physical assets that deliver the cash to pay pensions.
Adam Lane, a director of PwC 's investment consulting business, suggests that "the ideal CDI asset is likely to be held on a buy-and-maintain basis to deliver predictable contractual cash-flows that are linked to inflation, generating an attractive default-adjusted return and provides a hedge against members living longer than anticipated".
That sets the bar quite high for CDI. Typically it means that a pension fund will need a portfolio of physical CDI assets not only to increase diversification, given the typical tail risk associated with credit but also to meet all the other requirements.
"A CDI strategy needs to deliver actual cash flows – it really is the practical points that are important"

Ken Willis
Second, the assets will need to be either well-matched or sufficiently liquid to allow for changes in cashflow requirements. They will also need to fit within the pension fund's governance and fee budget, not forgetting that the pension fund will need spare collateral to manage residual risks.
Ken Willis, a partner at Lane, Clarke & Peacock (LCP ) says: "Pension funds shouldn't rely on correlations to save them in times of trouble. As an industry we need to create a proper monitoring framework, rather than just saying it's okay if assets fall as they match liabilities. A CDI strategy needs to deliver actual cash flows. It really is the practical points that are important."
The challenge
Choices of whether to use of Gilts or other income-generating assets to deliver cashflow to pay benefits tend to be influenced by the affordability and availability of assets and the level of certainty needed. Availability and affordability of Gilts are influenced by inflation, long-term interest rates and supply/demand dynamics.
Affordability is a key challenge, as long-dated index-linked Gilts have seen significant reductions in yields, and increases in cost, over the last 20 years, from 3.8% in a positive yield world to the current negative 1.5%.
With net negative real Gilt yields, more pension funds are looking for alternatives to the traditional approach of Gilts to meet cashflows and, as such, look to invest in income generating assets that deliver a healthy stream of cashflows.
The challenge for the industry is to develop a clear and simple framework that helps pension funds examine the transition from leveraged LDI to a portfolio of physical CDI assets that deliver the cashflow they need to meet their pension payments.
Alongside that framework, portfolio solutions are required to meet pension funds' needs for growth, protection and income and the challenges they face. This has to be done in an integrated way while avoiding unnecessary complexity - offering value for money.
But the starting point for pension funds is to have the right conversations with advisers, to make sure that, whatever may come their way, they seamlessly deliver their key purpose to pay the right benefit, to the right person, at the right time.
Ruston Smith is chair of PTL Independent Trustees and of Tesco Pension Trustees
Liability Management: The end of LDI as we know it?
1

2

Currently reading

Better be ready, come what may

3