Joseph Mariathasan surveys the prospects for emerging market debt in the world's main regions
China
China's debt markets are the third largest in the world after the US and Japan. Yet it is hard to believe this looking at the behaviour of international investors.
"As far as global investors are concerned," says Jan Dehn, head of research at Ashmore Investment Management. "China does not have a global market. Chinese A shares are not part of the MSCI equity indices. Local bonds are not part of the JP Morgan EMD indices." That is despite the fixed income market being worth an estimated $7.4trn (€6.7trn).
Dehn says this lack of inclusion in international indices explains the dearth of interest from international investors. That will change with time and the moves towards deeper integration into the global marketplace.
One key challenge is the difference in the perception of risk and creditworthiness of Chinese companies between domestic and international investors. "We have had numerous discussions with rating agencies. They are unhappy with local companies who were rated B in the international markets but rated AA- by local rating agencies," says Yerlan Syzdykov, head of emerging market debt (EMD), at Pioneer Investments .
Almost all debt is rated some form of A, with 34% AAA-rated domestic agencies, says Jinny Yan, chief China economist for ICBC Standard Bank, who adds that foreign investors have a different view from domestic ones. The latter are mainly Chinese banks which have their own analysis of credits alongside the associated ratings.
Foreign investors have, so far, focused on hard-currency debt. China does not have any hard-currency sovereign debt but it did have a large amount of mainly property company corporate debt issued in dollars. That has been one of the best performing asset classes over the past year, driven by a reduction of supply as companies refinanced in the domestic market.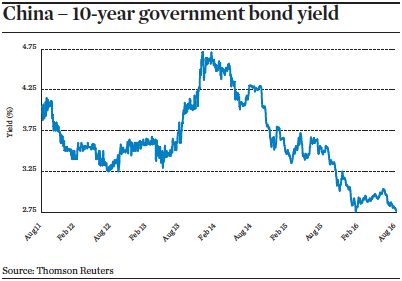 Chinese property companies have revenues in renminbi (RMB) but borrowed large amounts in dollars, says Dehn. As of January 2014, the Chinese 10-year government bond yield was 4.66% and the US was at 3.0%. The renminbi was effectively pegged to the dollar, so it did not matter if companies had to pay in dollars or in the Chinese currency. A decent Chinese company could borrow at a spread of 300bp, both in China and in the US. This meant there was an incentive to issue debt in dollars. For a $1bn bond issue, for example, the saving would amount to 3% or $30m a year.
"The opening up of the local market to foreign investors is really welcome"
Yerlan Syzdykov
However, last year the Chinese authorities dropped the renminbi peg. This introduced currency volatility while at the same time China's domestic markets had the best fixed-income rally in the world. "The five-year is now down to 2.3%, now much closer to the US bond yields, whilst currency risks went up", says Dehn. "So, in the second half of 2015, Chinese corporates en masse moved to neutralise the FX mismatches through issuing RMB debt locally, and converting the RMB into dollars to repay dollar debt, which had the effect of reducing China's FX reserves."
The developments in China's corporate hard-currency debt markets may be the most visible for foreign investors but the most significant changes longer term will be the domestic markets. "The opening up of the local market to foreign investors is really welcome," says Syzdykov. EMD managers are monitoring developments closely, even if they have reservations about current valuations of domestic debt, particularly considering the prognosis for the renminbi.
Babson Capital Management has two ways to look at currency, says Ricardo Adrogué, head of the EMD team. The first, is pure valuation from a country comparison – anything that makes it look expensive as a currency.
The second, is the balance-of-payments perspective. Despite seeing outflows, the currency is well supported, as China has a current account surplus and large foreign exchange reserves. But, overall, it is marginally negative on the currency.
The growth of China's domestic debt markets has given rise to concerns. As Yan explains, there were three defaults of state-owned enterprises in the first half of 2016, but as most investors were Chinese banks, they were prepared to just roll over the debt. But Yan adds that the trend in defaults is concerning. There were 36 defaults in the first half of 2016, compared with seven in 2015 and none in 2014. While that represents less than 1% of outstanding debt, the upward trend in default rates suggests there are big risks going forward.
So far, only 2% of domestic debt is owned by foreigners, mainly in the form of central bank or public sector investors (PSIs). Yields are not as attractive as in countries like India, but with the renminbi joining the International Monetary Fund's basket of special drawing rights (SDRs), there will be moves, particularly by regional central banks, to increase their renminbi-denominated reserves.
But institutional investors such as Syzdykov will inevitably ask about the currency's stability. China has switched from a dollar peg to a basket of currencies. If the dollar strengthens, the Chinese authorities will weaken the currency, but if the dollar weakens, they will not change, saying they are following a basket. "Next year, people will see this as a devaluation by stealth," he says. "Even if it is 2% to 3% a year, it will eat into the profits of a dollar investor." China's domestic markets look set to become an important component of the EMD universe but they are not quite there yet.
India
"Indian debt looks relatively attractive," says David Walter, head of Asian research at PAAMCO, a firm specialising in alternative investment solutions. He sees strong macroeconomic trends, but perhaps not as strong as India bulls make out, with the rupee arguably vulnerable to weakness if there is a dollar rebound. However, this is more than made up by attractive yields, with 10-year bonds yielding 7.5% in mid-2016. Moreover, as Praveen Jagwani, CEO of UTI International points out, India's interest rates are countercyclical to the developed world, and Indian debt comes out well in comparison with its main emerging market competitors.
In theory, then, Indian debt is an asset class at least worth looking at. There is $600bn (€545bn) of sovereign issuance, including state governments; $300bn of quasi-sovereign issuance (public sector enterprises) and another $100bn from the rest of corporate India. Thus the total size of the domestic Indian bond market is about $1trn, making it, as Jagwani points out, the fourth largest in Asia after China, Japan and South Korea. The Indian government has never issued in currencies other than the Indian rupee, although there is offshore dollar and euro corporate issuance totalling $42bn.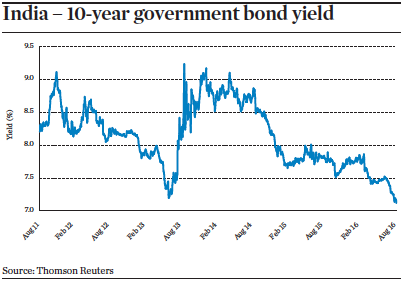 It may be surprising that Indian debt is rarely mentioned but investing in the asset class is not easy. "We haven't done anything as yet, mainly because of the difficulty of access," says Walter. Access should improve over the long term as India continues its reform and liberalisation programme. But Walter says recent moves have not made access any easier. These include the tightening of tax treaties with Mauritius, which was a favoured route to accessing India's capital markets.
The main obstacle for foreign investors seeking exposure to the Indian debt markets is that foreign portfolio investors (FPIs) can only access domestic Indian securities through gaining a FPI licence. There is a strict quota of $86bn for FPIs, of which $25bn is reserved for government securities, says Jagwani. The remainder covers corporate debt, including public sector bonds. If the quota utilisation exceeds 90%, the remaining quota is auctioned publicly on the National Stock Exchange by the Securities Exchange Board of India (SEBI).
The whole process of bidding appears to be designed to deter potential investors. Foreign investors have to bid in advance, just for the privilege of being allowed to purchase a pre-determined amount of debt at the market price. Those who bid too low get knocked out. Having won the quota, for government debt, the victor is then given 15 days to complete the transaction.
At present, the quota for corporate debt is available on tap. "You need a very good understanding of the nuances of the domestic market to understand at what level to bid," says Jagwani. Not surprisingly, domestic firms such as UTI and firms such as Pioneer Investments who have joint venture in India (Pioneer have one with Bank of Baroda) can be at an advantage, as they can facilitate any investments they make through their JV partner, as Yerlan Syzdykov, Head of EMD at Pioneer Investments points out. The restricted access to Indian debt has meant that Indian's weighting in the much followed JP Morgan Emerging Market Bond Index family is much lower than would be warranted by its size.
Historically, while yields may have been attractive, the currency risk was high. "The 7.5% yield on 10-year Government of India bonds is very attractive, but the volatility of Indian rupee has been daunting. However, on a relative basis, Indian rupee remains one of the least volatile of emerging market currencies," says Jagwani.
"The 7.5% yield on 10-year Government of India bonds is very attractive, but the volatility of Indian rupee has been daunting. However, on a relative basis, Indian rupee remains one of the least volatile of emerging market currencies"
Praveen Jagwani
In a world of negative interest rates and low oil prices, which look likely to persist for some time to come, the foreign exchange risk with India may be worth taking on. The currency is not expected to weaken dramatically, given that India is the fastest-growing large economy, has amassed foreign exchange reserves in excess of $350bn and has a stable political system.
India is also one of the main beneficiaries of the weak oil price. The oil import bill has halved, reducing inflationary pressures and improving public finances, enabling the central bank to cut short-term interest rates. All these factors, Jagwani argues, makes the interest rate differential between the developed world and India an attractive proposition.
The negative interest rates in Japan and the euro-zone have pension funds scrambling for yield and India is on the radar for most allocators. On the negative side, Syzdykov finds India expensive and has been disappointed that there has not been more meaningful issuance of non-investment-grade debt. The apparent ousting of widely respected central bank governor Raghuram Rajan has also raised some concerns with foreign investors.
For many investors, including smaller EMD fund managers, the easiest way of gaining access to India's debt markets may be through Indian debt funds. Asset managers include entities such as UTI which was among the first to launch a daily liquid UCITS fund on Indian fixed-income in 2012. It has a current size approaching $300m, says Jagwani. It competes with HSBC's fund, launched in August 2012 and a fund launched by ACPI in 2010. Other Indian debt funds include those of Ashburton, Kotak and Invesco.
Brazil
"I think local currency debt will be the best performing asset class in the world and, within that, Brazil will be the leader," says Jan Dehn, head of research at Ashmore Investment Management.
That may be a surprising view, given the avalanche of negative news coming out of Brazil relating to the 'carwash' scandal around Petrobras, the Brazilian oil giant. Brazil also still faces many difficulties. Acting president Michel Temer's budget plans for 2016 have been underwhelming. The deficit target of 2.4% is less ambitious than investors had been hoping for and while long-term expenditure is good for the future, for now it is adding to the fiscal deficit, argues Yerlan Syzdykov, head of EMD at Pioneer Investments.
But what attracts EMD investors is the implications of the change of government, according to Ricardo Adrogué, head of Babson Capital Management's EMD team. He says there is a great opportunity in Brazil. President Temer has been given two years with his finance minister, Henrique Meirelles, a former central bank governor, to sort out the fiscal policy, and other issues such as the relationship between the central government and the states. Temer has clearly stated he does not want to run for president and he came in on that understanding. He faces many challenges, all of which demand strong action and a president looking to be re-elected would have a hard time dealing with them, argues Adrogué.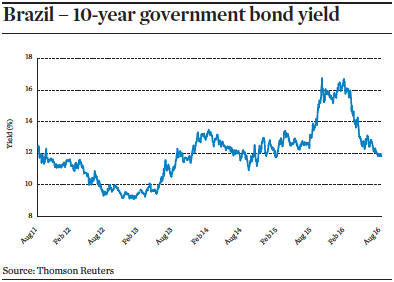 The first positive development that Brazil bulls such as Dehn see is that Brazil has turned a corner in the business cycle. Brazil's currency, the real, has bottomed out and is actually appreciating. The collapse in the economy has gone so far that it is beginning to produce positive effects because of the current account moving into surplus. Inflation is beginning to fall significantly, particularly core inflation and the central bank is beginning to start the rate-cutting cycle.
Meirelles is overhauling the public finances, says Dehn. There is expected to be better growth, falling inflation and rate cuts, all of which benefit domestic bonds. Sovereign debt investors, though, also have the choice of dollar debt, which Adrogué sees as the more attractive component of Brazilian sovereign debt.
Local currency sovereign debt in mid-2016 was yielding 12.5%, down from over 16% and with inflation at still 9%, it gives a real rate about 3.55%. That compares with external debt at real rates of 5.5%, 380bp over US 10-year Treasuries. "So investors would be getting lower real rates by investing in nominal bonds in Brazil than by buying external debt and I would assign a low probability of default for the external debt," says Adrogué, who is also keen on Brazilian inflation-linked debt yielding 6% in real terms.
The second positive development that Dehn notes is that Brazil has moved away from its previous lame-duck government. "That is one scenario that has been eliminated in favour of a caretaker government led by Temer who is likely to stay. What it does, is to dramatically shorten the waiting time to implementing fundamental economic reform," says Dehn.
Market sentiment had been extremely negative in the run-up to the political changes. "We saw Brazil as oversold. Even before the political changes, we had increased our positions because of valuations in certain sectors and companies relative to similar profiles in developed markets and other emerging markets. On top of that, the political changes add more beta to the Brazil market," says Brigitte Posch, head of Babson's Emerging Markets Corporate Group.
Brazil's strong corporate sector also presents opportunities that can be quite separate from the troubles of the sovereign. "We started going into the Brazil rally defensively, with exposure mainly to corporate sectors that were unaffected by the sovereign, such as exporters in the markets not affected by the global asset price meltdown. We have had a long position for the past two years in protein exporters. Prices for protein products such as beef and chicken have been pretty stable compared with commodities such as iron ore and soy bean," says Syzdykov.
The future may be more positive but there are risks. For Dehn, the main one is on the judicial side. He sees the all-encompassing probe into the carwash scandal, led by lawyer, Sergio Moro, as copying the 'Mani pulite' (clean hands) investigations in Italy in the 1990s where the judges began to attack parliamentarians in Italy who were suspected of corruption. The use of plea bargaining enabled investigators in Italy to identify and prosecute corrupt politicians, leading to the destruction of political parties with, at one stage, half of Italy's parliamentarians being investigated.
But eventually politicians united against the judiciary. "Does Moro want a quasi-religious crusade against corruption or does he want to change Brazil?" Dehn asks. "If he wants to have an inquisition, Brazil will end up with chaos for many years." But as he adds, if Moro wants to change Brazil, then there has to be a compromise with the political establishment and a reform of election funding laws. The answer to that question may determine Brazil's economic as well as political future.
The Persian Gulf
Saudi Arabia's recent debt issue highlights a region that has attractive characteristics for bond investors. Capital markets in the region are opening up, with Saudi's equity market in particular likely to be formally admitted to the MSCI next year. Further ahead lies Iran, and with the political obstacles preventing involvement gradually being removed, emerging market investors would be able to invest in an economy larger than Turkey's.
Clearly, as Ricardo Adrogué, head of Babson Capital Management's EMD team points out, the oil shock had been an important headwind for the Gulf region and they are still at an early stage in trying to refocus their economies. But they do start with strong balance sheets which gives investors like Babson the confidence to participate. "The message we get from all of these countries in the region is that we should expect to see more bond issues from them as a financing bridge towards creating more diversified economies. This will take several years." But, as Adrogué says, doing it will be a challenge.
The first half of 2016 certainly saw a lot of issuance from the Gulf Cooperation Council (GCC). It has been more in the sovereign space with the oil price collapse affecting sovereigns and quasi sovereigns tremendously, says Bill Perry, emerging market corporate debt manager at Stone Harbor Investment Partners, a fixed-income investment specialist firm. Perry also points out that the liquidity previously available to the banking sector has been removed as oil producers reduced the size of their banking deposits in response to falling revenues.
It used to be the case that the GCC countries were a low-beta safe haven when oil prices were much higher. Whereas today investors face the overlying technical factor of significant issuance plus lower liquidity and lower demand from neighbouring countries.
"It is likely nothing to worry about. But we entered 2016 with a pretty underweight position to the market," says Perry. Despite that, he is enthusiastic about the region seeing opportunities within the GCC today. Historically, the United Arab Emirates (UAE) has had a disproportionate amount of issuance, with the main debt issuance being from Dubai and a lot of banking issuance. Other corporate issuers have included Dubai Ports which, as Perry describes, is more a global port operator that is domiciled in Dubai. There has also been a recent Omani deal, Omani Transmission, an electricity company and liquid gas projects in Qatar.
Generally considered the most popular corporate EMD index, the JP Morgan CEMBI index is geographically based and includes Oman, Qatar and Saudi Arabia, which are not included the corresponding sovereign index, the JP Morgan EMBI index whose inclusion criteria are more driven by income per head, says Perry. As a result, Perry argues that by investing in emerging markets corporate debt, investors get access to the higher-quality GCC names such as Bahrain.
The exclusion of Saudi Arabia from EMD indices does not prevent all EMD managers from including it within their portfolios. "We invest in Saudi Arabia as it remains an emerging market in terms of the structure of the economy, and so on, and countries like Korea have also not been included in the major EMD indices," says Yerlan Syzdykov, head of EMD, at Pioneer Investments.
What makes Saudi debt particularly attractive is that the country was well prepared for the falling oil prices. Ten years ago Saudi had a 100% debt-to-GDP ratio but by 2014, when oil prices had crashed, it had paid down the debt to just 2%, says Jan Dehn, head of research at Ashmore Investment Management. "Post the crash, Saudi first drew down on their $650bn reserves a lot, and then said we need to gradually tighten domestic demand to live within our means," he says. "And so whilst the private sector gradually adjusts to a lower level of consumption, we are going to have some fiscal support by issuing debt; $15bn debt is not going to make a lot of difference to debt/GDP ratios."
"The message we get from all of these countries in the region is that we should expect to see more bond issues from them as a financing bridge towards creating more diversified economies. This will take several years"
Ricardo Adrogué
While the Saudi bond may be trading at tight spreads over US Treasuries, Dehn argues that it will still be a good investment compared with German government bonds with negative yields.
Iran is still an untapped opportunity for EMD investors. Pioneer has been talking to some institutions although, so far, more on the equity side, says Syzdykov, who points out that Iran was a debt issuer before sanctions. While Iran has no dollar public-denominated debt as yet, Perry sees it as entirely feasible for there to be new issuance in the next five years.
The key difficulties clearly, though, is that, as Dehn argues, the political goal posts are shifting all the time. "With public opinion so against banks, banks are permanently petrified that they get into something that ex-post could be seen to be in the grey area of what is and is not allowed. They do not want to take risks. That is the problem for Iran. What is the policy of [Donald] Trump or [Hillary] Clinton towards Iran? No one knows.
Investing In Emerging Market Debt: Reasons for optimism
1

2

Currently reading

Big picture remains positive

3

4

5