After a year and a half of deliberation, SPK's new investment strategy is finally coming together. When the SEK24bn (€2.6bn) pension fund for saving bank employees moved into its new premises in central Stockholm at the beginning of the summer, it did so with a completely transformed investment portfolio.
The new portfolio consists of a range of different asset classes, including infrastructure, a risk premia portfolio and a number of fixed income classes.
Peter Hansson, SPK's chief executive officer, says that this is the greatest overhaul in the fund's history and that pension fund managers are given the chance to start again from scratch.
"We've had the rare opportunity to think afresh and to start from a blank sheet of paper," says Hansson. "It's been a fantastic journey. I've even thought about writing a book about it."
The fund has not only split the portfolio into a liability-hedging part and a return-seeking element but also diversified its fixed-income allocation and made, or is about to make, its first investments in infrastructure, real estate, hedge funds and alternative risk premia. A total of 20% of assets will be invested in alternatives, including real estate.
The new allocation has been driven by a need to adapt to a changing and more challenging world, and a realisation that it is becoming increasingly untenable to sit on a large allocation of government bonds.
"It's challenging to find returns and that means that we have to work with many different asset classes and alpha sources," says Stefan Ros, SPK's chief investment officer.
The very long duration of SPK's liabilities – beyond 30 years – and the resulting volatility has previously forced the fund to hold a great deal of long-dated domestic government bonds. But with interest rates set to move either sideways or upwards, continuing along that path could be a costly investment. The trigger for change was regulatory reform and the new dis- count curve introduced at the end of last year, which reduced the volatility of SPK's liabilities by almost half.
Alternative risk premia
From a relatively early stage, SPK decided that hedge funds should be part of its new strategy but costs were an issue. As a way of avoiding high hedge fund fees, the fund decided to allocate to an alternative risk premia fund rather than traditional hedge funds.
"We believe that the hedge fund industry in general is very expensive, so we've tried to be creative and look for alternative strategies that can achieve what the hedge funds do but to significantly lower costs," says Stefan Ros, SPK's CIO.
Alternative risk-premia strategies are systematic strategies aimed to get exposure to the uncorrelated return sources usually harvested by hedge funds but with lower costs.
Hansson notes that introducing a risk premia portfolio cuts costs in half compared to using traditional hedge funds.
Hansson says: "I think this is something that many [pension funds] need to have a proper think about – how can you have long-duration bonds to protect the liabilities in an environment where interest rates will go up?"
SPK, which only invests in funds, decided early on not to use consultants but to manage the whole process internally.
"We wanted to have a more hands-on approach throughout the process. And it takes time to manage consultants," says Hansson. "We also wanted to take full responsibility. Both Stefan and I have been very involved personally. Whether we succeed or fail, it's down to us."
SPK has teamed up with five asset managers – Danske Capital, Deutsche Asset & Wealth Management, Goldman Sachs Asset Management (GSAM), JP Morgan Asset Management and Nordea Investment Management – which have helped shape the new portfolio. The aim was to find a portfolio that could deliver 5.5% in returns over a 10-year period but not lose more than 10% in one single year.

Figuring out exactly how the new portfolio should look has been lengthy process. The fund bounced ideas and tested assumptions with its five external partners through most of 2013.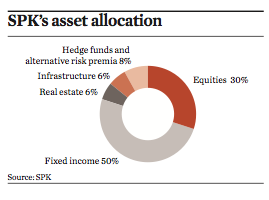 Simplicity and straightforwardness has always been key for SPK and achieving this also for the new strategy was a challenge.
"The difficult part has been to keep things really simple," says Hansson. "This led us to divide the portfolio into two parts with two separate aims. We take care of the volatility risk in one portfolio and use the other one to create returns. We also realised that we needed to add more asset classes to achieve the long-term return target."
Several assumptions changed throughout the process. Part of the equity portfolio was previ- ously allocated to a minimum-variance strategy, which the fund foresaw would continue to play a role.
"When we started out, we were pretty sure that we would have an allocation to low- volatility equities but that changed along the way. That was a strategy that was efficient for us when we had few asset classes but we found that volatility was reduced by the combination of other asset classes in the new portfolio," says Hansson.
Furthermore, rather than selecting managers through an open tender process, SPK opted for more controlled forms.
"One of our first hypotheses was to have a big tender but we realised that we wouldn't be able to do that by ourselves," says Hansson. And selecting managers, he says, is something that he believes the fund is pretty good at.
After puttinging the list of new potential investment strategies in place, SPK first went out to its 10 closest asset manager contacts, including the five firms that had helped out during the process, and asked them to get back about which strategies they thought they should run. After ranking a first choice, second choice and reserve options, it widened the net to include 17 additional asset managers and adjusted the ranking accordingly. It also looked at global databases to compare funds and check if any interesting manager was missing.
"Nobody has been given a mandate just because they know us. We wanted to make sure that those that we have a close relationship with got a chance to look at it, but we could never justify that they should be awarded a mandate if someone else has something better to offer," Hansson says.
The new strategy has resulted in a significant manager reshuffle. The fund's total equity expo- sure remains unchanged at 30% of assets but it has added a Handelsbanken Swedish small-cap fund and reduced the number of global equity managers from four to two. T Rowe Price and Carnegie are retained as equity managers but it has sold its Aberdeen and JP Morgan fund holdings.
One of the most significant changes, accord- ing to Ros, has been the transformation of the fixed-income portfolio, which has been reduced from 70 to 50% of assets.
"The natural step for someone who previously only invested in domestic government and mortgage bonds would be to move into the foreign equivalent," says Ros. Instead SPK has chosen a GSAM multi-asset fixed income that can invest in such asset classes as credit, high yield and emerging market debt.
SPK has also added a domestic corporate bond fund run by Handelsbanken, which manages the Swedish fixed-income allocation alongside Swedbank Robur.
SPK's 8% allocation to real assets is equally split between infrastructure and real estate. "Our real estate exposure is made up of a more cautious Aberdeen euro-zone fund that we are topping up with a Nordic value-added strategy, a mandate that will be finalised shortly," says Ros.
The infrastructure fund is a global core fund run by an as-yet unnamed manager. A smaller part of its 12% hedge fund exposure is invested in a multi-strategy fund run by the Swedish manager Brummer & Partners, but the majority will be dedicated to an alternative risk premia strategy. Ros expects the three remaining man- dates to be announced in early autumn.