Blockchain may be useful but the transparency it provides may cause problems
KEY POINTS
Opinions on the usefulness of blockchain vary widely.
The transparency of blockchain, where everyone can see the ledger, creates problems related to lack of privacy.
The system could prove costly and difficult to implement.
Its main advantage is providing an immediate and immutable record of transactions.
Blockchain. What is it good for? Absolutely everything, reply the blockchain cheerleaders, who see no end to the possibilities it presents. Absolutely nothing, say the blockchain deniers, who view it as a technological solution in search of a problem.
While its champions see it as a panacea, a cure for all imaginable ills, and some as yet unimaginable, the deniers see blockchain as a Wizard of Oz, all smoke and mirrors distracting attention from its nothingness. Or they chorus that the blockchain emperor wears no clothes. Readers are, of course, free to substitute their own preferred metaphor for style over substance.
Recent events have invested the technology and related issues with added urgency, argues Michael Baxter, a technology specialist and economics spokesman for The Share Centre, a UK retail stockbroker.
"Blockchain is important mainly because it applies a distributed ledger, meaning that a record of all transactions or file transfers using a particular blockchain technology are stored on all computers using this technology. This makes blockchain almost impossible to hack into. The WannaCry virus attack highlights how important cybersecurity is and blockchain may be the best possible solution to this threat."
That is as may be, but the technology in its present form causes at least one new problem for banks in observing their duty of care to customers.
"Blockchain is a ledger which everyone can see," says Etienne Denau, head of strategic marketing at Société Générale Securities Services. "That lack of privacy is a problem. I cannot let other people see a client's data."
It will be possible to bridge that privacy gap, he says, but it will take time. Technologies derived from blockchain, just like Corda developed by R3, are slowly emerging.
He estimates that it will take five years for tangible results, beginning with the acceleration of clearing and settlement for less active shares.
In the meantime, he describes blockchain as nothing more than a database, and an unsophisticated one at that. It should be used to create a level playing field between untrusted parties. Anyone using blockchain only as a database will be paying a lot of money for a poor outcome, he states.
Philippe Ruault, head of innovation and new digital business lab at BNP Paribas Securities Services, says his firm sits somewhere between the two opposing camps. The bullish enthusiasm of two years or so ago has faded following a series of trials with the technology and how it might be deployed in the issuance of assets and through the life cycle of a security.
"We are gaining experience but it is not going to be easy to implement and it will be costly," he says. Despite this downbeat tone, he and his colleagues are continuing to experiment and looking at going live in some specific areas of certain stocks. And BNP Paribas Securities Services will have a live application in two years in niche areas, he pledges.
The view from State Street sounds broadly similar. JR Lowry, head of global exchange for North America and global exchange innovation and advisory solutions, says: "Blockchain will not eliminate the custody model but it will change the custody model. We are positive about it. We see it playing a role in our industry and in our company."
In this scenario, blockchain has not been overhyped for its potential in the industry but for the speed of development and adoption.
"Very little is live from a production standpoint. Those that are live are glorified pilots."
Asked to estimate a timescale, he seems to hedge his bets slightly.
"Our experience suggests we may have some production deployment over the next 12-18 months," he answers. "But blockchain needs to prove that it can scale at low latency, and industry adoption will be evolutionary. It could take five to 10 years, maybe even longer."
For Lowry, the main potential advantage of blockchain is that it gives an immediate and immutable record of transactions. "This could take clearing and settlement time to zero," he says. And that has clear implications. Settlement risk will decrease, and the roles of agents will change. Matching service providers will also potentially lose work, but again, this will not happen overnight. Evolutionary rather than disruptive change will be the order of the day.
Blockchain could, in theory, operate without a central clearer but that is a step too far, he says.
While others ruminate and vacillate, Northern Trust has committed itself. In February, it announced that working with IBM and other key stakeholders, it had launched the first commercial deployment of blockchain technology for the private equity market. At least some of its fellow securities services providers have remained blissfully ignorant of the fact until now.
"Private equity is a traditionally tricky asset class to administer because the assets are unlisted and there is a long lead time from promotion to investment involving masses of legal documentation passing between different parties," says Justin Chapman, global head of market advocacy and research at Northern Trust. "We have automated the gaps between the different participants in the private equity market, including investors, managers, administrators, regulators, advisers and auditors."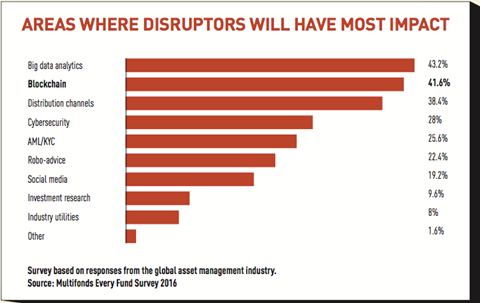 Northern Trust and IBM have built a security-rich blockchain, or distributed ledger solution. It is available for use for managing the administration of a private equity fund managed by Unigestion, a Geneva-based asset manager with $20bn (€18bn) in assets under management.
Northern Trust says it worked with Unigestion to create an innovative private equity ecosystem to deliver increased efficiency, security and transparency. It says the blockchain network provides real-time insight and transparency to all parties, including the fund managers and investors as well as allowing regulatory access when required. Importantly, the blockchain network has been designed to support compliance with current local regulations. Both government and regulator were kept informed during the development process.
The blockchain solution allows the fund to transfer ownership stakes and be managed, serviced and audited throughout the investment lifecycle on a transparent platform offering "one version of the truth" to participants who gain access via secured means.
"This is most definitely not a glorified pilot. It is a real fund with real transactions with a real regulator," says Justin Chapman.
The as yet unnamed solution is based on the open source Linux Foundation Hyperledger Fabric. Northern Trust is also using IBM Blockchain's high-security business network with its hardware-assisted cryptography and key management to enhance the safety and scalability of these transactions on the IBM Cloud for cloud-based application development.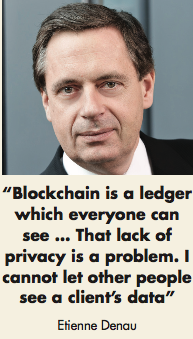 Open source is moving to centre stage in the blockchain world. A new report from Greenwich Associates, Addressing the Latest Trends in Distributed Ledger Technologies, published in June, reveals broad support for an open-source approach among the companies and consortia working to apply blockchain or distributed ledger technologies (DLT) to financial markets.
The report presents the results of a March 2017 Greenwich Associates study of 402 global market participants working on blockchain. Some 52% of these participants see open-source as the best model for distributed ledger technologies.Among technologists, support is even stronger, at 61%.
"The goal of many of these new technology companies is to replace the existing global financial market infrastructure with distributed ledger technology," says Richard Johnson, vice president of market structure and technology at Greenwich Associates and author of the new report.
"This is a monumental task and, as such, support for open-source technology reflects an understanding that transitioning to this new technology can only be achieved by having the widest possible community of developers working on the codebase."
Securities Services: The search for the next big product
1

2

Currently reading

Blockchain: Fintech's double-edged sword

3

4