---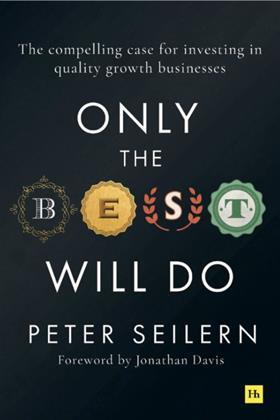 Only the Best Will Do
By: Peter Seilern
Harriman House, 2019
Peter Seilern, the founder of Seilern Investment Management, has a reputation for investing in 'quality growth companies.' In reading his credo 'Only the Best Will Do,' you realise this career-long passion reaches almost religious dedication. Never mention 'value investing' in his presence.
Yet, at the same time Seilern is an investment iconoclast. Alongside standard advice such as the need for in-depth research and the dangers of trading, you will hear plenty of what can only be described as investment sacrilege. Why past performance is a good indicator to the future, how higher risk does not mean higher return, and why diversification is a mere "distraction". It is, in consequence, an entertaining, thought-provoking read.
Seilern is an investment guru. He has nearly 50 years of investment experience, starting with Creditanstalt in Austria, through Notz Stucki & Cie in Switzerland, culminating in over 30 years at his own firm based in London. With this pedigree, his distilling of investment wisdom has a private-wealth-management feel – take his adherence to family businesses. It also has an Alpine tinge; we are told that CEOs should ideally have Fingerspitzengefühl (intuitive flair), and his horror of debt would make New York hedge fund managers chuckle.
His amusing, slightly homespun, style is reminiscent of the 'Sage of Omaha', and he does not hold back from hagiographic references to Warren Buffett.
Going back to CEOs, he quotes Buffett's aphorism "I try to buy stock in businesses that are so wonderful that an idiot can run them because, sooner or later, one will." And he agrees with Buffett that "the real value of diversification… is as a protection against an investor's ignorance".
One element of this style is his adherence to the tortoise and hare analogy, which features prominently, including in the illustrations by Fipsi Seilern. I presume Fipsi is his daughter, family business and all that.
The magic number
At the heart of Seilern's credo is the idea that most investment managers operate with an investment universe that is too large. It is impossible for an individual, or even a team of managers, to keep on top of thousands of stocks. There is just too much information to master. So in running global portfolios, Seilern argues there are only 60 stocks at any one time that he deems worth considering. A refreshing concept. As it says on the cover, Only the Best Will Do.
In getting to those 60, Seilern has 10 principles that he expounds on. His "ten golden rules". These go beyond traditional GARP management (growth at reasonable price) adding in sustainable market dominance, solid financials and strong management.
When using these principles, Seilern throws out whole sectors of the market, as their components will never meet these golden rules. In the chapter 'Not wanted here', he states "these include utilities, banks, telecommunications, commodity producers, airlines, vehicle manufacturers and industrials". Again – refreshing.
In the remaining sectors, disciples of Seilern's (the "quality growth investors") nonetheless have work to do. They must forensically examine each company's financials, to establish return on capital. They need to consider all the risks inherent in a business's clients and markets. Finally they need to look management "in the eye". All this must be done methodically and carefully. Because remember "in this game, the determined tortoise will always beat the excitable hare". The objective is to find sustainable earnings growth that is not threatened by competitors, market trends, or changes in interest rates. That examination of financials is crucial. Debt – shudder.
Incidentally, political risk is dismissed as largely irrelevant, with some exceptions such as UK Labour party leader Jeremy Corbyn. His "confiscation of private assets at knockdown prices, and massive expansion of public spending financed by printing money" would have a "dramatic effect" and "negative implications even for the quality growth investor". That is largely irrelevant in most western markets. But then, by the sound of it, most emerging markets and Latin America are also "not wanted here". Seilern agrees with Nils Taube – "never invest in companies where people do not wear overcoats in the winter!".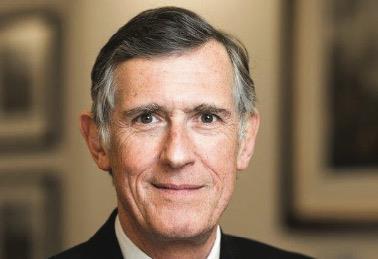 If you are starting to wonder what is left, then the answer is not much. So it is helpful that Seilern is brave enough to give examples of his 60-stock universe. Some are well-known giants, like Estée Lauder and MasterCard, praised for being "happy to use their own returns to reinvest in the business in a secure manner…. rather than taking on the risk of leverage". Others, less so. Thanks to Seilern, I have discovered the delights of Western pharmaceuticals and its "very long term revenue annuity streams" which are "protected against…. negative pricing." Seilern likes companies that can raise prices.
Contesting 'accepted wisdoms'
The list of what Seilern does not like is considerably longer. As mentioned earlier, there are a lot of 'accepted wisdoms' that he eviscerates. He passionately argues that the entire pension fund industry has its investment strategy upside down and, as a consequence, will struggle in the future to have the assets to match its liabilities. This is "thanks to misplaced notions about the true meaning of risk, which are hardwired into the thinking of regulators and the actuarial profession…. pension fund sponsors and fund managers". They are all failing to see the light of quality growth investing and "this urgently needs to change". I loved this.
I also enjoyed Seilern's attack on hedging – "hedging instruments cannot protect the investor against inadequate knowledge". Ouch.
On the proponents of mergers and acquisitions – "acquisitions are fraught with risk and a potential red flag". He goes through the disastrous AOL/Time Warner story, which took $350bn of combined market capitalisations to just $74bn. Seilern also dislikes securities lending (the clue is in the name), and as for the IPO specialists, what they have to offer "holds little attraction".
Few experts in the investment and pensions industry emerge unscathed. I just hope they do not mind being criticised, or Seilern's universe of potential readers will be as selective as his stock universe. And that would be a shame, because this is an excellent, well-written book. Full of investment wisdom that needs to be repeated time and again. Not just to the individual investor, but to the professional one as well. Cash is the worst investment there is; overtrading is the enemy of performance; there is no substitute for knowing your investments inside out. These are eternal truths, which I am reminded need repeating on a daily basis.
Christopher Walker writes on business and global issues. He ran an equity fund and has years of experience in investments and pensions