---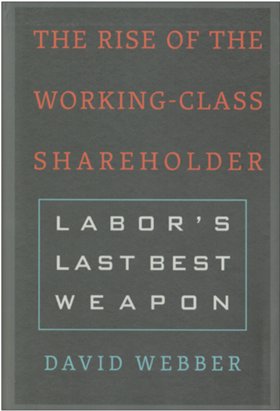 The Rise of the Working-Class Shareholder – Labor's Last Weapon
David Webber, Harvard University Press, 2018
David Webber is a professor of law at Boston University who early in his career worked as a lawyer in the infamous UnitedHealth lawsuit (more of which later). Politically he is on the left. As such, he is well placed to rehearse the legal and political arguments around public pension funds' power to change companies. This is an informative work, if one which professional investors will find uncomfortable reading. Whether or not readers agree with all his arguments, this is a debate worth having.
At the heart of Webber's thesis is the titanic size of the US public sector pension funds. He estimates these could be worth as much as $6trn (€5.4trn), led by the likes of the California Public Employees' Retirement System (CaLPERS), and the New York City Employees' Retirement System (NYCERS). These are the heroes of Webber's story or, more accurately, the individuals who work for them are.
Webber celebrates these "new suffragists", these "People's lobbyists", these "new sheriffs of Wall Street". He does this sometimes in great biographical detail, which European readers will find strange but US readers expect. For example, I discovered that Erik Lie, whose research exposed the back-dating of stock options, is a cross-country ski enthusiast who spends his summers in Norway. Those who like this personal touch will welcome the introduction of every actor with a thumbnail sketch.
As is normal in US politics, things are seen in black and white. So Webber's tale also has its villains – the fabulously wealthy Koch brothers, and Laura and John Arnold (of Enron fame). The political role of billionaires is a contentious topic, especially with Webber's local hero, Senator Elizabeth Warren. Although, like so many pantomime villains, the reader is left wanting more of them.
Webber portrays his heroes as slowly coming to realise the power of the weapons in their hands. As he admits "the American left… is viscerally uncomfortable with labor wielding shareholder power". He argues that the 2003 Safeway strike was an important turning point. The company, owned by private equity firm Kohlberg Kravis Roberts (KKR) and led by Steven Burd, sought to freeze workers' pay and cut health benefits. A strike ensued.
Ultimately the strike failed, and Safeway workers were worse off than before. But to Webber this is not important. The point is, infuriated, "a group of Safeway's labor and labor affiliated shareholders.… hit Burd hard after the strike". The extent that Safeway was the turning-point is debatable. Burd carried on as CEO for another decade. But, Webber argues, public funds successfully removed three of Burd's boardroom allies. The giant had awoken.
This was just the beginning. In three areas Webber brings strong evidence to show that the public funds have led change. First, the NYCERS successful campaign, through the 'Boardroom Accountability Project' to install the right of shareholders to nominate directors.
Second, requiring that a director must obtain 50% of votes – this allows 'just vote no' campaigns to be successful. The wonderfully named 'United Brotherhood of Carpenters Fund' apparently played "a particularly important role" in this fight.
And finally, the "destaggering" of boards led by Harvard's Shareholder Rights Project (supported by public retirement schemes in Ohio, Illinois, Florida, North Carolina and Massachusetts). This has made the exertion of shareholder control easier by requiring entire boards to stand for re-election simultaneously. Now more than 80% of the S&P 500 has a destaggered board.
"Working-class shareholder power is a vehicle for reintroducing the voices of middle and working-class people into the corridors of power" - David Webber
These successes bolster Webber's argument that public schemes should flex their muscles to correct capitalism's shortcomings. He argues that they are uniquely placed to do this, and his arguments are strong: they come from a different tribe to other money managers – they tend not to send their kids to the same schools as the corporate executives they are seeking to rein in. Also, too many other large institutional shareholders have conflicts of interest, relying on corporations for business. And other money managers are openly in competition with each other – public funds are not. Money managers see no point in expensive lawsuits. This is left to public funds.
This comes across clearly in the UnitedHealth case where, given his own background, Webber is strongest. In 2006 the Wall Street Journal reported suspicion that William McGuire the CEO of UnitedHealth had been granted stock options on those precise days when his company's shares were lowest. It was, as the article was headlined, 'The Perfect Payday'. Lawsuits were brought by several public funds, but not by any other institutional shareholders. In the end, McGuire repaid $615m.
This case demonstrated one other unique element these public sector retirement funds have. A public-spirited culture. As Bobby Deal of the police and firefighters fund said, "half of my guys carry axes and the other half carry guns. We put bad guys in jail for a living. We are not about to sit back and let someone steal from… the public." This is powerful.
Webber's view is that "working-class shareholder power is a vehicle for reintroducing the voices of middle and working-class people into the corridors of power from which they have otherwise been exiled". These voices can be used to encourage greater diversity at the top of companies, to restrain the excesses of executive pay, and to fight corporate malfeasance.
But Webber is on weaker ground in his proposal that public funds should go beyond this and defend their members' rights in a more general sense. He points to the case of Aramark Corporation which competes with public employee unions to win public contracts. Should those unions' retirement funds invest in this otherwise successful company? This takes Webber perilously into the question of pension trustees' fiduciary duties.
Webber argues strongly that these should be expanded from simply ensuring the best investment return, to seeking to protect their members' employment rights and opportunities. This is interesting, but dangerous territory. Yes, it can be argued that pension funds do better when they have more young members paying in, but fiduciary rules are tampered with at peril. There have been shocking examples in the past of political 'pet projects' which were funded by funds ultimately controlled by politicians. This is why those fiduciary rules are there.
All in all, this is a well-written, engaging, and often entertaining book. I loved the passages describing how public sector funds had brought hedge fund and private equity managers to heel. I hope Webber is right when he concludes that "there is no going back to a world in which labor and capital are mutually exclusive, lined up across a barren cavern of confrontation – at least not in developed economies". I fear the UK's opposition Labour party leader Jeremy Corbyn, who has his own ideas on worker shareholdings, might read this book and think differently.
Christopher Walker writes on business and politics. He has many years of experience in the investment and pensions field